Patient paperwork puts a drag on medical practices everywhere, and the prospect of an all-digital process is an enticing one. Digital intake replaces the tedious management of reams of patient paperwork with an all-electronic process that is more patient-friendly. Health providers can have patients complete digital forms on a tablet upon arrival or even fill in the information online on their own time.
Digital intake form vendors often provide ready-made forms or allow the individual practice to customize the forms they use. If you run a small practice, this may sound more technologically intensive than you and your support team can manage, but it's actually pretty simple. Here are five good reasons to consider going paperless by switching to digital forms.
1. Deliver better patient care

Most healthcare professionals got into their field for one reason: to care for patients. Traditional paper-based procedures get in their way. In most offices, patients fill out paperwork when they walk in the door, hurriedly completing information only minutes before seeing a physician. In a digitized office, where patients can access forms at home ahead of time, they take their time and fill out information more completely. This in turn affords physicians and other care team members more opportunity to review the information, so they can be better prepared when the patient walks in the room. Caregivers are better informed and the patient doesn't have to repeat information they've already provided on the forms.

2. Provide a better patient experience
Your patients are your customers. Patient satisfaction plays a large part in retaining them and laying the foundation for the long-term success of your practice. Using electronic forms that patients fill out before their visit shows you respect their time. The digital forms streamline their interaction with the practice. They no longer need to come in 20 to 30 minutes before their appointment to fill out a clipboard full of paper. They can show up just in time and stay relaxed knowing their care providers have all the information they need.
How Mobile Solutions Improve Patient Experience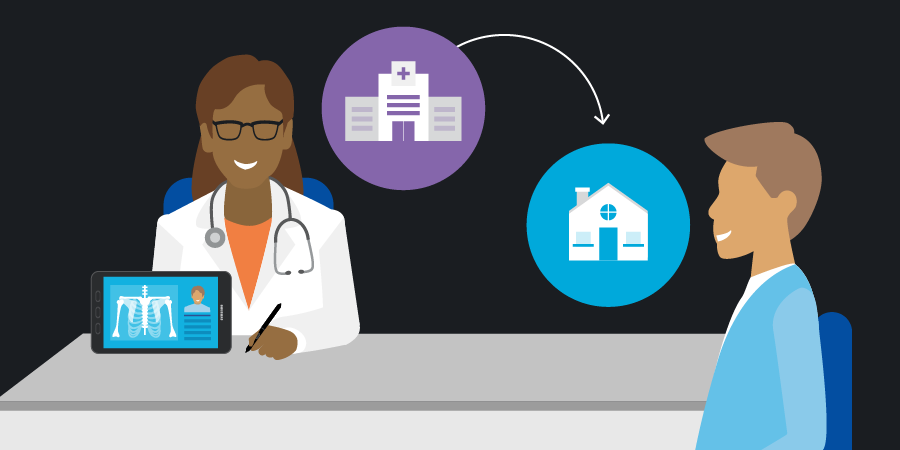 Get your free guide to enhancing the patient experience with mobile technology. Download Now
3. Streamline employee workflow

Relying on digitized intake forms means you can reduce the paper chase inside your office. Front office staff will no longer need to spend time printing out forms, ensuring patients fill them out completely, then manually entering data or scanning forms and attaching them to patient records. By reducing that workload, your front office team can focus instead on providing better patient experiences. This process also improves the back-office workflow.
4. Save money by going paperless

By using digital intake forms, your practice saves on the expense of paper and ink, as well as reducing printer maintenance, upgrades and replacements. Digital forms also enable savings on file storage and professional shredding services. Switching to an all-digital workflow is environmentally friendly, which is a top concern for many people and may make your practice more attractive to a broader patient base.
5. Better protect private health information (PHI)
Security and privacy remain critical concerns for any healthcare practice. Digitized forms reduce the risk of losing patient information — a very real concern when identity theft is rampant. When documents remain digitized there is less chance that someone will inadvertently see a social security or credit card number. Additionally, if you plan to use mobile devices within your practice, either for patient or caregiver use, you need to know information will remain secure. Before adding devices to your practice, be sure they come with built-in security protection. For example, Samsung Knox provides defense-grade mobile security built into Samsung tablets and smartphones. The security platform is HIPAA-ready and integrates easily into your existing IT infrastructure.
Today's consumers demand more from their healthcare providers. Digital forms provide just one way to deliver a stellar patient experience and allow your care teams to provide more personalized and focused care.
Learn more about the paperless workflow solutions that help you save time and money, and keep your business moving. Discover the latest mobile solutions and best practices for clinical communications in this webinar.