Today's modern medical practices are discovering exactly how mobile technology can improve both patient and clinician experience. By leveraging smart mobile technology and innovative apps, you can run a more effective, profitable private medical practice.
From streamlined workflow, to HIPAA-compliant and secure devices, to intuitive mobile accessories — there are a number of ways to improve specific areas within your practice. Here are a few options for practice modernization leveraging the latest mobile technology from Samsung.
1. Simplify patient intake and consent form processing

For many medical practices, the patient intake process consists of handing patients a clipboard with multiple documents attached as soon as they walk in the door. The information on those papers must then be scanned or entered manually into electronic health record (EHR) systems. Many practices are now eliminating this time-intensive process by using digital intake and consent forms customized for their needs and available to fill out on a tablet device. A range of affordable tablets from Samsung make this possible for even small practices to put in place.

2. Streamlined patient care workflow
Most physicians and nurses already use smartphones or tablets at work. With Samsung DeX, they have the option to create a desktop experience powered through any compatible Galaxy smartphone or tablet. Connecting the device to a larger monitor with a single cable creates continuity of workflow from an office workstation to the patient exam room and anywhere in between. Instead of switching between multiple devices and logging in yet again, physicians and nurses can focus instead on quality patient care.
How Mobile Solutions Improve Patient Experience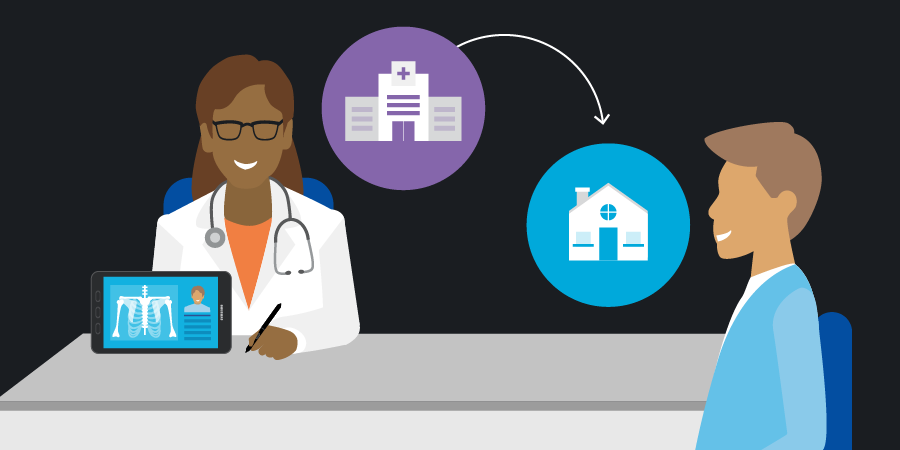 Get your free guide to enhancing the patient experience with mobile technology. Download Now
3. Take mobile further with intelligent tools

Having your team rely on only one device that works anywhere is the first step in streamlining workflow. Adding in intelligent tools takes that process a step further. Samsung's S Pen is one example. This advanced stylus feels and handles just like a pen, and can be used to write, draw or simply navigate within apps. You can use the pen to annotate on-screen, whether to add a reminder or detail to a patient's EHR, or to highlight something for a patient. This feature also works in Samsung DeX, so a physician can annotate a chart or X-ray while sharing an explanation with a patient on an exam room monitor. The S Pen comes included on Galaxy Note phones and Tab S4 and Tab S6 tablets.
4. Consider using a telehealth solution

Explore opportunities to integrate telehealth and remote patient monitoring into your practice. These technology-based solutions are generally associated with hospitals, but they are increasingly becoming available to private practices. Consider what you are trying to achieve, and look for a solution that helps you meet your identified goals, such as consulting with patients who are unable to travel to the office. For those with mobility or transportation issues and time constraints, telehealth provides real-time connection with health providers. Solutions such as smartphones and tablets equipped with high-resolution cameras can help people maintain their independence without neglecting their health. If you can add value by improving patient outcomes, you could differentiate yourself from competing providers.
5. Take advantage of mobile security features

HIPAA sets a high bar for protecting the privacy of patient data. To strike an effective balance between data security and operational efficiency, a medical practice needs mobile technology that keeps patient data out of the wrong hands. Be proactive with security by purchasing devices for clinicians and managing devices with a secure mobile device management (MDM) platform. That way, you can configure devices with the apps you need and nothing more and lock the devices down so that your staff cannot upload unauthorized apps that could expose patient data to theft. You can also set standards for user authentication using two-factor authentication that leverages advanced biometrics. When choosing devices, look for the kind of built-in security you find in Samsung Galaxy phones and tablets which feature the HIPAA-ready Knox platform.
Learn more about the paperless workflow solutions that help you save time and money, and keep your practice growing.