If slow and steady wins the race, remote patient monitoring is off to a strong start. For years, industry analysts have predicted this would be the year that remote monitoring took off, but thus far, the pace of growth has been more tortoise than hare.
That could be about to change. According to the latest forecasts, the global remote patient monitoring industry is expected to nearly double over the next few years, despite widely varying reports about what those numbers will actually look like. For example, Research and Markets predicts the market will boom from $15.9 billion in 2017 to $31.3 billion by 2023, while Coherent Market Insights expects it to grow from $856.8 million in 2017 to $1.6 billion by 2026.
Either way, it looks like the remote patient monitoring market is really poised to take off this time. So, why are more healthcare organizations now getting on board?
1. Reduced Readmissions
Study after study shows that remote patient monitoring helps to improve patient care and reduce readmissions.
In fact, 68 percent of physicians "strongly intend" to use remote monitoring technology in the future, according to a new study by the Consumer Technology Association (CTA). Perceived benefits include:
Improved patient outcomes (49 percent)

Improved compliance rates (44 percent)

Patients taking more ownership of their health (42 percent)
Having patients take ownership often means decreased readmissions, and individual solutions providers have demonstrated consistent results. For example, Vivify Health, a Samsung partner, helped Ascension at Home reduce readmissions from 15 percent to 3 percent. At UPMC, Medicare patients using Vivify are 76 percent less likely to be readmitted to the hospital than similar patient populations.
Even the Centers for Medicare & Medicaid Services (CMS) has studied the value of remote patient monitoring for its Chronic Care Management program, and found that it decreased readmissions and saved Medicare millions.
2. New CMS Reimbursement Rules
All that data convinced CMS to change its strategy around remote monitoring. Until 2018, CMS — the single largest health payer in the U.S. — only reimbursed for remote monitoring for patients in rural or remote areas. In 2018, CMS designated a new reimbursement code — CPT 99091 — that made the service accessible to more patients, but it didn't cover all the costs healthcare providers might incur and put the burden on physicians to manage these programs.
How to Create a Mobile-First Hospital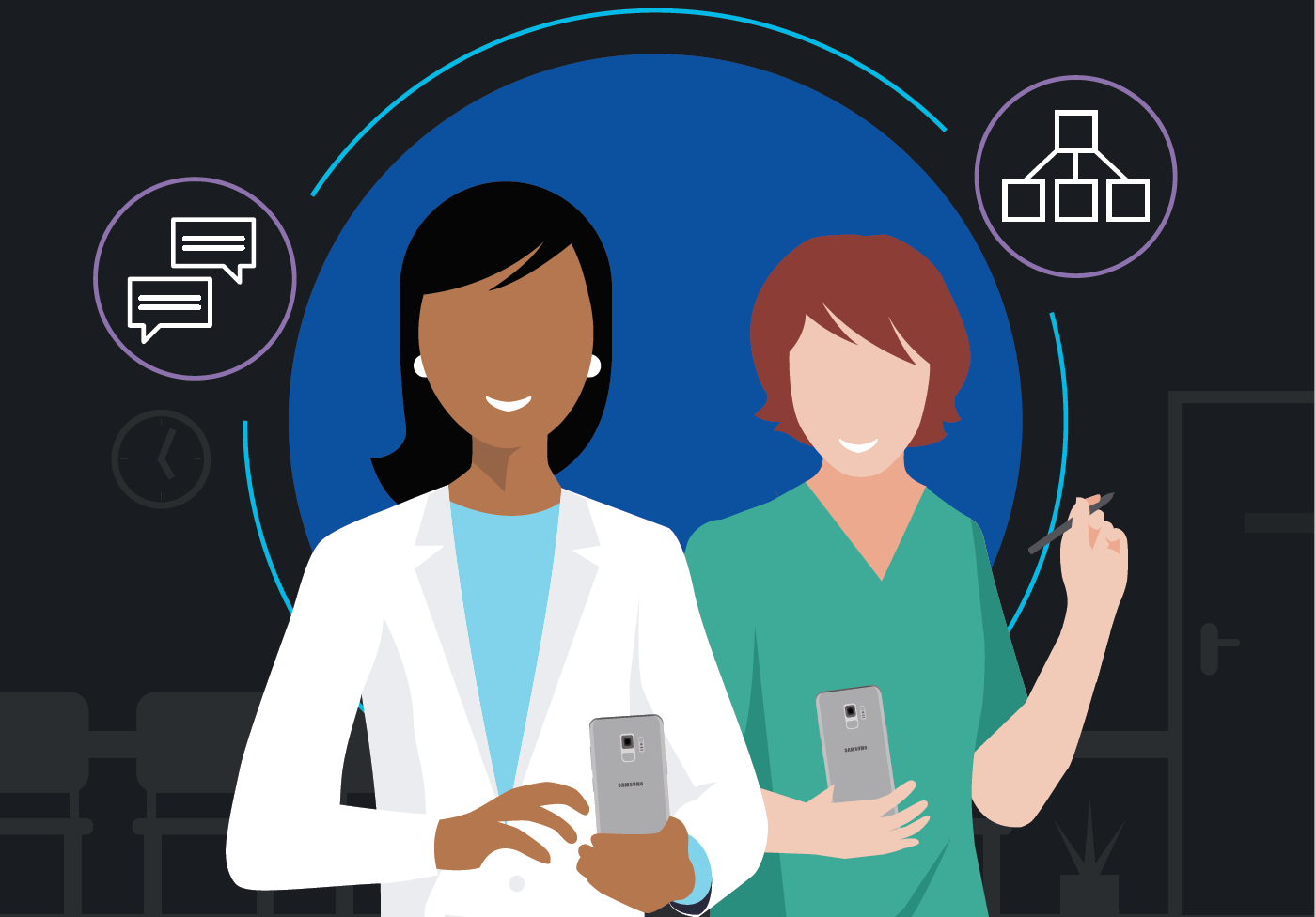 White Paper
Get your free guide to modernizing clinical communications with smartphones. Download Now
In 2019, CMS activated three new reimbursement codes — CPT 99453, CPT 99454 and CPT 99457. Under these codes, Medicare now pays for the initial setup, the device and the ongoing management of remote monitoring programs. The new rules also allow a physician's clinical staff to help manage the program, rather than making the doctor do all the paperwork.
3. Improved Patient Data Management and Reporting
Not only are remote monitoring solutions getting results, but they're also getting better with age. Many modern solutions are built into wearables or on top of smartphones and tablets — which enables the software to leverage sensors in the device and stream biometric data (such as heart rate, balance and sleep patterns) directly to the remote monitoring platform. And rather than expecting patients to take their own vitals and enter that data into the platform, mobile solutions enable users to simply connect bluetooth-enabled blood pressure cuffs, blood glucose monitors and weight scales — and transmit that data automatically to the platform.
Not only is it easier than ever for patients to gather/share health data, but it's easier for physicians to make sense of it. Unlike the diabetic log books of old, physicians don't need to scan rows of handwritten numbers looking for patterns. Instead, the data is run through algorithms that spot patterns, note trends and even apply predictive analytics to warn about future problems. Physicians get this information in real-time, not the next time the patient comes in for a checkup, or worse, when the patient gets readmitted to the hospital.
4. Improved EHR Integration
When hospitals first adopted electronic health records (EHR), physicians were promised that if they would just be patient as organizations underwent trial-and-error deployments with new solutions providers, there would be a payoff in the end: Clinicians would be able to access all the information they needed to do their jobs through EHR. It would be a one-stop-shop that would make the growing pains worth it.
Many remote patient monitoring providers are helping hospitals keep that promise by designing solutions that can be easily — and securely — integrated with EHR. That way, physicians can view data and insights from the remote monitoring data solution inside the EHR, alongside all the patient's other pertinent health information. And with the right clinical communications solution in place, physicians can even receive mobile alerts if a patient's data needs immediate attention.
That's not just patient data. It's actionable data — the kind that improves patient care and the patient experience.
5. Patient Readiness
To justify the investment in remote patient monitoring, healthcare organizations need to feel confident that it will not only improve patient care, but just as importantly, patients will actually use it. Most chronically ill individuals are older, and therefore not as tech savvy and often more wary about technological intrusion into their private lives and homes.
This becomes less of a problem as mobile technology becomes more user-friendly, helping older generations embrace newer technology. In fact, 53 percent of seniors over age 65 own a smartphone, according to the Pew Research Center.
Consumers are also more open to remote monitoring than they have been in the past. According to the CTA report, 56 percent of consumers would happily share health data with their doctors if they believed it would lead to a more accurate diagnosis and better treatment. Survey respondents also cited data security as their greatest concern, which underscores the importance of secure remote monitoring solutions.
Bottom line: Patients are ready for remote patient monitoring, physicians are ready for it, studies show it works, and CMS is paying for it. That's why the technology has finally hit its stride. Now it's off to the races, rabbit-style.
Discover six benefits of mobile solutions for home healthcare in this infographic. Start thinking forward into the age of smartphone-based clinical communications with our free white paper.