A long oak table, enough swivel chairs for a football team, an expansive view of a city skyline — this is the stock art ideal we've come to associate with the term "business meeting."
Too bad that image is often hopelessly out of date.
Besides the fact that traditional boardrooms are commonly overbooked within many businesses, they also tend to exceed the space requirements of teams that are coming together for quick brainstorming or problem-solving sessions.
With more professionals working outside the office via mobile devices, meanwhile, teams are often meeting with only some members on site. Yet the breakout spaces they use lack the equipment to easily set up a videoconference.
Recognizing that a "huddle room" may need to be as flexible as the agile teams that use them today, Samsung and BlueJeans recently teamed up to create a solution that will transcend the limitations businesses have faced until now.
Cutting Costs, Not Cutting Back
Forget about having a meeting room screen for a moment. Just installing a camera and microphone, some kind of PC, speakers and other hardware can be too expensive to justify for rooms designed for just four to six people.
Go Mobile-Only With DeX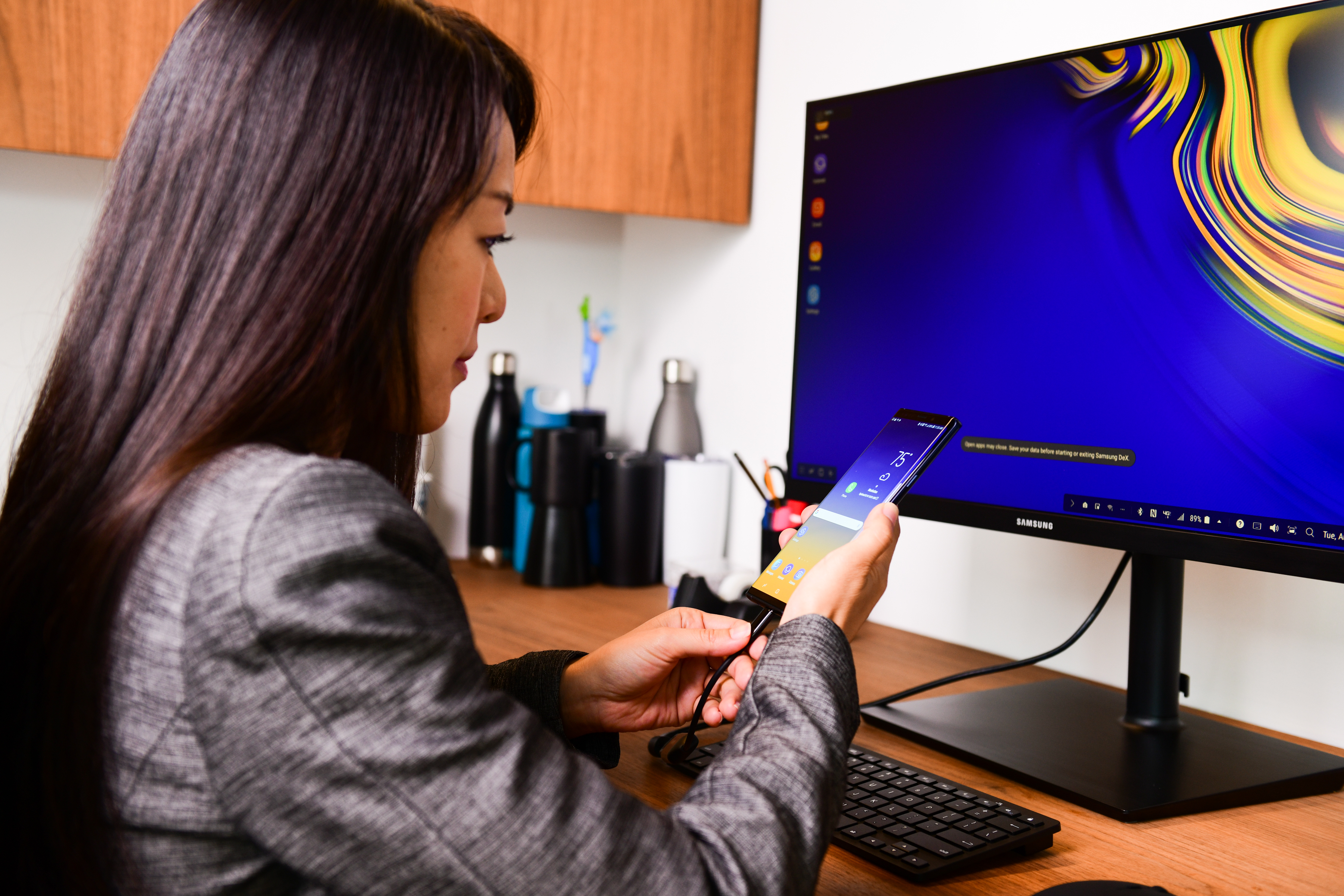 Your comprehensive guide to rolling out a mobile-only solution for your workers. Download Now
The partnership between Samsung and BlueJeans offers an alternative, where businesses can allow team members to start a huddle room meeting by simply docking their Galaxy S10 or Note10 using Samsung's DeX technology. With DeX, users can extend the BlueJeans' videoconferencing app on their phone to a larger screen via an HDMI adapter and control the meeting with a connected keyboard and mouse.
Smooth, User-Friendly Experience
The simplicity of DeX mode, combined with BlueJeans, means team members can stop apologizing for meetings getting a late start because they can't figure out how the room's web conferencing system works. Now, the brains of the web conferencing system is the phone they carry in their pocket.
The BlueJeans-Samsung partnership takes advantage of the new 123-degree field of view lens that features on several of the latest Galaxy smartphones. Compared with the 77-degree field of view lens on older devices, the ultra-wide angle camera captures much more of the conference room so participants don't have to scrunch uncomfortably close together to be seen by remote attendees.
Those using the Galaxy Note10 or Note10+, meanwhile, can take advantage of another unique integration with the S Pen. With this connected accessory, users can mute or unmute, or switch between the available cameras, with a simple click.
Locking Down Privacy and Security
BlueJeans and Samsung's huddle room solution comes at a time when more of us are working in nontraditional environments than ever before. This not only includes the offices of customers and partners but convention centers, coffee shops or even a bench at an airport.
Although everyone enjoys the convenience of being able to join a meeting from wherever they are, there's often a trade-off in terms of what might be going on in the background behind you. If you're joining a meeting from a customer's site, for instance, there may be sensitive information on a whiteboard that shouldn't be seen by members back in a huddle room. In other situations, you may want to avoid looking less than professional by joining a virtual meeting from a more casual setting.
Samsung and BlueJeans are addressing these challenges with a Privacy Mode that leverages time of flight camera technology on the Galaxy S10 5G to blur the background during individual calls. Video callers can stay focused on the participants in the meeting, rather than the place they're working from.
Businesses may always have a need for traditional boardrooms, but the rise of contingent workforces, coupled with an increase in flexible and remote work policies, means some of the most important collaboration we do might happen in huddle rooms. It only makes sense that technology evolves to make them affordable, easy and private enough to meet the needs of the people using them.
Explore how mobile workspace solutions can improve your teams' productivity and collaboration, while reducing your overhead costs. You can also take this quick assessment to discover the best smartphone for your professional needs.