"For us, this was about providing a new experience to our guests." - Patrick Tinklenberg, VP of IT, Sycuan Casino Resort
The Results
Marketers now have a highly flexible tool for planned and data-driven dynamic messaging in the resort's casino and common areas. The company is no longer spending thousands of dollars each time plastic-printed promotions posters are replaced, as well as saving on sluggish set-top TV boxes by integrating system-on-chip hospitality televisions. Customers say they love the new visuals, and screens in "back of house" areas are helping to better inform and engage resort staff members.
About Sycuan Casino Resort
Sycuan Casino Resort, located just 30 minutes outside downtown San Diego, boasts world class accommodations, entertainment and gaming in the largest nonsmoking gaming casino floor in California. Sycuan recently received a coveted Four Diamond designation from the American Automobile Association (AAA).
The Challenge
Keeping Pace With Promotional Needs
Casino resorts trade heavily on excitement — creating multisensory sight and sound experiences that encourage guests to stay, play and enjoy themselves.
Relevance and immediacy are important, and San Diego's Sycuan Casino Resort was struggling to keep pace with all the promotions, events and activities around its property when using conventional backlit, printed vinyl posters. Between planning, production, printing, shipping and installation, it could easily take weeks to update promotional posters around the property. All said, a set of newly printed pieces could cost thousands of dollars.
Reducing those long timelines and excessive production costs was important, but the broader goal for Sycuan was to find a way to put resort promotions in the moment for its guests. Instead of planning weeks out, Sycuan's promotions team needed a way to guide guests to events that were underway or forthcoming, create instant excitement about winners, and stream live video from performances and sporting events happening around the property.
A digital signage network was already in place on the property, but was underutilized. A major resort expansion, budgeted at more than $225 million, presented an opportunity to rethink and broaden the network. The expansion, completed in March 2019, added 500,000 square feet of space, including new gaming areas and a 12-story luxury hotel tower with more than 300 guest rooms.
"We wanted to make an experience that was a little bit different from what you would get if you went to another casino hotel in southern California," explains Pat Tinklenberg, the VP of information technology at Sycuan. "For us, this was about providing a new experience to our guests."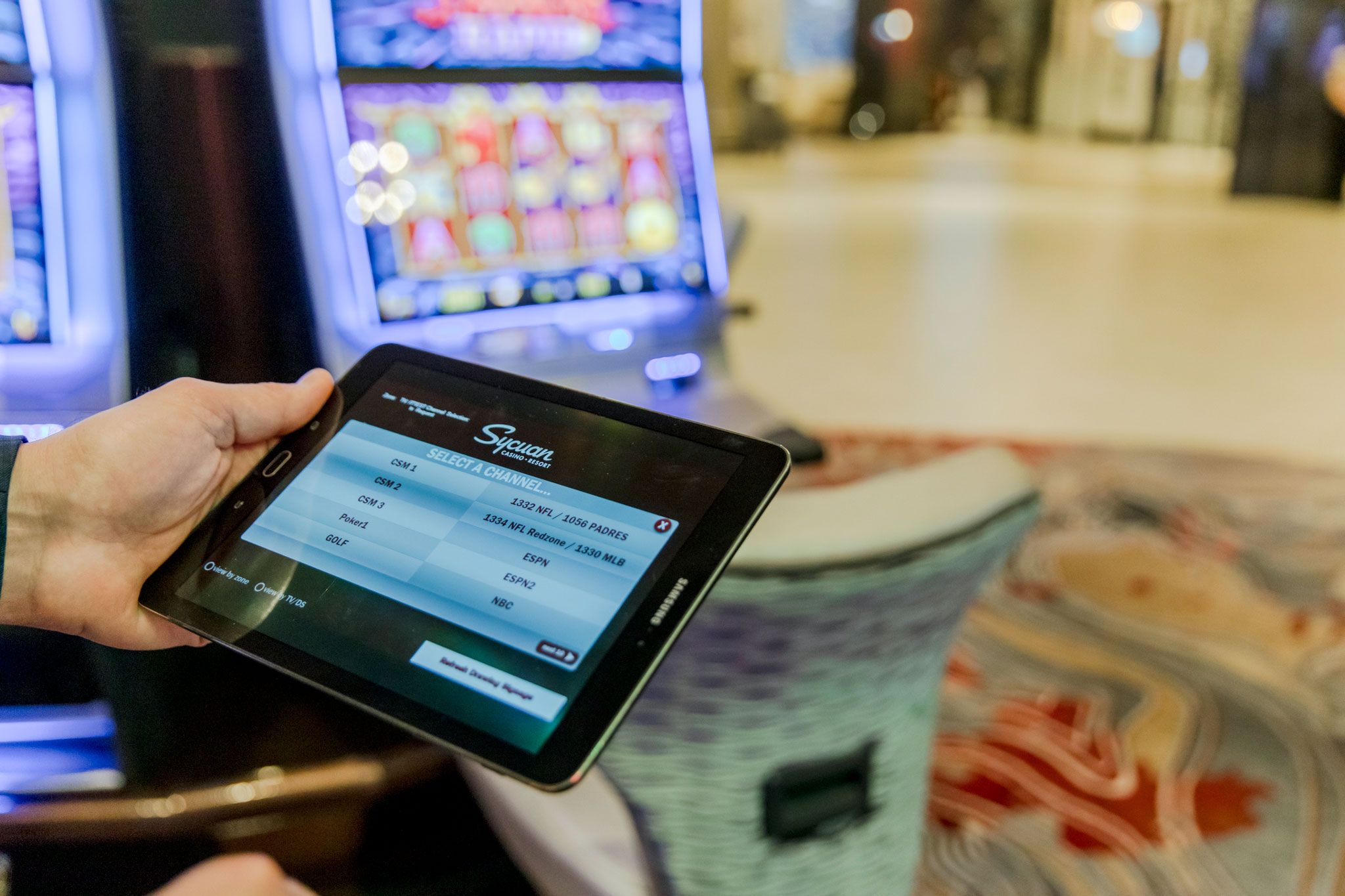 The Solution
Vibrant Screens and Hyper-Relevant Messaging
Sycuan worked with the Samsung resellers and integrators at IES Communications and JCM Global to add hundreds of screens — in a variety of sizes and configurations — around the revitalized and expanded property, creating a visually vibrant and hyper-relevant promotional messaging channel.
In gaming areas, Sycuan added more than 50 LCD screens, ranging in size from 43-in. to 55-in. diagonally.
A super-narrow bezel LCD video wall was added at the front of the casino, around a new brew pub. Though utilized in many ways, its main purpose is to highlight and support Sycuan's long-running relationship with the MLB's San Diego Padres. Players and coaches regularly come out for scheduled events, including autograph signings and watch parties.
Sycuan and JCM Global created a huge wow factor for arriving guests with a 32-by-16 direct-view LED video wall behind the registration counter. Displaying a mix of iconic scenes and aerial views of the San Diego region, as well as ambient, experiential content, the 2.5-mm.-thick seamless wall effectively sets the visual tone for the property.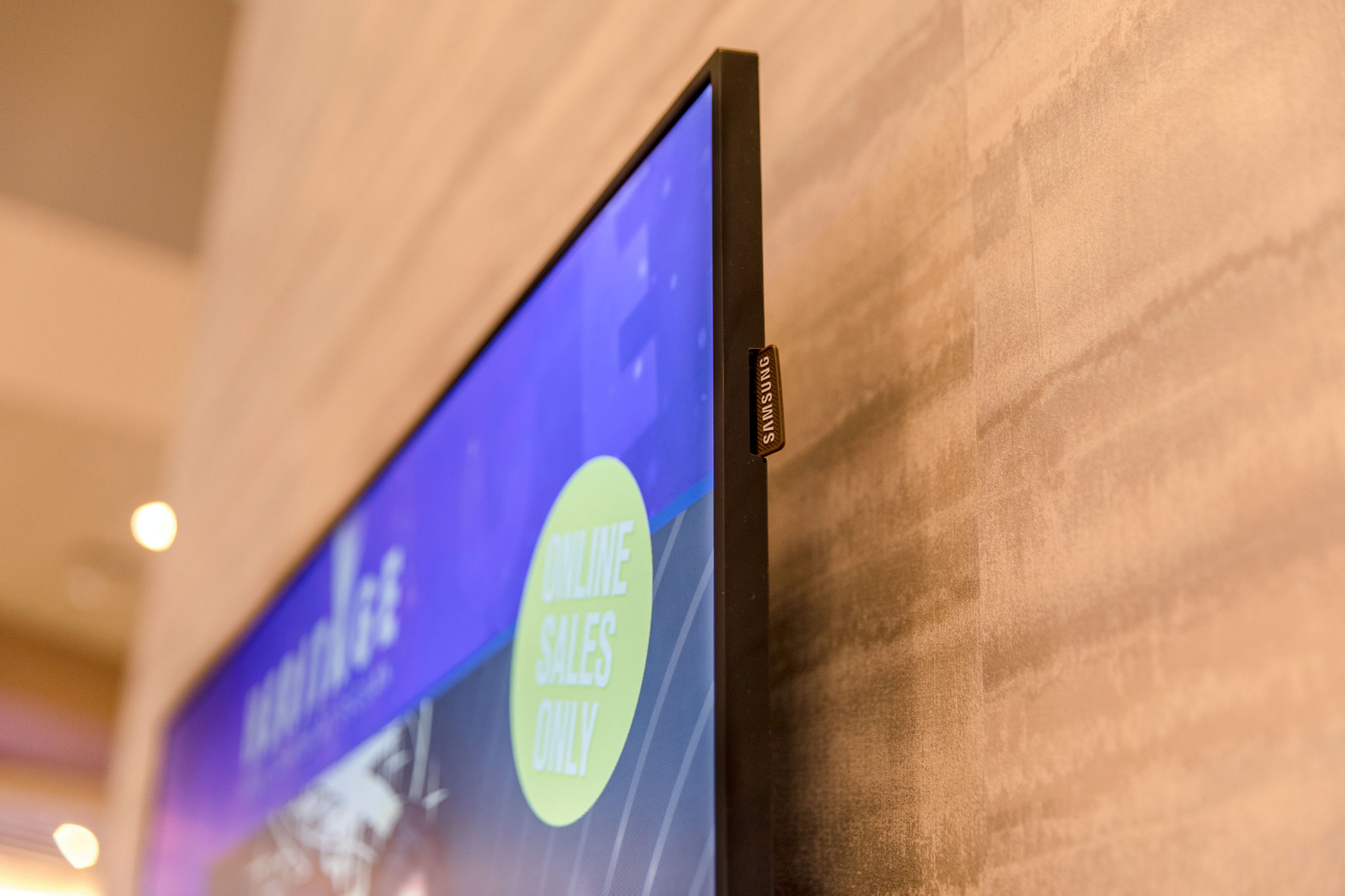 Digital menu board displays in the food court influence orders and ensure accurate pricing. Screens in staffing areas — out of view of guests — are relaying human resources messaging to staff, who are constantly on the move and changing throughout the property's always-on environment.
It's a more effective tool for keeping staff informed, says Tinklenberg. "They are much more engaged with the digital platforms than they are with a piece of paper that we might hand out during a shift change."
Samsung also worked with Sycuan to equip guest rooms with state-of-the-art TVs. More than 350 hospitality TVs, the majority of them 49-in. screens, have System-on-Chip (SoC) intelligent media processors on board and H.Browser software installed, allowing network content delivery and removing the need for costly and often sluggish set-top TV boxes in rooms.
"One of the big considerations for me was I wanted a platform that would match up with our technology vision, and didn't want set top boxes in the rooms," explains Tinklenberg. "We wanted to have direct networking right into the back of the display. We wanted to make it as clean and nice as possible in the rooms, trying to keep them from being cluttered with a lot of objects, and making the technology experience very easy for people in the rooms to understand."
The screens tie into the hotel management system to enable personalized welcomes to guests on the in-room TVs, and Tinklenberg says his IT team is working with resort teams, such as food services, to add customized content to room screens, like special dining offers.
"Samsung was a big part of the decision," he adds. "I think that some of the other options we've looked at didn't support that vision for our guest experience."
Sycuan also added premium audio — in the form of JBL pro sound bars in more than 100 suites — provided by Samsung partner company Harman.
Using Samsung technology across the expansion aligned with a couple of goals: future-proofing the casino's signage, and realizing the consistency and support that comes with a single, globally respected vendor.
The Wall is a massive, modular microLED display with HDR10+ technology that transforms any space.
Samsung Smart IP TV can have customized content management while offering premium visual quality.
The Results
Flexible, Seamless Content Delivery
The expanded resort had its grand opening and relaunch, and the feedback from guests has been positive — particularly for the massive LED wall that greets arriving hotel guests.
"They really enjoy seeing the San Diego landmarks when they check in, and relate to how they've been there," says Tinklenberg.
Flexibility and the ability to respond rapidly are the most obvious business benefits. "The digital signage is there," Tinklenberg explains, "to help inform our guests about different promotions and events that are either going to happen, or are happening at that moment. We tie our digital signage platform into our promotions platforms so while promotions are happening live, the results of those promotions, and the celebrations around those promotions, are happening on those screens.
"It gives us a ton of flexibility to be able to switch back and forth when we're having a large event," continues Tinklenberg. "We can stream that content anywhere in the casino. Or if there's a large sporting event, we can switch all of those displays over quickly to display that content, and then push it all back to the marketing and more static content that we utilize throughout the casino."
The screens are all run out of Tinklenberg's IT department, and an in-house creative collaborates with marketing and promotions to continuously generate new messaging. "It's a very, very seamless integration of those departments, who work very tightly on all the things that we do digitally," says Tinklenberg.
The expanded screen network is now more advanced than those in many competing casino resorts in the region, but Tinklenberg says his team is still learning and optimizing.
"It's still early, and a lot of our hotel teams are adapting to it," he says. The goal is to run a multi-model digital system that reaches the many different screens acting as visual touchpoints for guests.
"So, whether you're looking at the television, a tablet, a phone, a kiosk or digital signage," he says, "all of that content is seamless, and the message is the same across all of those media platforms by going digital."