Remote patient monitoring is one of the fastest-growing healthcare trends. For hospitals, it's a way to improve post-acute care and reduce hospital readmissions. For physicians, it's a new tool for chronic care management and a new opportunity for reimbursement from the Centers for Medicare and Medicaid Services (CMS). And for health insurers — the newest market for remote monitoring — it's a way to improve population health and save money.
Regardless of your use case, when you're planning to launch a remote patient monitoring program, you have big decisions to make — from which patient populations you should monitor to which remote monitoring solutions you should use. But if you plan well and choose the right partners, implementation is fairly simple and mostly managed by your vendors, with minimal effort from your IT staff.
The key to a successful remote patient monitoring launch is thoughtful planning. Knowing where to start and what questions to ask in the first stages will put you on the right path to launching or upgrading a remote monitoring program.
1. Which patient populations would benefit most?
Most leading remote monitoring platforms are flexible enough to work for a variety of clinical use cases — whether providing post-acute care after surgery, supervising chronic care management for conditions like congestive heart failure or asthma, or guiding patients through lifestyle changes such as weight loss, smoking cessation or addiction recovery. But some solutions are better suited to some use cases than others.
It's important to know which conditions are on your remote patient monitoring wish list — now and in the future — before choosing a vendor. Otherwise you might end up with a solution that doesn't meet all your needs.
It also helps to know which patient populations are top priority for remote monitoring so you can roll the technology out in stages and not overwhelm clinical staff.
2. Who should own the hardware?
Some remote patient monitoring vendors have traditionally offered Bring Your Own Device (BYOD) solutions that let patients download an app and use their personal smartphones or tablets to enter information and receive notifications. However, such solutions often prove insecure and difficult to manage and support.
Your Definitive Guide to EVV Compliance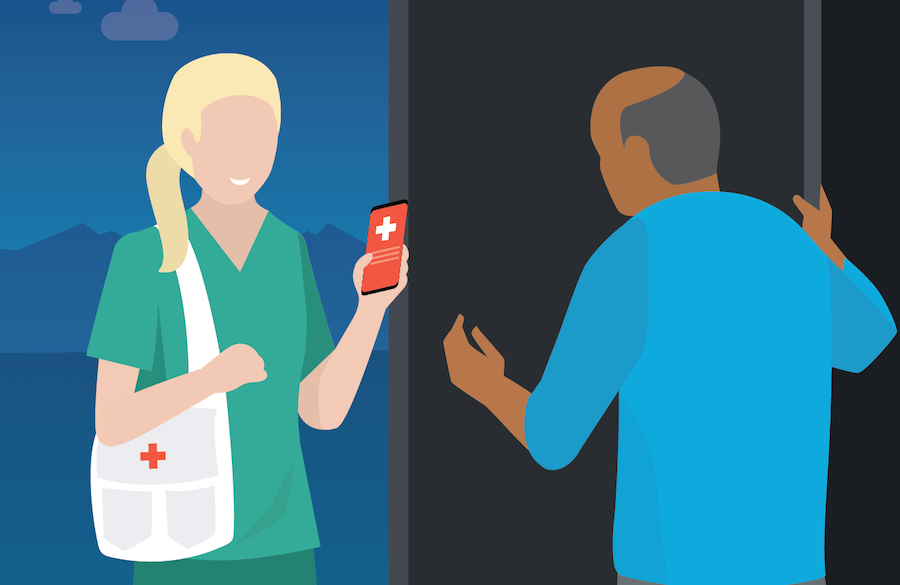 White Paper
Discover how mobile solutions can can help your agency satisfy EVV requirements in your state. Download Now
Today's vendors typically install their software on preconfigured mobile devices that patients use exclusively for the monitoring program. The devices are locked down and containerized, with a streamlined user experience that works for patients of any age. This method also enables providers to make better use of the sensors in the device and add additional functionality, such as push-button emergency calls or fall detection. Plus, for Medicare patients, physicians get CMS reimbursement for the dedicated device.
3. What is the best form factor?
Just as you need a remote monitoring solution that meets all your needs, you also need hardware that's a good fit for the patient populations you'll monitor. Many leading remote monitoring vendors offer their solution on various types of devices, or plan to do so in the near future. Others don't, so it's important to know what you want before choosing a vendor.
Wearable remote patient monitoring devices are one of the latest healthcare trends, and many vendors now offer smartwatch-based solutions. New research from Johns Hopkins shows that wearable accelerometers (sensors that track movement) measure activity levels more accurately than patient surveys. Wearable monitors are also a better predictor of death risk in seniors than traditional metrics such as age, smoking and alcohol use, and history of heart disease or cancer.
Still, wearables aren't the only effective way to gather patient data. Most modern smartphones also have accelerometers, and depending on your use case, activity level might not be an important data point for you to collect. Plus, if patients need to answer questions or type in information, a tablet or larger smartphone might be easier to use.
4. Which vendors should you use?
Remote patient monitoring vendors are not created equal. They all do the same thing — enable physicians to remotely monitor patient data — but they do it in different ways, using different devices at different scales.
Choosing from this wide playing field of vendors can be a daunting task. Start by seeking guidance from colleagues who have already implemented remote monitoring, as well as technology partners who have relationships with remote monitoring providers — for instance, device manufacturers and cellular carriers.
As you're evaluating remote patient monitoring solutions, ask vendors about:
Company background: How long have you been in business? How many healthcare organizations do you currently serve? Do you have case studies that demonstrate the results you have gotten for other clients? Do you have use cases like ours?
Scalability: How many patients will your solution serve? How easy is it to scale our patient load up or down?
Electronic health records (EHR) integration: Can your solution be integrated with our organization's EHR?
Physician experience: How do physicians receive data? What insights can they get from your platform? Can they receive automated alerts about troubling trends in patient data?
Hardware: Does your solution include customized devices? If so, how much do you mark up the devices? If not, can you help us procure quality devices at an affordable rate?
Kitting/provisioning: Who provisions devices and kits the solution? Who ships them to patient homes? Is there anything our IT team will need to do?
Cost vs. ROI: What is the cost of your solution? What is the average return on investment that you provide customers?
Support: Who provides tech support to patients? Who provides customer service?
Privacy/security: How do you secure patient data? Have you ever experienced data breaches? Is your solution HIPAA-compliant?
5. How can you control the costs?
Implementing remote monitoring often requires more than one partner. Along with a software provider, you'll need a cellular carrier and possibly a device manufacturer. Depending on the scale of your remote monitoring program, you might also need a reseller capable of purchasing large volumes of devices and/or a HIPAA-compliant mobile device management solution to secure the devices.
The key to a successful and cost-effective launch is finding vendors who will work together to ensure a seamless implementation and who will bundle products and services to offer a better price. For example, mobile devices can be one of the most expensive components of a remote monitoring solution, especially if your vendor doesn't include a device and you buy them at market price. However, if you purchase devices through a cellular carrier and sign a contract for data service, the price drops dramatically. And you're going to need that data anyway.
Done right, remote patient monitoring improves patient outcomes and saves your organization money. If you're a physician, it can even make you money. The trick to doing it right is finding partners who understand the challenges that healthcare organizations and physicians face, have the relationships in place to optimize costs, and know how to make implementation as painless as possible.
After that, the hard part is over. You can sit back and let your partners do the heavy lifting.
How smart are your clinical communications? Find out with this free assessment. Then learn more about the paperless workflow solutions and remote patient monitoring solutions that help you save time and money, and keep your business moving.