Remote patient monitoring has been gaining momentum for years, as hospitals and care providers look for ways to manage a rapidly aging population with complex chronic health needs. But until this year, there was a major impediment for adoption. The single largest payer for seniors and chronically ill patients — the Centers for Medicare & Medicaid Services (CMS) — didn't make it easy to manage remote monitoring or get paid for it.
That's changing quickly, thanks to new CMS rules and remote patient monitoring reimbursement codes.
Why is CMS embracing remote monitoring? What are the new rules, and what do these changes mean for health systems and care providers?
Remote patient monitoring reimbursement: What's new?
Until recently, remote patient monitoring reimbursement was a gray area for care providers in most states. Twenty states offer some sort of reimbursement, but for everyone else, CMS lumped remote monitoring into a broader telehealth category that only applies to individuals in rural or remote areas.
Then in 2017, CMS published a two-year study on its Chronic Care Management (CCM) program, which demonstrated how the program saved Medicare millions of dollars, decreased hospital readmissions and increased patient awareness around disease management. Recognizing the value that remote monitoring could add to the CCM program, CMS decided to make the service more accessible.
In 2018, CMS designated a separate billing code for remote monitoring and offered a formal definition. CPT code 99091 covers the "collection and interpretation of physiologic data (e.g., ECG, blood pressure, glucose monitoring) digitally stored and/or transmitted by the patient and/or caregiver to the physician or other qualified healthcare professional, qualified by education, training, licensure/regulation (when applicable) requiring a minimum of 30 minutes of time."
How Mobile Solutions Improve Patient Experience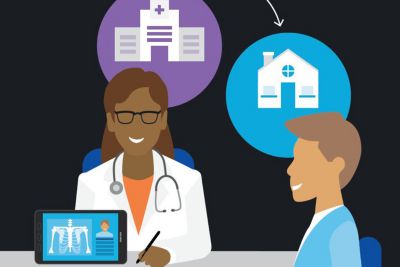 White Paper
Get your free guide to enhancing the patient experience with mobile technology. Download Now
CPT 99091 was a strong start, but it didn't reimburse for equipment setup or patient training. Only "physicians and qualified healthcare professionals" could manage the technology, and the code required at least 30 minutes of interactive communication in each 30-day period.
On November 1, 2018, CMS amended the 2019 Medicare Physician Fee Schedule (PFS) to include three new CPT codes for remote patient monitoring reimbursement, all of which went into effect on January 1, 2019. These codes include:
CPT code 99453: "Remote monitoring of physiologic parameter(s) (e.g., weight, blood pressure, pulse oximetry, respiratory flow rate), initial set-up; and patient education on use of equipment."
CPT code 99454: "Remote monitoring … device(s) supply with daily recording(s) or programmed alert(s) transmission, each 30 days."
CPT code 99457: "Remote physiologic monitoring treatment management services, 20 minutes or more of clinical staff/physician/other qualified healthcare professional time in a calendar month requiring interactive communication with the patient/caregiver during the month."
Under the new codes, Medicare will pay for the initial setup, the device and the ongoing management of remote monitoring programs. Rather than making physicians responsible for managing these programs, the new rules allow clinical staff — including RNs and nursing assistants — to pick up the slack. And because CCM and remote monitoring can be billed separately, care providers can increase revenue without increasing patient population.
That's great news for hospitals, physicians and home health agencies. There are, however, a few catches and unanswered questions.
CMS reimbursement requirements
The final rule on remote patient monitoring reimbursement is long, but not exhaustive. For example, it does not spell out which types of technology are covered under the new CPT codes. Industry advocates and care providers have asked CMS to elaborate, and the organization plans to release further guidance for practitioners.
In the meantime, there are some helpful hints in the code descriptions, which say providers can bill for "remote monitoring of physiologic parameter(s) (e.g., weight, blood pressure, pulse oximetry, respiratory flow rate)." The rule also stipulates that devices must meet the FDA's definition of a medical device.
To qualify for reimbursement, providers will also need to ensure that:
Medicare Part B patients are charged a 20 percent copayment (routinely waiving copays can trigger fines under the federal Civil Monetary Penalties Law and the Anti-Kickback Statute).

Patients opt-in for remote monitoring services.

The service is ordered by a physician or other "qualified healthcare professional" (such as a nurse practitioner, certified nurse specialist or physician assistant).

Data can be wirelessly synced for evaluation.

Patients are monitored for at least 16 days to be applied to a billing period.
Modernizing Medicare: What's next?
Along with the new CMS reimbursement codes, the 2019 PFS introduced a number of other sweeping rule changes that will go into effect over the next few years. These changes will reduce the administrative burden for physicians, eliminate paperwork redundancies and further expand CMS reimbursement for telehealth services, including:
Brief communication technology-based service, such as virtual patient/physician check-ins (HCPCS code G2012)

Remote evaluation of recorded video and/or images submitted by an established patient (HCPCS code G2010)
According to CMS, these changes "reflect a broader administration-wide strategy to create a healthcare system that results in better accessibility, quality, affordability, empowerment and innovation."
CMS' digital transformation couldn't have come at a better time for overwhelmed hospitals and the home care agencies they rely on to keep patients out of the emergency room. Now, doctors and patients can stay connected, clinical staff can be part of the loop, organizations can get paid for using new technology to solve old problems and patients can stay healthier at home.
Get an extended guide to using mobile technology to improve the quality of patient care with our white paper. Or, learn how MobileHelp medical alerts are reimagining emergency response.