Fire and emergency medical services (EMS) agencies are rapidly adopting mobile technology as an integral platform for communications, response coordination and information access in the field. Innovative mobile apps are emerging to address the needs of virtually every role in the department, from the fire chief to the emergency medical technician. At the same time, a new breed of rugged mobile devices are providing a potent combination of data-rich multimedia information sharing, situational awareness, reliable national coverage and tough all-weather durability.
The case for deploying mobile devices to fire and EMS personnel is clear. That said, making the decision to go mobile is only the first step in the process. For fire/EMS departments to realize all the benefits of 4G/LTE mobile technology — and minimize the growing pains associated with deployment — your project team should plan your mobile rollout step by step.
Here are five key steps to executing a mobile initiative within your department.
1. Consult Stakeholders Throughout the Process
Successful mobile deployments start with the project team engaging effectively with stakeholders from the outset. The goal is to find out which of the stakeholders' specific needs are addressable with mobile technology and determine each group's priorities. Your project team should gather input and feedback at various points from firefighters, EMTs, dispatchers, commanders, fire inspectors, IT, government overseers, purchasing agents and neighboring first responder agencies who work with your deployment.
Transform Fire and EMS With Mobility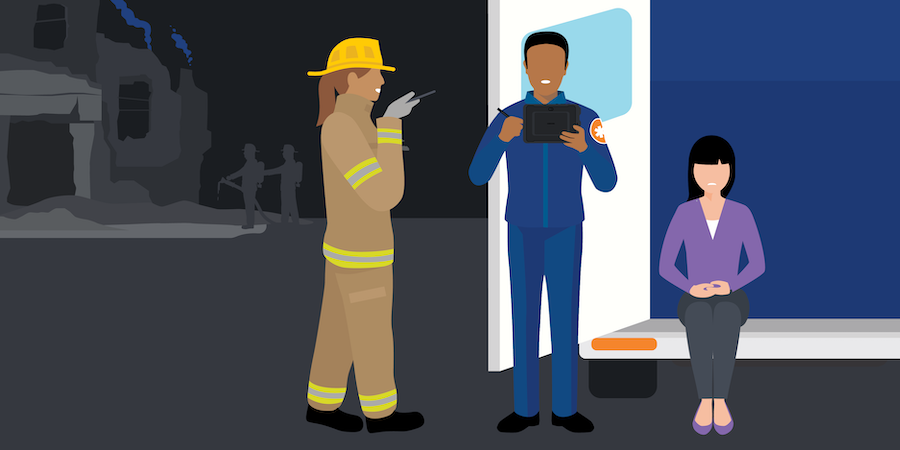 Take advantage of mobile devices to improve first-responder capabilities with this free guide. Download Now
2. Determine Funding Sources and Budget
Once the project team knows the type and quantity of mobile technology it wants to deploy, it's time to find the money. Potential sources include regular departmental capital funds and any additional budget that may be provided by local/state government for technology upgrades. Your project might also qualify for grants from the Department of Homeland Security and other agencies.
When all available funding courses have been identified, the project team can establish a budget that accounts for device acquisition, data plans, support, deployment, training and transition costs for the new mobile system. The new tech roll out will likely increase your costs in the short term, but over the long haul, consolidating the department's communications and computing on mobile devices may reduce your overall technology spend.
3. Plan the Pilot Project
After deciding what type of mobile equipment to buy and finding money for it, the project team should draft a schedule for mobile deployment. For device purchase, plan to evaluate priorities, choose a pilot project, issue requests for proposal (RFPs) to vendors, evaluate bids and buy devices.
For the pilot project, the process also needs to cover the initial rollout of new mobile equipment in small pilot studies, evaluations of those studies and adjustments to the full rollout schedule and a transition phase in which old and new systems run side by side. New fire/EMS technology deployments can run into problems, even if those problems are simply due to the expanded options and convenience offered by new technology.
The rollout plan should allow adequate time for staff training sessions. This will help staff become familiar with the many features offered by smartphones and tablets. Training will drive better adoption and help the department optimize return on investment (ROI).
4. Manage and Customize Devices
In most instances, agencies are better off taking beginning-to-end responsibility for the mobile devices their members use. The device life cycle includes purchase, configuration, management, policy setting and enforcing, updates to operating systems and apps and inventory management for replacement devices. By taking full ownership and control of their device fleets, agencies can give each employee the right device for their role — and ensure that individuals use the devices as intended and receive all agency communications.
Exceptions to these guidelines should only be allowed when absolutely necessary, e.g., when deploying mobile technology to volunteer fire departments with limited means. Even in this case, purchasing phones for all members may be the project team's most practical choice. If an agency wants to use its mobile platform for essential or high-priority communications, volunteers might need mobile phones to receive important transmissions, and the agency might choose to pay a monthly stipend to reimburse them. If the agency finds it can provide phones at a price that's competitive with the stipend costs, they might be better off purchasing the phones and taking control of the mobile infrastructure.
5. Security Matters
New mobile technology must be secured against potential hacking and unauthorized access to sensitive fire/EMS communications. Project teams should ask vendors about the security provided by their mobile solutions. For instance, Samsung smartphones and tablets are all protected by the company's defense-grade Knox security platform.
With careful planning, fire/EMS agencies of any size can realize the full benefits of mobile technology.
Explore Samsung's mobile first responder solutions that support the efforts of fire/EMS agencies, large or small. Then learn how to take advantage of mobile devices to improve first-responder capabilities with this free guide.