Within a fire and emergency services agency, each person has a distinct role and responsibility. From the battalion chief who oversees the incident scene to the frontline firefighters and emergency medical technicians (EMTs) to fire inspectors and investigators, every individual plays a crucial part in supporting the overall mission of protecting and serving their community.
While fire and emergency personnel's specific challenges are different, one unifying need across the departments' ranks is seamless communications and on-the-go information access. When planning a mobile innovation strategy for your agency, it's important to evaluate the unique needs of all roles to create a comprehensive, multiphase roadmap.
Smart, connected mobile devices and applications can transform how fire and emergency services operate. They can provide rich, real-time situational awareness data to frontline first responders, they can give commanders and dispatch the information they need to make life-saving decisions, and they can streamline reporting and compliance to avoid paperwork inaccuracies and overload.
But as with any digital transformation initiative, successful mobile deployments within fire and EMS are built on careful planning and diligent execution. Here's an overview of some of the key considerations for mobile technology solutions relating to several core roles across a department.
Incident commanders: Enhancing situational awareness
For commanders in charge of incident scenes, it's critical that they know what's happening at all times. At a multialarm fire, they have to know the areas involved, how flammable they are and what equipment is on hand (and arriving) to deal with the blaze. If a disaster involves casualties, commanders need to know how many people are injured, how they can be triaged and what threats remain. And in all cases, those in charge need to know the positions and condition of their personnel.
Transform Fire and EMS With Mobility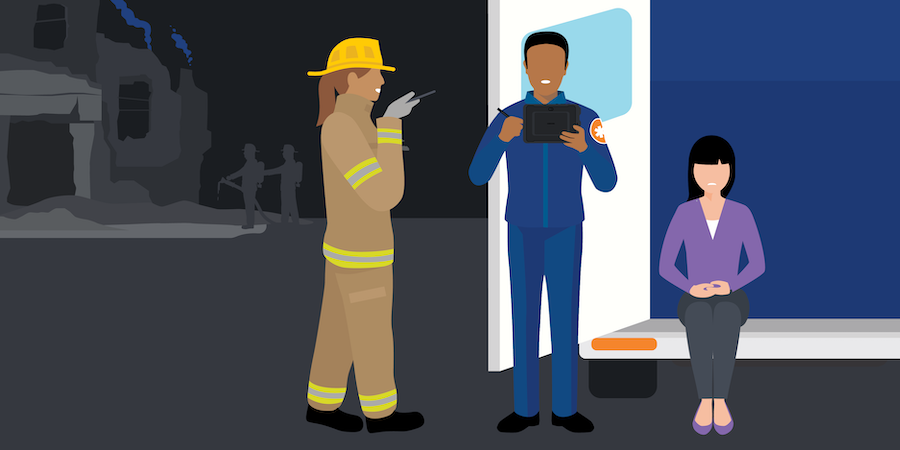 Take advantage of mobile devices to improve first-responder capabilities with this free guide. Download Now
When it comes to mobile solutions for incident commanders, screen real estate is extremely important for multitasking and seeing the full picture of a complex incident. A 10-in. tablet, for example, can better support situational awareness applications than a smaller smartphone, while still providing the ability to roam freely.
For larger incidents, one of the first priorities is often to establish a mobile command center at the scene. Mobile devices that can be docked to a larger monitor and allow the commander to access applications with a standard keyboard and mouse are ideal in this scenario.
With 4G/LTE connectivity, a tablet can receive wireless data virtually anywhere, the same way a smartphone can. In areas where the mobile signal is weak, agencies should provide signal-boosting technology to enhance coverage for all on-scene responders.
Firefighters: Augmenting communications
Firefighters rely on timely, accurate information to save lives and minimize property damage. Innovative new mobile applications give firefighters a real-time multimedia connection to dispatch, field command and each other that augments traditional land mobile radio (LMR). Mobile applications can also provide individualized instructions and support for each firefighter based on their specific role in their unit.
Mobile devices are affordable for professional and volunteer fire departments. Volunteers in particular can benefit from the low cost of buying and using mobile devices and the minimal learning curve of fire/EMS applications. With improved push-to-talk (PTT) capabilities, smartphones can now support seamless two-way or group voice communications.
Agencies should ensure they protect their mobile investment with cases or look for ruggedized smartphones — especially those tested against MIL-STD-810 standards for shock, heat and water resistance. It's important to also consider the types of applications that agencies plan to use and purchase devices with the requisite processing power. A powerful application like the Android Tactical Awareness Kit (ATAK) can deliver valuable situational awareness to every team member, provided their devices have sufficient processing power.
Smartwatches are another form factor that can benefit firefighters. Smartwatches can deliver instant notifications to volunteers to alert them to an incident, helping to reduce response times. At the fire scene, smartwatches can be worn within turnout gear to monitor firefighters' vitals and location, enhancing safety.
Fire inspectors: Reduced paperwork, improved compliance
Fire inspectors and investigators play a unique role within the department — one that involves unique skills and equipment. Fire inspectors require deep technical knowledge and must be meticulous in their assessment of risk factors such as hazardous material storage, fire suppression equipment and access to fire exits.
They are ultimately responsible for recording any fire code violations and delivering detailed reports. In fire scene investigations, they must submit NFIRS reports that document the damage, record injuries and deaths and isolate potential causes.
Using mobile devices and applications, fire inspectors can access information on each building they visit, including floorplans, hazardous materials lists and records of fire code compliance or noncompliance. Mobile devices' cameras can capture high-resolution photos and videos of noncompliant buildings and inadequate fire protection equipment. Mobile devices and applications are ideal for documenting investigations at fire scenes, from photos of suspicious burn zones to video interviews with witnesses.
Ruggedized tablets are an ideal form factor for mobile knowledge workers such as fire inspectors. They enable inspectors to document everything they see on scene, immediately appending photos and videos shot on location. Tablets' screen size is also beneficial for viewing floorplans and completing digital forms. Agencies should look for tablets with pens, which can be useful for note-taking and for completing forms while wearing gloves.
EMTs: Critical data saves lives
Information is the basis of effective emergency medical care. Paramedics and EMTs are always on the move and need quick access to patient information at all times. Unfortunately, many EMTs today are reliant on laptops that are too bulky to remove from the vehicle, limiting information access at the point of care.
By outfitting EMTs with modern mobile devices and applications, agencies are able to accelerate information sharing, ensure constant communication with dispatch and receiving hospitals and improve reporting accuracy.
EMTs typically need tablets with larger screens for point-of-care use. Devices need to be ruggedized to withstand the rigors of fast-moving rescue work. With an LTE-enabled tablet, EMTs can call up patient records and take notes without having to pause and search through dropdown menus. The device should have cameras for documenting injuries and transmitting images to receiving hospitals. And if a real-time consult is called for, a mobile tablet is ideal for videoconferencing.
Mobile technology has something to offer everyone working in firefighting and EMS, from volunteer firefighters protecting their hometown in Wyoming to the full range of firefighting and EMS professionals serving millions in Chicago, New York and Los Angeles. In a small grass fire or a Category 5 hurricane, modern mobile technology provides tools to respond.
Discover how Samsung's efficiency-boosting solutions support mobile first responders. Then find out how much you can save by going mobile-first.