A mobile hotspot is an invaluable connectivity option when you need internet access quickly but can't get on Wi-Fi. Turning your Galaxy smartphone into a mobile hotspot takes less than a minute and will allow you to connect multiple devices, including laptops, Chromebooks and tablets.
Your Own Private Wi-Fi Access Point
When you turn your smartphone into a mobile hotspot, you are essentially creating your own Wi-Fi access point utilizing your phone's mobile data. If you don't have access to Wi-Fi or don't want to connect to unsecure public Wi-Fi networks, turning on your mobile hotspot can let you (and those you choose to invite) stay connected and productive on your other computing devices. However, it's important to limit who can connect to your hotspot (by using a password) so that someone else doesn't burn through all your mobile data or try to intercept sensitive information passing through the hotspot.
The Mobile Security Top 10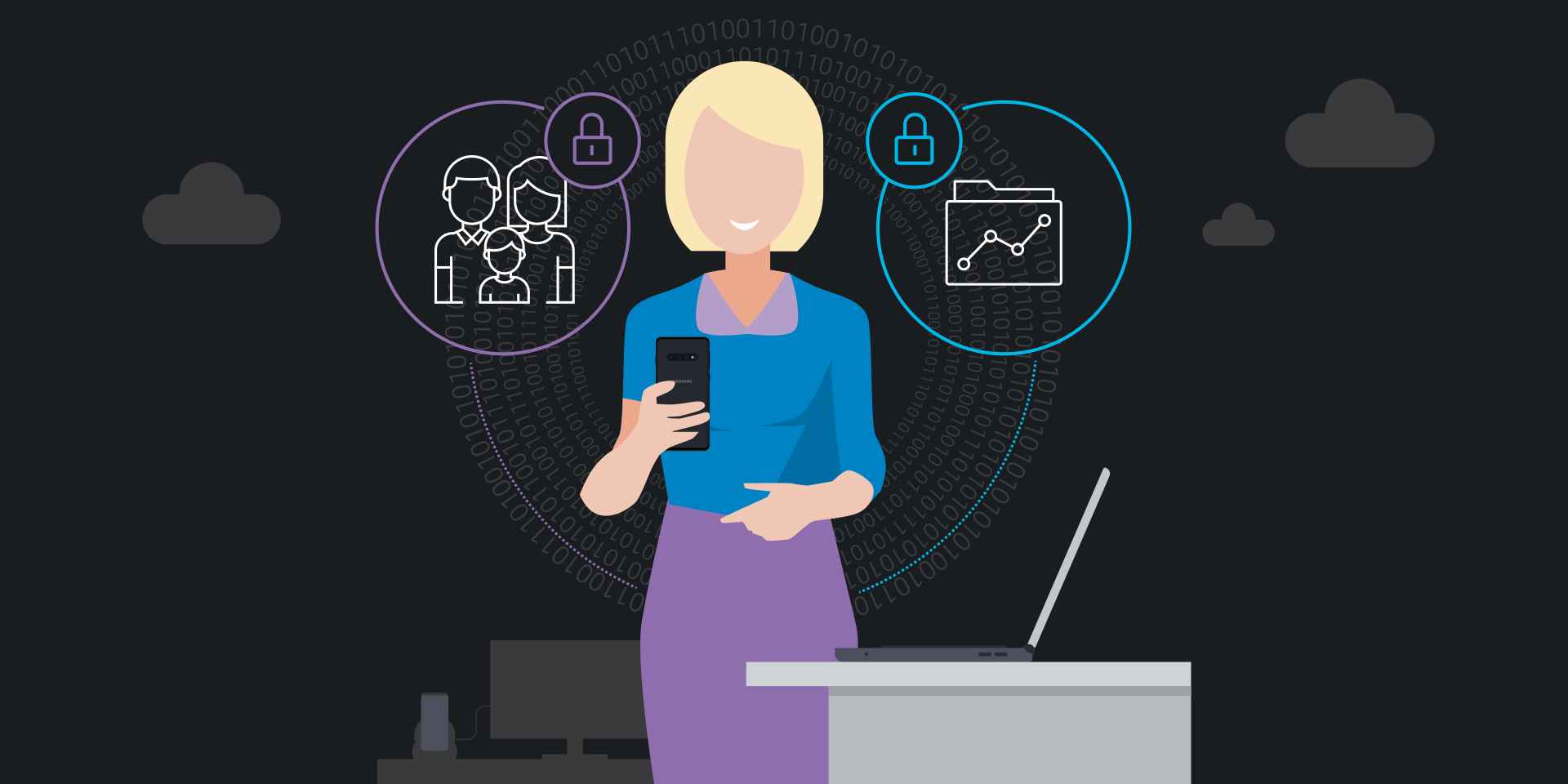 Get your free guide to better securing the personal and work data on your mobile phone. Download Now
Here's a step-by-step guide to turning your Galaxy smartphone into a mobile hotspot, including advanced configuration features to protect your device and your mobile data.
Turning on Mobile Hotspot
On the latest Galaxy devices, including the Samsung Galaxy S20, S20+ or S20 Ultra smartphones, turning on the mobile hotspot feature is as simple as pulling down your Quick Panel and tapping Mobile Hotspot. On some earlier Galaxy devices, you may need to open Settings and tap into the Connections menu.
Configure Your Mobile Hotspot
If you are using the feature for the first time, open the Mobile Hotspot menu to configure your settings before turning your hotspot on. Here are some recommended steps to configure your hotspot:
Change the name of your hotspot to make it easily recognizable to you and anyone you plan to invite to use it.
Unless you want everybody nearby to have access to your hotspot, you should set a strong password that will be required for any devices attempting to connect to the mobile hotspot. While you can change security from WPA2 PSK to "open," it's strongly recommended to keep a password on your hotspot.
The latest Galaxy devices have an Auto Hotspot feature that allows you to automatically share your phone's internet connection with other devices signed into your Samsung account or part of your account's family group. You can invite specific people to join that group.
Another helpful configuration is to set a timeout on your hotspot to preserve battery life and enhance security. This can be accessed in the options menu at the top right. The hotspot will turn off after a designated period of time during which there are no connected devices.
For extra security, you can hide your hotspot so other users can't try to connect to it. This setting found in the options menu under Configure Mobile Hotspot.
Sharing Your Mobile Hotspot
In addition to using the family sharing feature within Auto Hotspot, you can also quickly share mobile hotspot access using a QR code. Once your hotspot is turned on, just tap the QR code icon at the top right and your colleague or friend can scan it on their device. With the QR code, they'll be able to connect immediately, without even entering your password.
Wi-Fi Tethering
Many Galaxy devices also enable Wi-Fi sharing. Although typically a mobile hotspot will be used when you don't have Wi-Fi access, there may be instances where your device is connected to Wi-Fi and you want to share that connectivity to other devices. One benefit of Wi-Fi sharing via your phone is that you do not have to directly share the original Wi-Fi access point's password. To do this, go into the options menu at the top right and turn on Wi-Fi Sharing.
Note: The features and directions outlined in this post apply to the Galaxy S20, S20+ and S20 Ultra. Features vary slightly among other Galaxy devices.
While you're working from home, you can create a powerful workstation with Samsung DeX. And get our free guide to better securing the personal and work data on your mobile phone.