Public utility field work is one of the most physically demanding, information-intensive occupations in the world. Public utility workers, often operating in harrowing weather conditions — because things tend to go wrong in bad weather — have to detect, provision and execute repairs and upgrades while protecting themselves and the public from high-voltage electrocutions, gas line ruptures and high-pressure water main breaks.
Thankfully, advances in ruggedized mobile technology can now make public utility field work more efficient, effective and safer for everyone concerned.
One device to rule them all
The biggest advantage of using a ruggedized all-weather mobile device in the field is that it can replace virtually all of the other electronics that public technicians might carry, including a push-to-talk (PTT) radio, digital camera and portable computer. Not only does this reduce the amount of gear the technician has to lug around, but it centralizes everything place.
Empower your field services team with mobility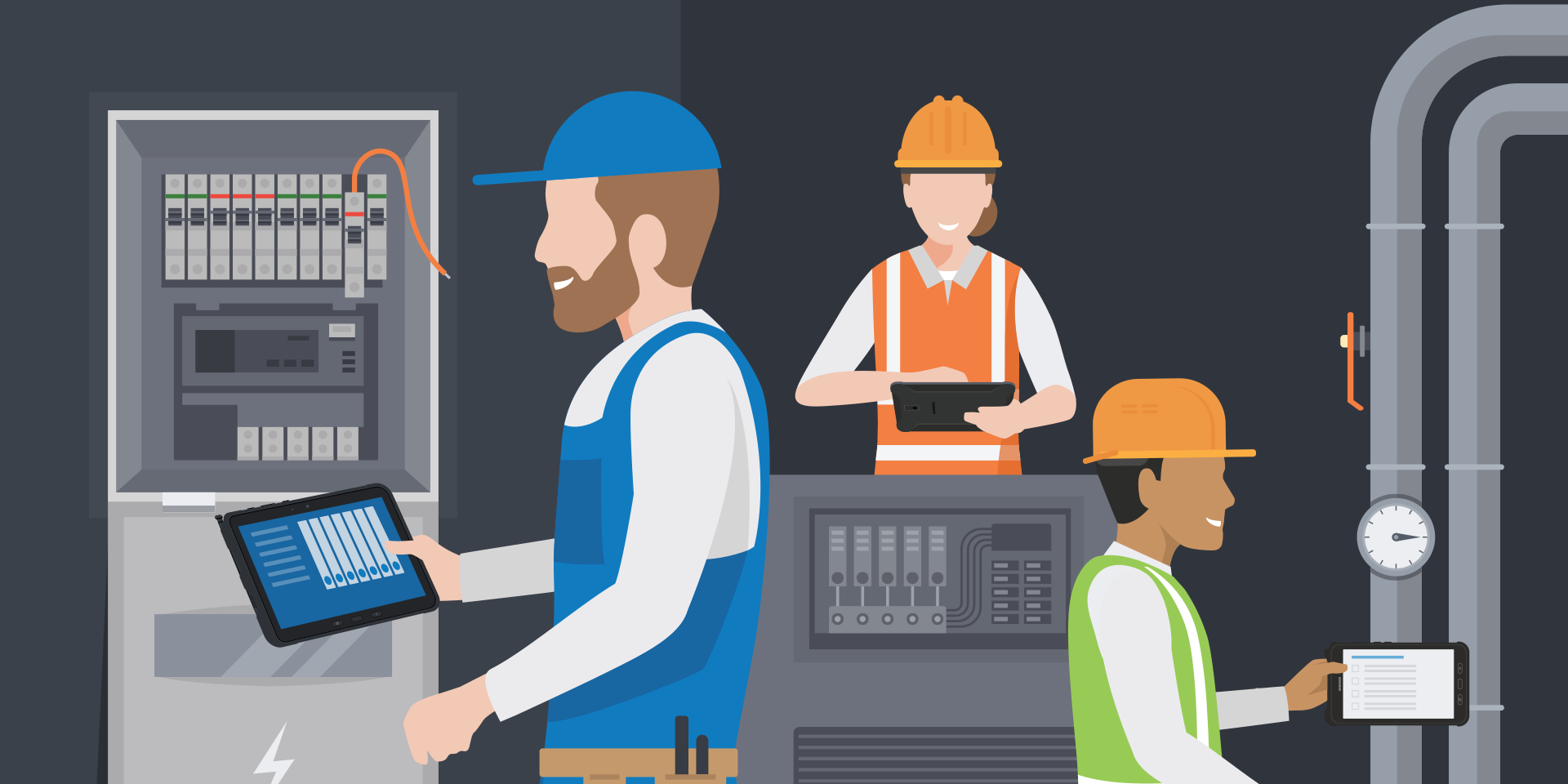 Exceed customer expectations with this free guide to improving connectivity in field services. Download Now
A ruggedized tablet or smartphone provides immediate access to rich data, voice, messaging and video communications. With a growing ecosystem of apps and "smart forms" that are purpose-built to streamline utility industry workflows, utility companies can leverage mobile to transform the way they operate.
Here are five key ways mobile can help public utilities:
1. Access to vital information
A public utility field worker's job is akin to that of a detective: They are sent out to determine precisely where in the network a failure has occurred — because often the location is only generally known to dispatch — determine what kind of failure it is, and then come up with remedies to resolve it quickly.
Having access to a rugged mobile device lets these technicians receive all available information from headquarters, including maps (with driving instructions), network drawings and specifications, building and site records and reports from utility customers and the public.
Being able to see this data during a crisis reduces the guesswork involved in troubleshooting, allowing repairs to start more quickly. Having access to this information also makes a difference during routine maintenance and upgrades, because improved knowledge leads to faster, better repairs and installations.
2. Better field documentation
When a field worker has a ruggedized tablet or smartphone, they also gain a high-resolution camera that can capture visuals and share them in real time with dispatch. Photos and livestreamed video can bring head office engineers into the loop for analyzing problems and selecting and sending replacement equipment immediately. Being able to see the scene for themselves can also help managers make decisions on whether to dispatch more crews and trucks.
3. Enhanced technician tracking
After transitioning to mobile devices, the GPS locations of crew members can be tracked by dispatch in real time. This allows supervisors to schedule their field personnel more efficiently and reassign crews that have just completed their work to the next closest priority assignment.
This enhanced technician tracking helps during regular workdays and makes a difference during emergencies when there are far too many repairs needing attention and too few people available to do them. When supervisors know where their field workers are at all times, they can redeploy them more effectively.
4. Improved worker safety
Public utility field work is dangerous by definition. Technicians are dealing with high voltage wires, natural gas lines and large capacity drinking water and wastewater trunks that have to be handled safely at all times.
Because things go wrong in the real world — especially during bad weather — public utility field workers occasionally get injured. By knowing the field workers' locations at all times and being able to stay in contact with them, dispatch workers can send medical assistance fast. Getting emergency medical services (EMS) crews to the scene during the "Golden Hour" increases injured field workers' chances of survival and reduces recovery time.
5. Faster emergency response
When a live power line drops in the city during a windstorm, the fire department needs a gas line shut down at a chemical plant fire or a broken water main floods a major highway, response time is everything. Having public safety field workers tracked and in contact via ruggedized mobile devices enables faster emergency responses to these and other life-threatening situations.
Choosing ruggedized devices
Samsung has a portfolio of rugged mobile devices, including the Galaxy Tab Active3 and Galaxy XCover Pro, that are ideally suited for public utility field work.
The Tab Active3 is a ruggedized, 8-inch Android tablet tested against the MIL-STD-810 standard while also being IP68 dust- and water-resistant. The Tab Active3 has a touchscreen that works when dry or wet. Field workers who prefer to write their notes can do so using the included S Pen. The tablet's onboard battery is long-lasting and can be exchanged for a new battery if the device is shared across shifts. The Tab Active3 also supports Samsung DeX, so it can connect to a monitor in the vehicle or at the office to deliver a full desktop experience.
The XCover Pro is a rugged smartphone designed for use by frontline workers who need instant access to push-to-talk (PTT) communications. The XCover Pro has physical buttons that can be programmed to access PTT or initiate emergency requests. Like the Tab Active3, it is MIL-STD-810 tested and can be operated in bad weather or by users wearing gloves. Built-in Band 14 capability means the rugged phone can be used for dedicated emergency response communications.
Both devices have high resolution cameras, including front-facing cameras for video calls, and they come equipped with 4GB of RAM and 64GB of onboard storage, plus a microSD card slot for added memory.
Highly volatile or hazardous environments require specialized mobile solutions that can stand up to harsh conditions. Samsung partnered with Pepperl+Fuchs ecom to develop non-incendive versions of its rugged lineup to help those in oil and gas utilities to work faster and more efficiently while staying safe.
The bottom line
Whether you opt for a rugged tablet or a more compact smartphone, public utilities need to move to ruggedized mobile devices today in order to significantly improve their responsiveness, safety and customer service.
Start empowering your field services team with mobility with this free guide. Then discover how Samsung's rugged devices are built for real-world business challenges.