The Solution
The 76,000 square-foot grocery store, opened in December 2019, has more than 100 networked digital signage displays — set in a variety of shapes and configurations — carefully positioned around the store to highlight offers and services, and promote its mission to sell food harvested or made that day.  
"[Displays] serve an amazing function within the store, creating the feeling we want for the customer." –Alfie Oakes, Owner

Oakes Farms is one of the largest independently owned agribusiness operations in South Florida. The family-owned and operated company has eight farms that provide much of the fresh produce and other products sold at its own stores, including the new Seed to Table Market store in Naples.
The Challenge
Conveying a natural message
The Oakes family has been farming and selling its produce in southern Florida for decades, in farm stands, open-air markets and more recently, in its own stores. The family was a pioneer in organic farming, and as consumer demands for fresh, chemical-free food have grown, so has the Oakes family business. The company is now vertically integrated, growing its own produce on eight farms around the Naples, Florida area, as well as raising livestock and farmed seafood. Harvests find their way every morning to Oakes' stores.
Alfie Oakes has been active in the family business since his teens, fully taking over the company in 2012 and rapidly expanding and diversifying what it does. What started as produce stands are now full grocery stores, and the next big step for the company has been an ambitious 76,000 square-foot market in Naples that Oakes believes represents the future of grocery retailing.
Something of a labor of love, done in part as a tribute to Alfie's father Frank who passed away in 2013, the new location is as much a destination as a grocery store. Delayed for years, in part due to damage from hurricanes, the store finally opened in December 2019.
Larger than typical community groceries, the new store is practically a theme park for health-conscious foodies. The shelves and bins are stocked with vegetables and fruits picked that very morning, there are dedicated sections for artisanal cheese and deli meats, and there's a fresh ice cream stand, with cream milked from Oakes Farms' very own herd of dairy cows. Butter is also churned right on-site, and there are also multiple meal counters in the store, with seating for 430 people.
"We're bringing in about 140 items every single day that were harvested that morning from the farm," explains Oakes. "That means when most of our customers woke up, the products they can buy were still growing on the plants at the farm. It's that fresh."
Store design, marketing and a well-established, familiar brand in the area will attract locals, but Oakes realized the store needed to steadily reinforce to shoppers the core "seed to table" value proposition. He didn't want to just say it to customers, but to somehow show them the process.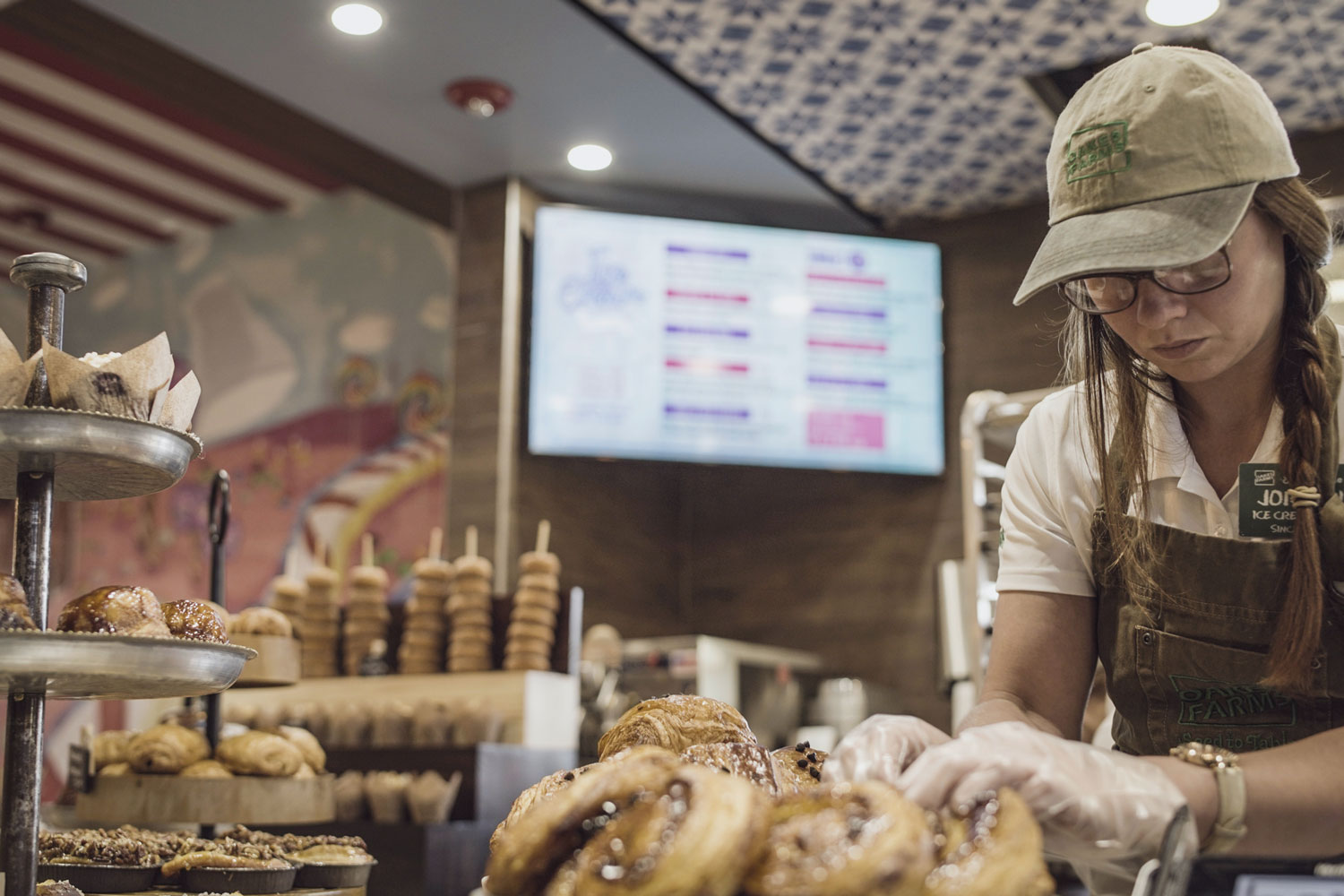 The Solution
Bringing digital landscapes to the grocery experience
The new store opened with roughly 100 digital displays of various sizes and configurations that are there to communicate Oakes' drive for healthy and relentlessly fresh food and to communicate what's available daily.
There are screens at order counters, screens in aisles, the dining area and at welcome and decision points around the store.
Oakes saw display technology as a big part of his vision to build and open a store that reflects the aspirations and demands of healthy-minded consumers, particularly young adults. He also sees the store representing the future for retailing — where experience is at least as important as price.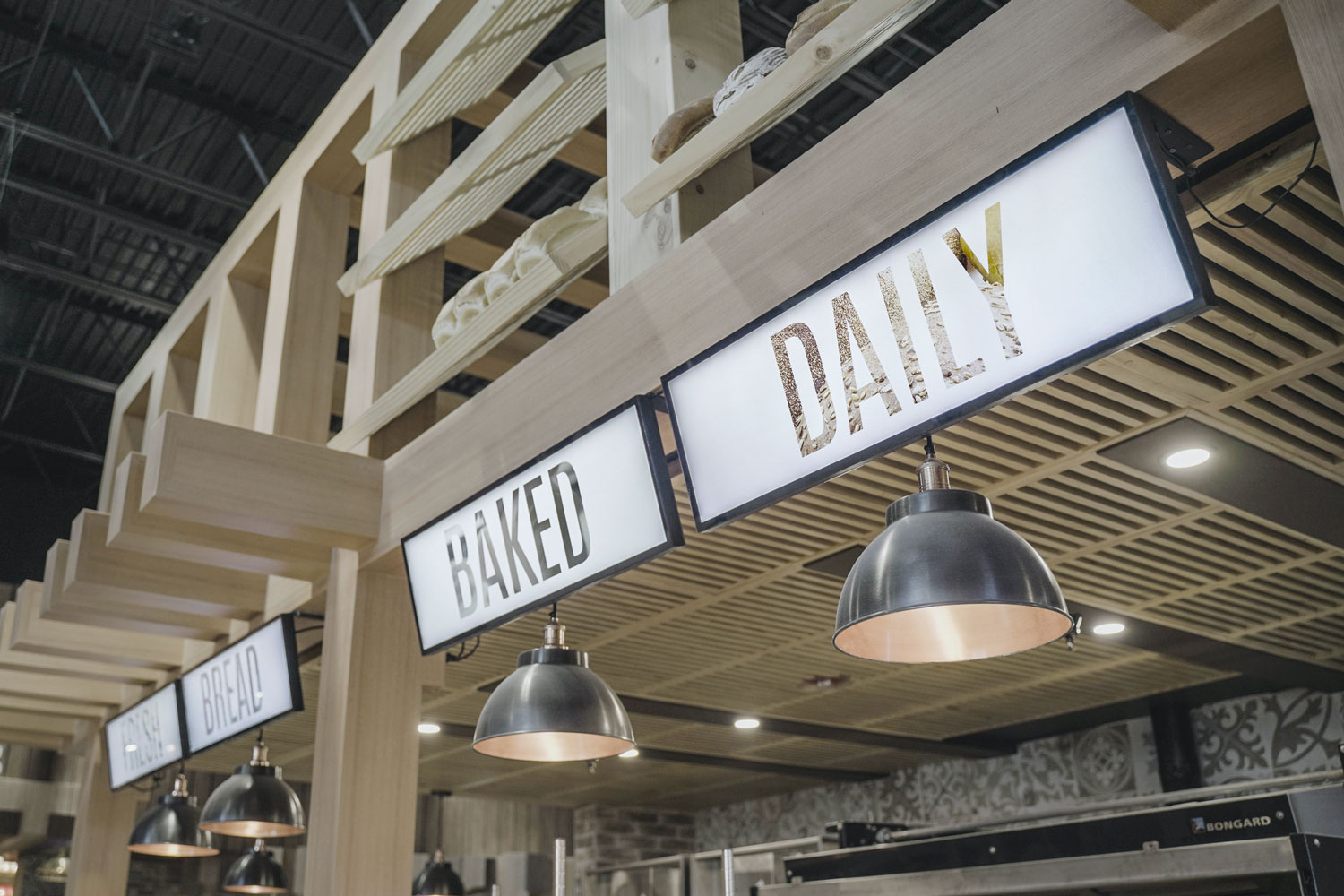 The farms that are the source of most produce at Oakes are located short distances away, but not close enough for shoppers to make a mental and emotional connection. "By using video and cameras, we can use screens in the store to show shoppers that the crews at the farm are harvesting products," says Oakes. "We can let people know that this product was just picked this morning — and here are the guys picking it. It's a way to really drive home our message about freshness."
Oakes enlisted the help of another Naples-based company, Instore Screen, to develop a technology and content plan for the new store. Instore already had a wealth of experience developing small-format screen solutions for grocery aisles and end-cap merchandising displays, but it was a much bigger job to develop a plan that required a variety of screens and content models to meet different scenarios and needs.
A big key, says Instore CEO Henrik Andersson, was to make the screen technology look like it belonged. Screens were built into fixtures, and less-common screen types, like stretched and square LCDs, were mixed with dozens of conventional Samsung QBR series 4K-ready digital menu displays.
One 32-ft. long aisle has several rows of horizontal ribbon-like displays in front of shelves, highlighting products and prices and even running a whimsical custom animation of Oakes driving a tractor.
"By using those odd-sized screens, they don't appear like the store is just full of TVs," says Andersson. "It has a really nice mix of screens that are replacing regular printed posters, but it doesn't feel like advertising. We're trying to create a feeling in the store."
Content is scheduled, distributed and managed using a content management platform. The content steadily reinforces messaging about locally sourced, fresh and organic products, as well as the story behind what's sold on-site. "With digital signage, you can explain more about the process that you could ever do in a printed image," Andersson explains.
Oakes believes the store struck the right balance with its use of technology. "It flows very well," he says, "because of the way that it's been implemented. It doesn't feel forced. It doesn't feel like too much. But at the same time, there are 100 screens in the store!"
QBR Series 55″
QB55R – Edge-Lit 4K UHD LED Display for Business (Cisco Certified Compatible Display)
Experience exceptional 4K UHD picture quality with Dynamic Crystal Color for crystal clear, lifelike color.
QBR Series 75″
QB75R – Edge-Lit 4K UHD LED Display for Business (Cisco Certified Compatible Display)
Jaw-dropping size with minimal bezel makes 4K Dynamic Crystal Color pop on large screen.
The Results
A fresh look
The technology mix is more than Oakes envisioned when the store was first planned, and he worried at times it might be too elaborate. "I had some concerns that we might have put in too much, that we went over the top with it," Oakes concedes. "But now that it's all in, and we see it running, I don't feel like that at all. It's the perfect amount."
What the displays do, he says, is "serve an amazing function within the store, creating the feeling we want for the customer, and delivering the right messages."
Oakes is happy not only with the way all the screens blend in with the store design, but also how they work.
"Everything that we have here from Samsung is amazing," says Oakes. "It's crisp and bright. We have a decent amount of natural daylight that comes in, and even in the brightest parts of the store, everything really pops."
The new market store's success is being closely watched by Oakes' grocery retailing peers, as many are struggling with tired store layout models based on most of the fresh goods — like produce, dairy and meats — located on a store's perimeter."There was an amazing buzz going around about our project. It does have somewhat of a Disney-esque feel in the store," he says.The Seed to Table store has a discoverable market feel, and Oakes says some 100 different grocery operators have been in touch, wanting to see the finished store and understand how it works.Before the doors even opened to shoppers, Oakes was already thinking about what's next — looking to create a large digital canvas at the store entry, and also find out what can be done with 8K and outdoor screens.
Oakes has bet big that just like the store's goods — seed to table and as fresh as possible — the digital aspect will set a precedent in the industry of how technology can be seamlessly woven through a grocery store, making it not just an errand to run, but an event to experience.