Builders, contractors and other professionals used to turn to construction apps for strictly utilitarian purposes: The phone's flashlight was convenient for inspecting work in dark crevices. But the app ecosystem has evolved considerably in recent years. Today's apps for construction offer powerful means to boost productivity in the field.
With the Android platform, construction professionals using rugged smartphones can tap into safety training via easy-to-use apps. They can mark up photos, exchange comments with other professionals and estimate material costs — all via mobile apps. In fact, the construction trades are becoming increasingly mobile-savvy. Statista reported that over 58 percent of construction-sector professionals used a mobile app for daily reporting in 2019.
Here are a few of the leading apps that are changing the job site for mobile construction professionals.
1. Safety
The Safesite construction app offers a digital means for field workers to upload checklists, conduct safety inspections and export completed forms with accuracy and speed. Users can log safety issues and automatically notify those in charge. Developed by construction professionals, the app aims to decrease workplace injuries while increasing productivity.
Choose the right phone for your small or midsize business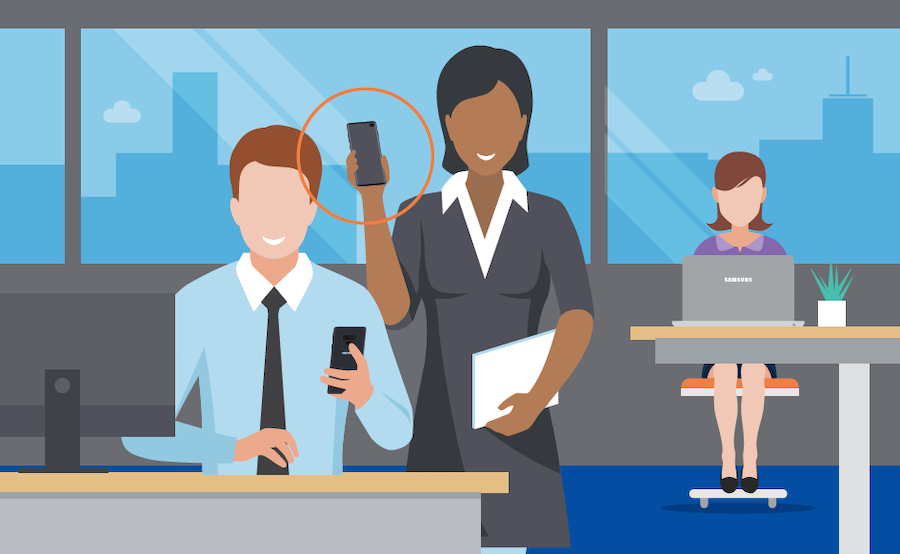 Get your free guide to matching the right smartphone with your business and employee needs. Download Now
2. Task management
Task management app Fieldwire helps project leaders, foremen and superintendents keep the wheels turning by delegating jobs while they're out in the field or back in the office. Construction site managers can show the exact location where work is needed by adding tasks directly onto the project's drawings, or they can publish general tasks that are not linked to a location. In either case, the work can be categorized by trade (carpentry, electrical, etc.), and users can specify a deadline, priority level, needed manpower and other relevant metrics.
3. Time-tracking and scheduling
Cloud-based time-tracking and scheduling app TSheets allows employees to clock in and out of the job site using their mobile devices. By replacing paper processes with electronic tools, construction managers can make payroll processes faster and easier. In-app scheduling makes it possible to assign jobs and send alerts to managers if employees haven't clocked in for a job or shift as scheduled. A "Who's Working" features gives users a quick glimpse into who is tackling what projects.
4. Communication
Among its diverse array of functions, Buildertrend is a smart communications platform, pulling together everyone involved in a project for easy information-sharing. It can make visible every detail of the project at each phase, delivering automatic updates and real-time notifications. It helps builders manage their efforts by facilitating collaboration with subcontractors, vendors, project managers and customers. The net effect of all this readily available communication: streamlined operations and more efficient use of everyone's time.
5. Project management
CoConstruct delivers project management tools specifically for home builders and remodelers. It can help to keep track of information across all phases of a project, from the initial bid through to completion. This construction app is customized to the needs of construction, with an eye toward such specialized tasks as creating estimates, inviting proposals and bids, storing specs and managing subs. Leveraging mobile communications capabilities, the app forges working ties between the builder, the client and the subcontractors, ensuring everyone is in the loop at all times.
6. Handy tools
In addition to managing big-picture business tasks, mobile apps also continue to serve as handy tools, supplementing the construction professional's traditional bag of implements with convenient digital alternatives. Construction Master Pro performs trade-specific calculations around estimating, building and bidding. Whether you're laying stairs or measuring for drywall, this app will do the math. Measure turns your phone into a tape measure, using its camera to estimate distance, length and area.
Ever forget a needed tool in the office? No worries: iHandy Carpenter probably has one. This app includes five commonly needed professional tools:
Plumb bob to verify the verticality of lines or walls
Protractor for measuring angles from 0 to 180 degrees
Surface level for ensuring that any flat surface is level
Bubble level bar to verify whether a surface is vertical or horizontal
Ruler marked off in both inches and centimeters that allows you to swipe left or right to measure objects longer than your phone
The apps revolution continues in construction. There are tools to streamline mundane tasks, and apps to help builders organize big-picture efforts around critical business needs like estimating and time-keeping. And they all help to save time and money in addition to simplifying processes to make them more efficient for all involved.
Working on-site requires a rugged smartphone able to withstand everything from dust to drops. Find out why Samsung's Galaxy XCover Pro is ideal for industries that value durability.