Ebbs and flows in the global economy can quickly poke holes in business strategies. Restaurants dependent on inside dining now need to reach their customer base through drive-thru service and curbside pick-up.
Outdoor-ready digital displays were quickly becoming standard in many restaurants' drive-thru lanes, but recent safety-based restrictions on restaurant access and occupancy levels have amplified outdoor displays' value. These attention-grabbing screens offer a bright solution to a new problem.
Putting outdoor screens to work
Displays properly engineered, designed and certified to operate effectively in a wide range of weather conditions — and be fully readable under the full glare of the sun — have many potential applications.
Quick service restaurant (QSR) chains with drive-thru lanes use super-bright outdoor displays to promote new items and specials as motorists approach the order station, where more displays are used in place of printed material.
Modernize quick service restaurants with displays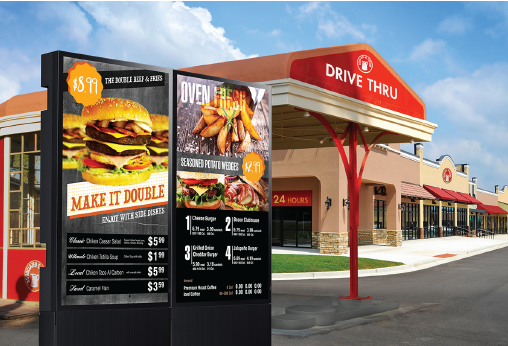 Explore how digital signage is improving customer experiences and motivating QSR employees. Download Now
Restaurant operators that were already getting as much as 70 percent of their business through their drive-thrus have seen that proportion grow to 90 percent and even 100 percent. QSRs that have focused more on dine-in — who are currently challenged by closed doors and dining capacity restrictions — are now adding drive-thru capability.
For operators already using and relying on drive-thru, one lane may need to expand to two for increased capacity. Motorists who approach a QSR and see 15 to 20 cars in line might be compelled to look for another drive-thru option down the road with shorter lines.
Choosing outdoor-ready screens
Outdoor displays are very different than those used inside QSR buildings. Here's how they differ:
Brighten the day: A menu screen behind the order counter needs a brightness rating of just 500 nits, or even less. But an outdoor screen needs a rating of 3,000 nits or higher to fully counteract the impact of direct sunlight, cutting through glare and ensuring menus can be read. Screens with lower brightness ratings may look good in the showroom, but positioned in real-world conditions, they lose the battle with the sun.
Keep cool under pressure: An outdoor display must also be engineered to counteract and shed heat. The extra brightness needed to make these screens readable in full sunlight produces a lot of heat, compounded by the thermal load from direct midday sun.
Designed to last: Well-designed outdoor enclosures have sophisticated internal systems that exhaust heat before it builds up and affects the screen and electronics. Outdoor displays with flawed engineering can fail or degrade quickly, with some screens even having what are called isotropic failures — ugly black blotches that develop from excessive internal heat buildup. Well-designed outdoor displays have engineering that seals the units against the ingress of rain, snow and dust and resists vandalism, plus structural designs that ensure the units stay vertical, even in hurricane-force winds.
Reduced costs and targeted impacts
Replacing printed menus with digital versions, both inside and outside of restaurants, gradually reduces printing and shipping costs. Digital menus can also be updated in seconds as opposed to days or even weeks when using paper or plastic menus.
Owners and operators also like being able to schedule menus to change by time of day — what's commonly called dayparting. That means menu items like breakfast sandwiches disappear at a specified time. It also means promotions and specials can change based on time and date windows. Managers can fine-tune menu options to customer buying habits and profiles, which may shift during the day or week.
Computerized cameras scan the vehicles in drive-thru lanes, and vehicle-by-vehicle information can be synthesized with other sensor data and databases to tailor promotions and menu options to individual customers. McDonald's has confirmed that using AI for suggestive selling in drive-thru lanes has grown average order values.
Expanding applications
With dine-in areas closed or operating at reduced capacity, restaurants are expanding their order-ahead and curbside pickup capabilities. Displays in parking lots can be used to locate and direct motorists to pickup positions and to update them on their order status.
Outdoor-rated displays are also seeing new apps such as access control and information screens. Using simple sensors, screens can function as red/green traffic lights that signal when diners can enter a restaurant with limited seating. Outdoor displays can also be used for order updates, asking walk-up customers who ordered ahead using smartphone apps to wait outside until their order is ready.
Displays outside, as well as daylight-readable displays that sit inside restaurant windows, can also alert customers to changing rules, hours and menu items. They also serve important HR functions for recruiting new workers and encouraging diners to thank staffers for showing up despite the challenges.
More relevant today
Outdoor displays were already a core part of many operators' marketing and service delivery toolset. But as QSR establishments continue to change how they engage with customers, outdoor digital signage will become all the more relevant and necessary.
Learn more about outdoor displays' hardware design and why they're perfect for QSRs in this free white paper. And discover how Samsung's MagicINFO delivers an all-in-one display content management system.