Technology is transforming the food and beverage industry, helping to drive sales, streamline operations and make businesses more efficient. The result? An improved customer dining experience, which not only attracts customers but keeps them coming back for more.
But restaurants can't stand still. They need to embrace the newest technologies in order to evolve and continue to drive customer loyalty.
And it's not just millennials and Gen Z who expect quick service restaurants (QSRs) and fast casual restaurants to be on the forefront of new tech inside or outside their venues. The National Restaurant Association found consumers of all ages are comfortable using consumer-facing restaurant technology including kiosks, online ordering and mobile interaction.
Adoption of new tech is growing, too, with the American Customer Satisfaction Index finding that one-third of customers use more restaurant technologies than they did two years ago.
Keeping up with the competition and customers' raised expectations has multiple benefits. For one, eateries that implement technology such as self-service kiosks, mobile ordering and digital signage have increased customer satisfaction. Here's how:
Outdoor signage sets the tone
No restaurant should underestimate the power of outdoor signage to spotlight their brand and drive traffic to their lots. Research shows 35 percent of consumers will avoid visiting sites with badly maintained storefronts and poor signage.
QSRs and fast casual restaurants can use outdoor LED displays and pole-mounted signage to promote new menu items and limited time offers, attract customers and boost impulse stops. A high-quality signage with mouth-watering images sends a clear message to consumers.
Modernize your quick service restaurant with displays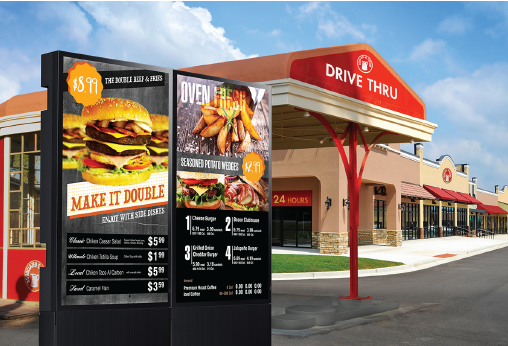 Explore how digital signage is improving customer experiences and motivating QSR employees. Download Now
The restaurant entrance and windows can also be used for high-brightness displays to greet customers as they enter the site. Operated remotely via a content management system (CMS), window displays can promote new products and time-of-day offers to increase basket spend. When they're dual-sided, these displays allow restaurants to schedule unique content both inside and outside their restaurants to drive maximum value, like they do at Smoothie King.
Samsung's OMN series and OMN-D series are high-brightness, energy-efficient signage with a modern, slim design that complements both contemporary QSR and fast casual restaurant environments.
Digital menus deliver at the drive-thru
Digital signage comes into its own in drive-thru lanes. These bright outdoor displays can be used to promote new items and limited time offers (LTOs) as motorists approach the order point, helping influence orders at the point of purchase.
Digital menu boards and promotional displays at the drive-thru bring the restaurant multiple benefits. Not only do they increase drive-thru volumes, they influence purchasing decisions by raising the average ticket value and boosting conversions on promotions. QSRs can also optimize their curbside pickup locations with outdoor digital signage.
Used in all weather conditions, these displays must be robust and able to stand up to the elements, and they need to be readable in all light conditions. Samsung's OH series are designed for 24/7 operation, and include an embedded media player to ensure reliable content programming and delivery, while a weatherproof design ensures performance in all conditions.
Dayparting and suggestive selling
Digital menu boards inside and outside enable dayparting to showcase different menus according to the time of day. They also provide operators with the ability to quickly make menu updates to promote new specials or remove an item if a product becomes unavailable. It puts QSRs and fast casual restaurants in firm control of their stock and delights customers — who know their selections will be available when they place their orders.
Digital menu boards enable more targeted selling, as menus can be fine-tuned to customer buying habits and preferences. When linked with loyalty programs, restaurants can even personalize menus and offers to individual customers.
In-store, digital menu boards like Samsung's UHD signage can display any content in ultra-high definition and with incredibly rich color on slim, efficient signage. Coupled with Samsung MagicINFO, an all-in-one content, device and data management system, restaurants can create and update information in minutes.
Kiosks deliver customer convenience
There's a reason self-service kiosks are becoming standard across service industries. They are proven to decrease transaction times and increase the average ticket value by up-selling and promoting timely offers. The technology helps to reduce miscommunication and human errors in face-to-face transactions, ensuring order accuracy and customer satisfaction, which is a key factor in winning repeat visits.
They can also help supplement your staff — 50 percent of operators in the full-service, quick-service and fast-casual segments expect recruiting and retaining employees will be their biggest challenge — the tech ensures frontline staff can focus on the customer experience, engaging with diners rather than staring at a screen.
Samsung Kiosk is a sleek, all-in-one solution aimed at convenience retailers, QSRs and fast casual restaurants. The innovative solution can be mounted on a counter, stand or wall. It features a highly responsive 24-inch touch display, speaker, terminal and printer in a single plug-and-play unit, and it is now available with a Windows OS.
Easy to install and activate, the kiosk offers transactional security, remote access and mobile device management tools that allow IT and operations managers to monitor kiosks across a QSR network.
Curated and controlled content
By implementing digital displays, restaurants can quickly adapt to customers' shopping habits and product preferences. With a seamless CMS like Samsung's MagicINFO, menus are easy to update at any time, and they can schedule menu changes based on daypart. Similarly, QSRs can update menus based on product availability, seasonal offers and promotions. This optimizes inventory, improves service levels and enhances the dining experience.
Restaurants gain a competitive advantage with tech
The pandemic accelerated a number of operational adaptations, which have helped restaurants to survive the past two years. They include new transaction technologies such as drive-thru and curbside ordering, digital menu boards and self-serve kiosks.
Leading operators recognize the role tech plays in transforming operations, with 8 in 10 stating using technology in the restaurant provides a competitive edge, and many plan to increase their tech investment. Those that do not will certainly risk being left behind.
Learn more about digital signage use cases in the quick service restaurant industry with this free guide. And discover how Samsung's interactive displays can help you manage orders and customer lines inside and at the drive-thru.