Retail organizations have traditionally invested huge sums in weighty, industrial handheld computers and scanners to track their inventory, both on store shelves and in the warehouse. But now, unlocked mobile devices are emerging as a low-cost, versatile alternative for inventory management.
As e-commerce orders skyrocket due to COVID-19-enforced store closures, retailers are embracing a shift to ruggedized, unlocked smartphones and tablets because they deliver many of the same core capabilities as industrial handheld computers, but with a number of inherent advantages.
Retail under pressure
Fast, flexible inventory handling operations are key at a time when warehouse operations are under increased pressure. E-commerce leaders continually raise the bar in fulfillment, rapidly moving from two-day to next-day to now even same-day delivery in many regions. Naturally, that puts pressure on all retailers — whether it be e-commerce pure-plays who must match that velocity, omnichannel retailers required to achieve those service levels while also ensuring stores are well stocked as they reopen, or start-ups and small and midsize retailers without sufficient resources to automate fulfillment.
How mature is your in-store mobility?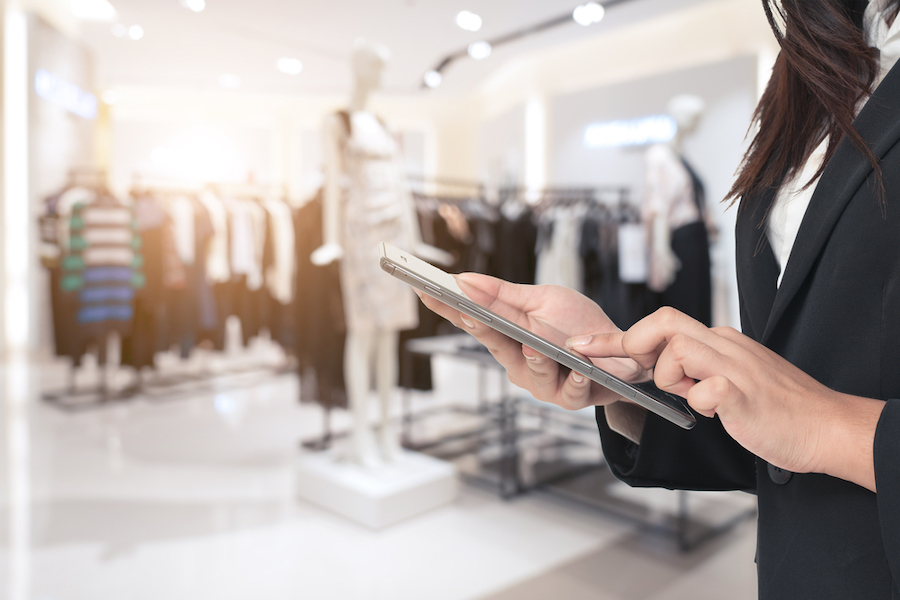 Evaluate your retail mobile initiative to learn how it can better support great customer experiences. Take Assessment
To compete, retailers need to be more nimble than ever in how they leverage their inventory. Many are establishing alternative stocking locations to place goods close to anticipated demand. In addition to warehouses, retailers are setting up mini-warehouses in urban areas, fulfilling e-commerce orders from store stock and even converting former stores into satellite warehouses, year-round or to support seasonal surges.
No matter where they place the goods, though, the needs are the same. Warehouse staff must be able to quickly and accurately receive, put away, pick, pack and ship merchandise, as well as perform inventory maintenance activities such as cycle counting. All of these activities are dispatched and performed via mobile devices, so workers must carry them everywhere, through long shifts — no matter where they are assigned to work that day.
Unlocked phones in the warehouse
Retailers are discovering that ruggedized, unlocked phones and ruggedized tablets are smart alternatives to costly, heavy industrial handheld computers for dynamic warehouse needs. Unlocked devices offer several important advantages:
Portable: Smartphones are lightweight and easy to carry, making them much less cumbersome for long, strenuous shifts in large warehouses. Plus, their slim form factor means they can be easily pocketed in order to lift boxes — even when protected with a ruggedized case. For workers performing frequent barcode scans, mobile devices can be paired with wearable scanning technology to operate hands-free.
Easier training: As more millennials join the workforce, they actively seek out employers who use state-of-the-art technology. A familiar smartphone user experience meets millennial tech-fueled demands. Millennials' influence is never more clear than during seasonal surges such as holidays, when retailers staff up for massive surges in order volume. Familiarity helps seasonal workers come up to speed quickly, which is key as stocking locations multiply.
Rugged design: New materials and designs have made smartphones stronger and more rugged. The Samsung Galaxy XCover Pro, for instance, boasts a durable design that stood up to the 21 MIL-STD-810G tests, while the Tab Active Pro features a similar design in a tablet form factor. Both devices meet military standards for durability and have an IP68 rating, ensuring they can withstand dust, dirt, sand and water.
Simplicity and flexibility: Unlocked devices do not come preloaded with apps and carrier-specific software, so retailers don't have to worry about memory being taken up by unnecessary applications. That also means they can fully control how the devices communicate — they can be used Wi-Fi only, or associated with the best local cellular network option for use cases outside the warehouse, such as transportation or at temporary stocking locations.
Better security: Unlike industrial devices running aging operating systems, modern smartphones are highly secure. Samsung smartphones come equipped with Samsung Knox, a defense-grade security platform. Built directly into the hardware, Knox places robust protection around confidential company data. It can separate work and personal data, so business data remains isolated and encrypted from anything a user may add to the device. Or, IT can lock the device down so it can only be used for inventory or other specified functions.
Versatility: Unlocked smartphones can easily be upgraded and customized for each use case. For example, retailers can add mobile apps such as timekeeping software that can boost productivity and efficiency, or advanced barcode scanning apps that can scan multiple codes in a single sequence.
Streamlined support: With proliferating stocking locations, retail IT departments must ensure they're not supporting a wide range of devices, operating systems and software versions that drive up support costs and complexity. Standardizing on a smartphone across use cases — inventory management, mobile point of sale (mPOS), manager devices, line-busting and so on — simplifies support. IT can more quickly replace devices when they use a consistent model and image. And thanks to Knox Configure, IT can remotely configure and manage devices with ease.
Unlocked devices are the next generation in retail inventory management solutions. Rugged design, better security, easier support, faster training and a consistent, reliable platform are the right fit for the demanding conditions and tech-savvy workforce needs of today's high-pressure, high-velocity retail warehouse.
Discover how rugged devices can save you money in the long run. Then explore how improving your in-store mobility can transform retail associate performance.