There is a broad spectrum of rugged handheld devices on the market today, with an equally broad range of pricetags attached. For enterprises, the device selection process for rugged mobile computers hinges on a number of factors including the types of business applications that will run on the device, the accessories it will be paired with and the physical work environment.
In the past, businesses in sectors like transportation and logistics, retail and manufacturing deployed highly specialized handheld computers that were designed to fulfill a single purpose. These costly, purpose-built devices were often bulky and restrictive, with small screens and limited processing power to run a fixed set of proprietary apps, like scanning, asset management or data collection.
More recently, enterprises have been shifting their focus to rugged Android-based smartphones, which benefit from an open operating system, a vast app ecosystem and advanced productivity features, typically at a much reduced cost compared to legacy, purpose-built handhelds. A recent report forecast that between 2019 and 2027, the market for rugged handheld electronic devices will experience a compound annual growth rate of approximately 7.2 percent.
Combating the cost of a broken phone
Smartphones do break, particularly when used day-after-day in tough, active work environments. In a single year, American smartphone owners spent $3.4 billion on replacing broken screens.
But, when a field technician drops their phone while out at a customer site performing critical maintenance, it's not just the cost of the screen replacement that dents the company's bottom line. It's also the time lost and the potential impact to customer service.
What's the best phone for your business?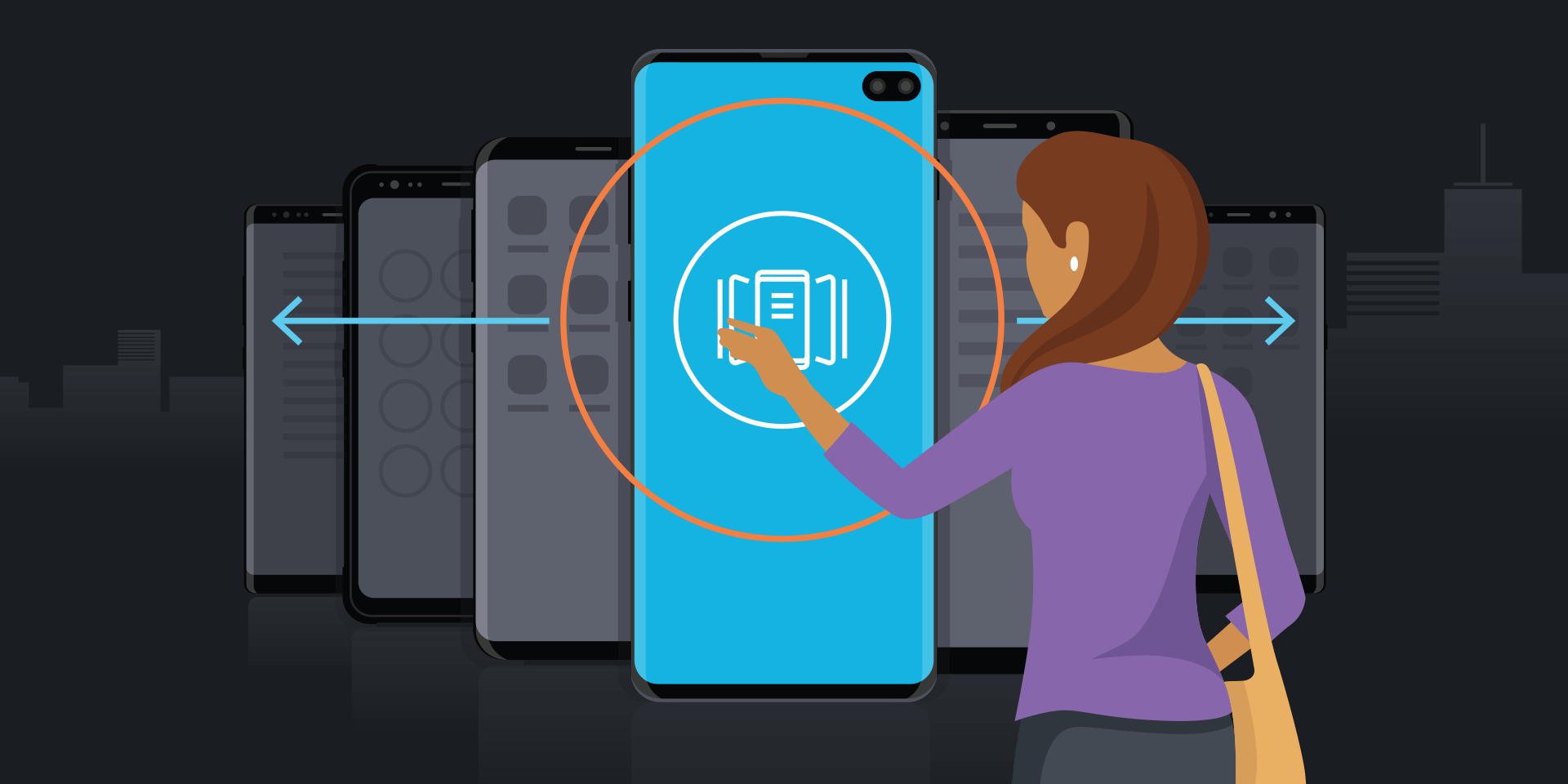 Take this quick assessment to discover the smartphone most tailored to your business needs. Take Assessment
Let's do some quick math to quantify the cost of mobile device breakage: Consider an enterprise with 5,000 frontline workers utilizing nonruggedized smartphones. At a conservative annual attrition rate of five percent, the business will see 250 broken phones each year. Each time, let's imagine that results in four hours of downtime for the field worker, while they submit a device repair ticket to IT, drop the device off at head office, then get a new device set up with passwords, apps and log-ins. That's assuming there is a spare device pool — if not, factor in the productivity lost by having that worker without access to key apps for the next week too.
Back at the head office, an IT admin spends another two hours processing the repair ticket, shipping off the broken device and getting the spare issued and enrolled in the company's mobile device management (MDM) solution. Then, there is the cost of the repair itself.
All things considered, it is not unreasonable to estimate the true cost of each broken phone at $400, meaning a total cost of $100,000 for that enterprise annually.
A rugged phone with smarts
The latest generation of rugged Android smartphone aim to strike the ideal balance between durability and productivity feature set at a pricepoint that appeals to enterprise IT, operations leaders and the CFO.
A good example is Samsung's Galaxy XCover Pro which combines military-grade durability, without sacrificing a sleek, attractive design and cutting-edge features. Its large, 6.3-in. edge-to-edge display is protected by Gorilla Glass 5, so the XCover Pro can be used right out of the box without the need for a separate protective case.
The Galaxy XCover Pro is designed for field productivity across a diverse range of usages, including outdoor work in harsh or highly mobile environments. With IP68 certification, the Galaxy XCover Pro can withstand dust, dirt and sand, as well as immersion in 5-ft. of water for up to 30 minutes.
In addition to IP68 certification, the Galaxy XCover Pro was put through more than 20 durability test defined by Department of Defense's MIL-STD-810 standard, including repeated 1.5-m. drop tests. The tests include exposure to extreme temperatures, humidity, dust, shock, vibration, low pressure and high altitude.
By designing the device to work in these diverse environmental conditions, Samsung addresses the usability needs of various industry verticals — such as logistics, manufacturing, healthcare and retail — where devices have a high chance of being dropped.
High-powered and high-security
The XCover Pro comes with a replaceable battery — equipped to provide 14 hours of power — and a pogo pin connector, ensuring highly mobile workers have a device that will last the entire day and then some. In addition to its durable design and replaceable battery, the Galaxy XCover Pro offers defense-grade security with Samsung Knox, plus advanced biometrics and multifactor authentication options like fingerprint and face recognition.
With the XCover Pro, you also have access to the most up-to-date ecosystem of Android enterprise apps and mobile productivity features, including Microsoft Teams. The XCover Pro's two hard keys are programmable, making it easy for workers to quickly open productivity apps or send alerts to team members.
With the Galaxy XCover Pro, businesses can rest assured that their employees' smartphones are highly durable and powerful enough to keep them productive through the entire workday. And business users can enjoy the benefits of a good-looking, highly capable device purpose-built for their active lifestyles.
Learn more about how the Samsung Galaxy XCover Pro can support your workers in harsh environments. And get this free guide to empowering your field services team with mobility.