In the heart of Seoul, South Korea, set against glinting skyscrapers and bustling city streets, there's a sight pulled straight from science fiction. A seamless facade of bright lights and vivid colors shines boldly, inviting you to step into the future.
This is no fiction, though. It's two of the largest LED displays on earth, welcoming visitors to the COEX SMTown Mall square. And it's all made possible by Prismview and Samsung.
"I've worked in this business for most of my adult life, but when I saw these screens lit up for the first time, I didn't believe my own eyes," said Kevin Izatt, Prismview's project manager for the COEX project.
Believe it. Dubbed the "Times Square of Seoul," this incredible feat of engineering miraculously took less than a year to complete.
"I won't say it was easy," said Izatt. "But thanks to long days, hard work and industry expertise, we made it happen."
Spanning the globe
The story begins back in 2017 when the Korean government decided buildings in Gangnam-gu, Seoul's business district, could install large-scale LED billboards to display advertising. Prior to this policy, outdoor advertising was not permissible in South Korea.
The new rules gave the executives of COEX (a large convention and shopping center) an idea. Why not transform the center's main complex into a digital advertising experience reminiscent of New York City's Times Square?
Samsung, COEX's longtime technology partner, was an ideal fit for the job. Prismview's team came on board, too, to assist with manufacturing, designing and installing the LED cabinets.

"We knew this project would be a challenge going in, but we weren't daunted. We were excited to grow and put our experience to the test," said Izatt.
COEX's project was certainly ambitious: When finished, 17,778 square feet of LED would wrap around two sides of the COEX Mall, joined by a curved edge. Plus, the deadline was tight. COEX wanted the display up and running by January 2018, just seven months after awarding Samsung the contract. To help make this happen, Prismview had to pull out all the stops.
Challenges to overcome
With a project of this size, a small mistake can end up costing thousands or even millions of dollars.
"It was daunting," said Izatt. "This was the largest project I'd ever managed and the second largest project for Prismview. I knew everything had to go right, or the whole project would be in jeopardy."
The first challenge was the weather. In January, Seoul is not a very forgiving place to work outdoors. Prismview's team often had to battle icy snow and sub-freezing temperatures to put the LED cabinets in place.
The second challenge took more than a warm pair of gloves to solve. The COEX project includes more than 31,000 LED modules. Not only must the frame support this weight, but each cabinet needs to be spaced the perfect distance apart for the final display to look seamless.
How to plan and deploy LED digital signage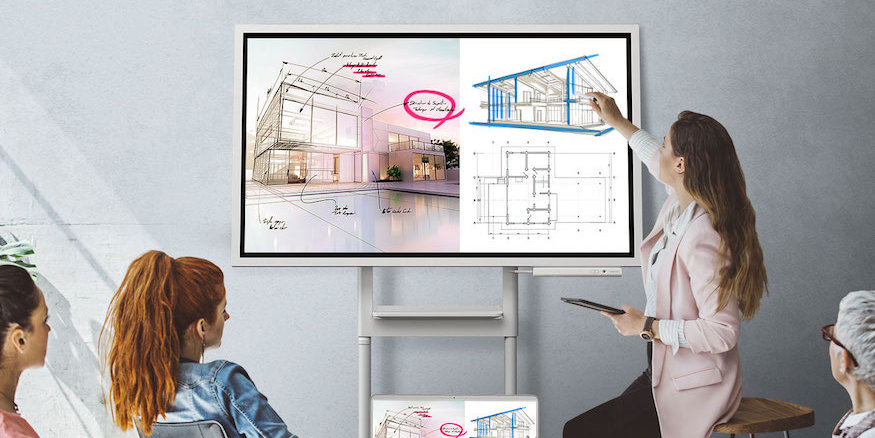 Discover the unique advantages of direct-view LED technology over traditional LCD displays. Download Now
Here's where math comes in. The human eye can pick up on a space between cabinets (called the "tolerance") if it's more than 1 percent of the board's pixel pitch. With the COEX display, which uses 10mm pixel pitch boards, the tolerance had to be less than 0.1mm.
Before installing the cabinets, Prismview asked the framers to laser scan the frame to ensure the tolerance was correct. A few days later, Izatt's team got some bad news.
"They discovered the tolerance was off by several inches, which would have changed the entire alignment of the display," said Izatt. A mistake like this would have made the entire display look incorrect and cost millions down the line to fix.
The framers rushed to correct the mistake, but the setback ate up valuable time. Now, Prismview was really working against the clock.
"Mistakes happen, but we still need to deliver to our customers on time. So we put in the extra effort to make this happen," said Izatt.
Working day and night alongside the installers and system integrators, Prismview pushed to complete the project on schedule. The production team had to speed up, too, creating LED cabinets at a 50 percent faster rate than it previously thought possible.
Finally, at the end of January, the display was finished. It was time to turn the lights on.
"I stood there just watching the display in utter disbelief. The resolution is amazing: 7,840 by 1,952 pixels," said Izatt. "I was supposed to take completion photos, but in my awe I completely forgot. The screen grabbed my full attention."
Mission accomplished. One LED display, four times the size of a basketball court, wraps around the top of the COEX complex. It's 10 stories high, but don't worry — catwalks and ladders make it easy to service.
Hyundai jumps on board
As it turns out, Prismview's work in Korea wasn't over. The Hyundai Department Store is adjacent to the COEX Mall, and when company executives saw their neighbor's new digital advertising space, they asked Prismview to build a similar display for their office. Prismview answered the call, installing 13,806 square feet of LED cabinets that wrap around two corners of the building.
2018 marked a big year for Seoul and a shining achievement for Prismview and Samsung. Together, they added 31,584 square feet of Prismview LED cabinets to the COEX Mall and its neighboring building, creating a new frontier for advertisers to leverage and wowing the world with a futuristic digital facade.
Get your free guide to future-proofing your digital signage investment with the right LED display.