There's a reason good graphic designers don't come cheap. It takes years to master traditional design tools and principles to create professional-looking layouts. In the past, unless your business employed an experienced graphic designer, the only way to get high-quality signage, business cards, presentations or website graphics was to outsource the work, pay for it and wait for it.
Canva changed all that by creating an online design platform that anybody can use to design professional and consistent branded layouts — no graphic design experience necessary.
"Canva was founded in 2013 with this really simple but massive goal of empowering the world to design," says Aaron Day, global partnership lead for Canva. "Fast-forward seven years, we now have more than 35 million people using Canva every month, from across 193 countries, who have created more than 3 billion designs in Canva."
So how does Canva work? What are the benefits for customers — with a number being small businesses? And how can companies get the most out of their investment?
How Canva works
Professional design tools require you to make a lot of choices, from the thickness of your lines, to the amount of space between characters or text lines, to which fonts and colors look good together. Not only are these tools complicated to use, but if you don't understand graphic design concepts like the golden ratio, the rule of thirds, typography, kerning, knolling, and white space utilization, it can be difficult to create the polished, professional designs you hope to achieve.
Canva brings simplicity to graphic design with thousands of templates and easy-to-use drag-and-drop functionality. Small businesses can create all the visual content they need to communicate with their customers, and then publish their designs, all from one place.
Start by choosing a template. You can select a blank template for print, web or video or select from thousands of Canva templates built for specific industries and specific content, from social media posts and stories to business cards, posters, presentations, infographics or even animations. Next, upload any images, videos or custom fonts you want to use — or select content from Canva's library of more than 60 million stock photographs, illustrations, stickers and videos. From there, you simply add the images, videos and content fields and move them around to create the layout you want. Then you select fonts and add text to complete the online design.
When you're ready, just hit the "publish" button to load content onto your company website, social media page, presentation or email or even send it to print. "Whether you're using a laptop or a smartphone, it's the same very simple user experience, so you can work anywhere on any device and switch back and forth between devices," says Day. "All your content is right in front of you as you're designing, and you can publish with one click."
If you want to publish a similar design on multiple platforms, you don't have to start from scratch each time. Using Canva's Magic Resize tool, you can convert a Facebook cover to a LinkedIn cover in one click and then turn the content into a website image, banner ad or poster just as quickly.
Saving time and money with online design
Communication has always been key to attracting and retaining customers, but communication has never been so complicated. Today, customer communication must be personalized, localized, multichannel and hyper-relevant — to the brand, to the audience and to the social context. In the age of coronavirus, things change quickly.
Choose the right phone for your growing business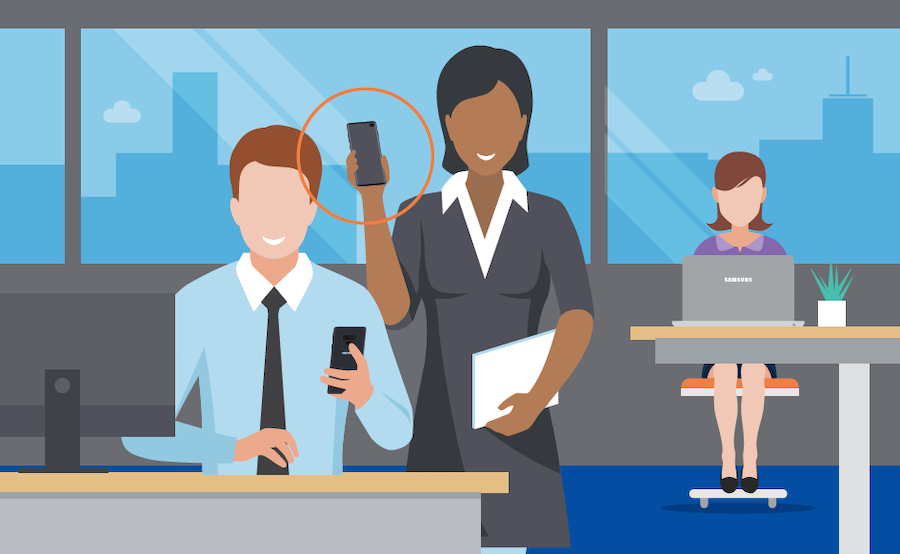 White Paper
Get your free guide to matching the right smartphone with your business and employee needs. Download Now
"When you're working with an external graphic designer, every iteration or update takes time," Day explains. "If you want new store signage or promotions for your website, there's often lengthy back-and-forth and revisions until you get what you want. COVID has created friction in the way we communicate, challenging businesses to figure out new ways to communicate with their clients, and timing is more important than ever. You can't wait weeks to update your store signage. We give your business the flexibility and the speed to create and update communications on the fly."
Empowering remote work with Canva
As small businesses adapt to remote work and virtual communication, Canva has rolled out new content and features to help keep things professional, such as a collection of background templates for online meetings. Users can also insert themselves into presentations with the Talking Presentations feature.
"If you're not very good at speaking in front of people and you need to give a presentation, you can use Talking Presentations to record yourself giving the presentation, practice it a little bit, make sure it's what you want and then give the presentation with you actually talking in an embedded video," Day says. "That's very powerful and super important — the ability to think about the content you're sharing."
To help small businesses think critically about their content, Canva's team has expanded their own portfolio with new tools and templates added regularly. In addition, Canva's Design School, its online resource center, offers a range of educational programs for improving their virtual and visual communication skills — including social media marketing, business branding and basic graphic design.
Staying relevant during a year of constant changes
Meaningful visual communication requires more than a compelling layout. It also requires a compelling and relevant message that tells customers your brand understands what matters to them. And this has shifted in 2020.
Take real estate agents, for example. "Most real estate agents are very competitive," Day explains, "but now we're seeing them pivot a bit, from communicating about how successful they are to communicating the process they're going through to ensure their customer experience is as safe and simple as possible."
Pandemic aside, relevant communication isn't always time-sensitive, but it should always be sensitive to changing values, norms and social ideals. In other words, it should be contextual.
"When communicating through a design, make sure the context of the design is appropriate," says Day. "For example, a sporting goods store doesn't want designs that say, 'Is your son playing basketball?' because everyone can play basketball. Whether it's physical signage, social media content, email or whatever, it needs to be contextually accurate, and we make that very simple. There's so much content on Canva, there's really no excuse for not being contextually on target with what consumers want to see."
Design like a pro via Samsung AppStack
Canva's free mobile app offers basic online design functionality, with the option for in-app purchases to access a range of premium stock photography and video content. Canva Pro users get unlimited stock content, plus access to 3,000 fonts, 100GB of storage and premium features such as Background Remover and Magic Resize.
Canva Pro is now available at a discounted rate through Samsung AppStack — a new platform that provides productivity, collaboration and project management tools curated with small businesses in mind. AppStack simplifies the process of selecting and managing business apps and cuts costs by bundling them, also providing ongoing support and a centralized billing system.
"AppStack is addressing something small businesses really needed: one location to get all the tools you need to run your business," says Day. "I've found it very clunky in the past, working for a growing business trying to find the tools I needed to integrate apps and have a seamless workflow experience. Having Canva featured within the Samsung platform alongside the other relevant business apps will let brands schedule and publish content in a more seamless and more automated way, saving time and giving small businesses the flexibility to be productive."
Canva Pro is available on AppStack at discount of 10 percent when bundled with two or more apps, and 15 percent when you purchase with a smartphone or tablet. Businesses can sign up for a 30-day free trial.