After months of remote work and other business disruptions, many employers and workers are eager to regain some normalcy by returning to the workplace. But to do so, employers must ensure not only that they have the right social distancing guidelines in place, but also that those protocols continue to be followed at busy, dynamic worksites.
For businesses in many industries, assuring their workforce that they'll be protected from the virus is proving to be a significant challenge. In a survey of employers in New Jersey who had called just some of their workers back to their offices, the businesses' top criteria for bringing everyone back was whether employees felt confident and safe enough to return.
Samsung and Radiant RFID's simple and elegant Social Distancing Management solution is helping to provide that peace of mind by giving workers an ever-present tool to help encourage safe workplace behavior. Smartwatches loaded with a custom app alert coworkers when they get too close to each other, prompting them to socially distance. At the same time, the app collects anonymous data on which coworkers interact, enabling contact tracing and limiting the impact of a potential outbreak.
In workplaces already using the solution, workers have quickly learned to put more distance between themselves and their colleagues. "What we've seen across both office and manufacturing environments is a 65 percent to 70 percent reduction in total and high-risk interactions in just a few days," says Kenny Ratton, CEO of Radiant RFID, whose software drives the Social Distancing Management solution. "To-date, we've seen no secondary infections at the locations where smartwatches have been deployed. Employers are increasing worker confidence while ensuring a safer and more productive workplace."
Using Bluetooth technology built into Samsung Galaxy Watch Active2 devices, the Radiant RFID app measures the workers' proximity in real time. Alerts are triggered — the watch vibrates and a color-coded message appears on screen — when employees are about six feet apart or gather in a group of more than 10.
The challenge of reopening workplaces
Worker safety is a critical part of bringing employees back into workplaces. Several leading retailers, manufacturers and healthcare facilities are already facing lawsuits and government citations related to their workplace safety amid COVID-19. As the return-to-work process unfolds, employers should be mindful of stricter regulations and increased liability.
Healthcare costs are another consideration. According to an analysis by the Society for Human Resource Management (SHRM), just a 10 percent increase in the COVID-19 infection rate results in a 1 percent to 3 percent total healthcare cost increase for employers. Businesses need to prevent infection as much as possible — and limit the impact of any exposure so they don't have to send a whole shift of workers into quarantine.
No employer wants anyone to get sick, of course, but that can be difficult to prevent without help, particularly in busy workplaces like a manufacturing plant floor or warehouse. Workplaces can set rules — even in office environments — but it's hard to ensure compliance. While they're concentrating on their jobs, workers may struggle to remain constantly aware of their distance from others.
Why smartwatches are the perfect fit
Many companies are turning to technology for help. Smartwatches offer distinct advantages over other approaches, such as phone apps or solutions that rely on Internet of Things (IoT) infrastructure like beacons.
Wearable
A worker wearing a smartwatch can more easily notice a vibration and see an alert if it's happening on their own wrists. Wearables always travel with the user — unlike a phone, which can be left behind — and keeps both hands free. The Galaxy Active2 smartwatch comes with a breakaway band to ensure safety around machinery, or it can be adapted to be worn around the waist to meet food service production safety requirements.
Accuracy
The Social Distancing Management solution leverages Bluetooth Low Energy (BLE), which is designed to work best at the same proximity required for social distancing. That means fewer false positives compared to other solutions, building trust so workers don't start ignoring alerts.
Low overhead
While IoT-based solutions require employers to install beacon infrastructure, the Samsung Social Distancing Management solution's use of BLE means it costs a lot less and deploys quickly. The watches come with BLE built in, and are preloaded with the Radiant RFID app using Samsung's Knox Configure solution, so no user setup is required. They can be used completely in standalone mode, without being paired to a phone.
"As far as simplicity and time to deployment, this solution is the best in class," says Saeid Shariati, director of Social Distancing for Samsung. "You're talking days to get this up and running."
Privacy
Smartwatch solutions avoid the privacy issues associated with putting an app on employees' personal phones. Social Distancing Management allows employers to offer completely private peer-to-peer contact tracing. All information on worker movement and interaction is kept completely anonymous to protect privacy, but can be updated regularly to a cloud server so that managers can optimize work environments and reduce interactions. Knox also provides hardware-level security and device management to ensure sensitive data is protected.
Safer workplace, confident workers
The powerful combination of effective technology, thoughtful design and quick and easy deployment make Social Distancing Management an ideal solution for getting back to work. Employers can assure workplace safety stakeholders — regulators, insurers and, most importantly, the workers themselves — that they're diligently supporting everyone's safety.
"You're showing that you're providing tools and doing whatever is humanly possible to keep employees safe," says Shariati. "As an employee, I feel I'm cared for, that you've done all you can to create a safe environment for me." When workers feel safe, they're less stressed and more productive.
Those steps can go a long way to curbing insurance rates, financial liability and potential outbreaks, while best-in-class simplicity and deployment speed minimize the time and money employers need to invest.
Secure and manage your workplace wearables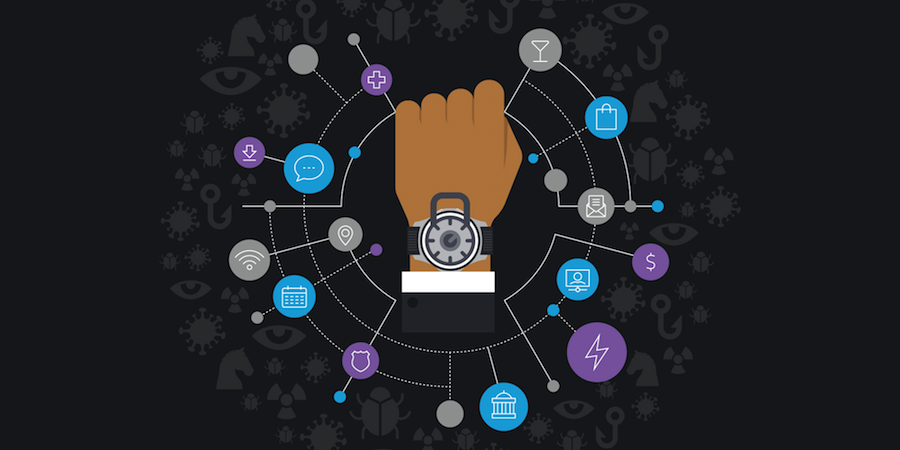 Get your free guide to the protocols that will keep smartwatches — and your company data — secure. Download Now
Smartwatches can also be used for other workplace enhancements including risk management, biometrics monitoring and two-way communication, spreading the cost over multiple use cases. Smartwatches provide an ideal incentive for corporate wellness initiatives aiming to reinforce personal health and wellbeing. For public safety officers or lone workers, smartwatches offer an immediately accessible communication tool to receive urgent alerts and call for backup. And in industrial settings, wearables can be used to monitor fatigue, which causes 60 percent of heavy equipment accidents. Likewise, as transportation fleet managers try to ensure driver safety and engagement, wearables provide an ideal combination of hands-free communication and health tracking. Samsung's Tizen Wearable software development kit (SDK) and Knox management tools open up almost unlimited potential for wearables in the enterprise.
Smartwatches get workers back to work
Every workplace is different, but in the era of COVID-19, they all share the challenge of keeping employees safe and distanced, while keeping the business protected from liability and fines. Industries as varied as healthcare, education, manufacturing, hospitality, entertainment and film production, and aerospace are finding Samsung smartwatches and Radiant RFID social distancing software the most elegant and cost-efficient way to ensure today's workers feel safe and stay productive.
Attend our Nov. 5 webinar for a in-depth review of the Samsung social distancing solution and how it can help you organization. And discover five more ways smartwatches keep your team connected and safe.