From manufacturing line managers to hotel staff to public safety officers on the beat, smartwatches are becoming a critical tool for highly mobile workers to stay connected, responsive and safe.
Due to their wrist-worn form factor, smartwatches are ideal for delivering alerts and notifications to keep dispersed teams working in sync, even when they have their hands full. Since smartwatches incorporate sensors that can track the wearer's vitals, they also present opportunities to leverage this data to improve safety by detecting signs of fatigue in hazardous work environments. And, with GPS and accelerometers built in, they provide reliable location and movement tracking so that commanders, supervisors or operations managers know where their entire team is in real time.
Read on for a deeper dive into five key ways that smartwatches can help make your workers more connected and safe.
1. Boosting health and wellness
Smartwatches are often viewed primarily as fitness accessories, and they do a great job of encouraging individuals to stay fit and active. For businesses, they can be the centerpiece of a corporate wellness initiative.
Keeping your employees healthy and happy is critical to productivity and retention, whether your team works in an office or a warehouse. Encouraging your employees to take care of themselves will benefit your company holistically, through lower healthcare costs, fewer accidents and increased output.
2. Streamlining task management
As the speed of business continues to accelerate, smartwatches provide a great way to streamline workflows and enhance task management. Notifications can be viewed instantly — no need to take a phone out of your pocket and unlock. Alerts can be accompanied by a discreet vibration, ensuring the message gets seen without becoming intrusive for staff engaging with customers.
Customizing Wearables in the Workplace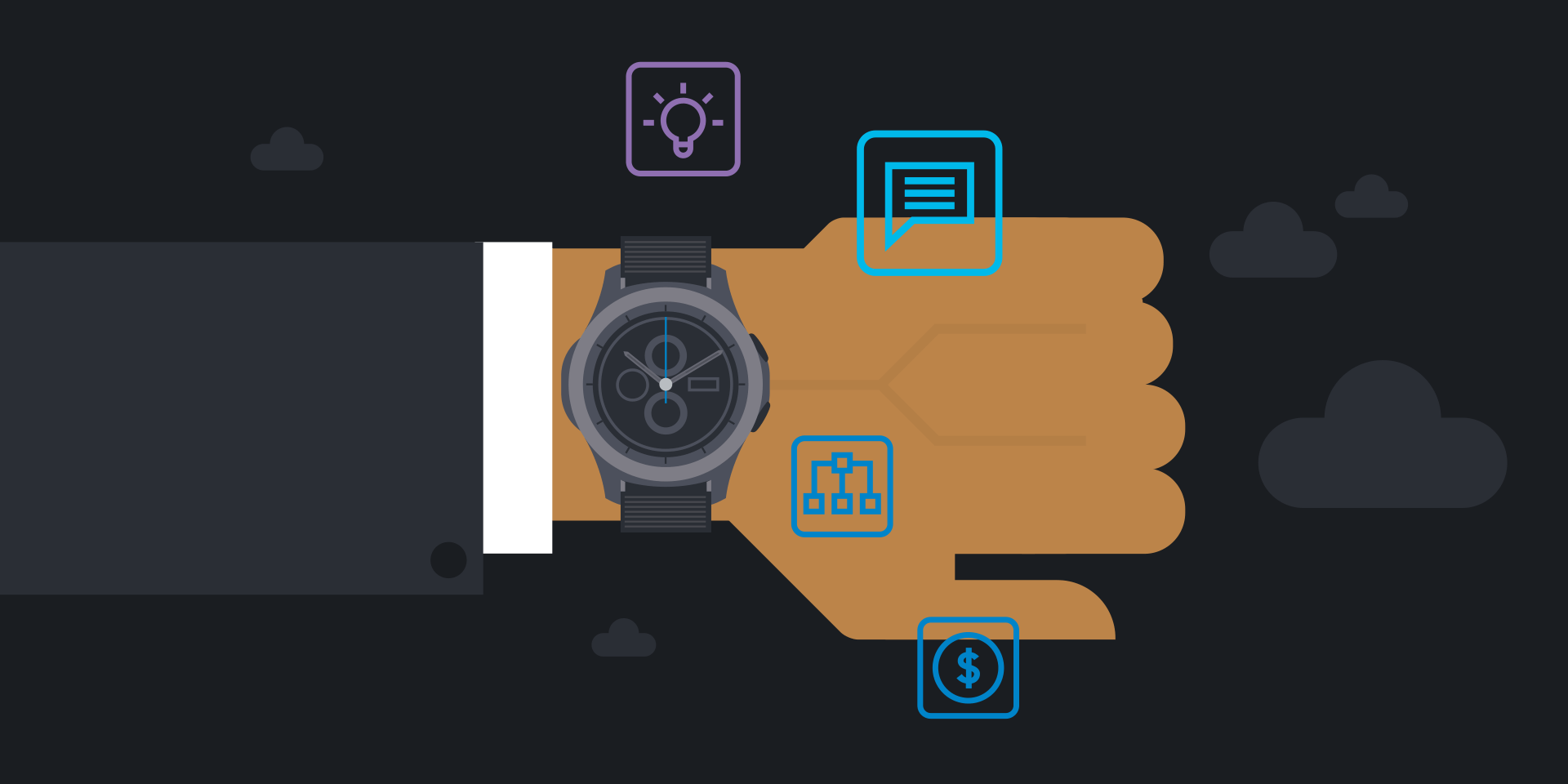 Learn how to develop new and innovative wearable apps tailored precisely to your business needs. Download Now
At Buffalo Wings and Rings, waiters, managers and other staff using Samsung smartwatches found they could seat incoming customers an of average four minutes faster than before. As a result, they saw a 7 percent increase in average daily revenue. At Cincinnati/Northern Kentucky International Airport, smartwatches are delivering alerts to janitors so they can keep track of which restrooms need their attention soonest.
3. Critical alerts anytime, anywhere
Smartwatches are an ideal form-factor for delivering urgent notifications and alerts to team members operating in the field.
In public safety, for instance, every second counts. Smartwatches put mission critical notifications just a quick glance away, so officers are much less likely to miss an important update from dispatch. Innovative smartwatch applications can also be designed to automatically send notifications back to dispatch when a sudden movement or increased heartrate is detected.
4. Improved safety for lone workers
Smartwatches provide a discreet way to send distress signals for lone workers across a variety of industries, from public safety officers to at-home helpers to mining or construction workers. The wearer can quickly and easily call for support, backup or medical help at a time of distress.
In the case of a police officer facing a high-pressure situation, a discreet SOS can be sent by pressing a predetermined button. This distress signal can be configured to send the wearer's location to dispatch via GPS, and can automatically turn on the smartwatch's microphone, allowing dispatch to listen in and understand the danger that the officer is in.
5. A modern, elegant gift to your most valued customers
Smartwatches are a next-level way to show appreciation to clients or event attendees. Gifting a premium piece of technology not only shows the sincerity of your thanks, but also keeps you front-of-mind as they interact with their watch on a daily basis. Businesses can customize their gift with a preloaded app, wallpaper or watch face.
The latest in smartwatch technology
The Samsung Galaxy Watch brings unprecented capabilities to the smartwatch form factor, with advanced sensors, military spec durability, standalone LTE connectivity and multiday battery life.
Smartwatches are also becoming easier to secure and configure for enterprise use. The Galaxy Watch is protected from the chip up with Samsung Knox, an extension of the defense-grade security platform featured on Samsung's smartphones and tablets. Enterprises can also tap into Knox Configure, a cloud-based service that allows you to add apps and content, set restrictions and adjust settings across an entire fleet of smartwatches. And with the Tizen Wearable SDK, developers have a strong foundation to create innovative and secure applications to take full advantage of this powerful smartwatch technology.
Get your free guide to using wearables to help keep your employees healthy, present and productive.