Professionals, gaming enthusiasts and power users have historically struggled to choose the right storage offerings. The exploding number of applications, sensors and devices in use today means more data is being created and, at the same time, performance needs are skyrocketing. The pandemic has only accelerated the need for stable, secure storage options, with data requirements remaining on the same upward trajectory as work has shifted to home offices.
In the past, users chose between traditional spinning disk hard drives and solid state drives (SSDs), balancing the need for capacity with speed and processing power. Recently, new SSD offerings from Samsung Electronics have made the end user's choice easier.
Due to its different form factors and wide range of capacities, Samsung's series of SSDs have evolved to become the go-to for everyday usage. In fact, in many cases the line replaced traditional hard disk drives (HDDs) with its faster speeds and more reliable sustainability. The company's newest offering — the Samsung 870 QVO — takes the SSD line to the next level, hitting a top capacity of 8TB while achieving a 530MB/s, 560MB/s read/write speed. The 870 series also includes EVO and PRO versions of the drive with storage capacities of 4TB each and a new controller, the Samsung MKX SATA SSD controller.
Making storage life easier
There are considerable benefits to an SSD offering that achieves the maximum SATA interface limit of 560MB/s and 530MB/s sequential speeds, especially since those speeds are available on all four capacity offerings (1TB, 2TB, 4TB and 8TB). Most importantly, users can choose the capacity they need today without worrying about giving up performance via read/write speed. The Samsung 870 PRO does this by integrating the company's own proprietary Intelligent TurboWrite technology, which uses a cache to speed up the writing process so that, despite the higher capacity, the write speed remains. This is possible because that cache provides a larger variable buffer to ensure that performance never suffers.
How over-provisioning SSDs impacts performance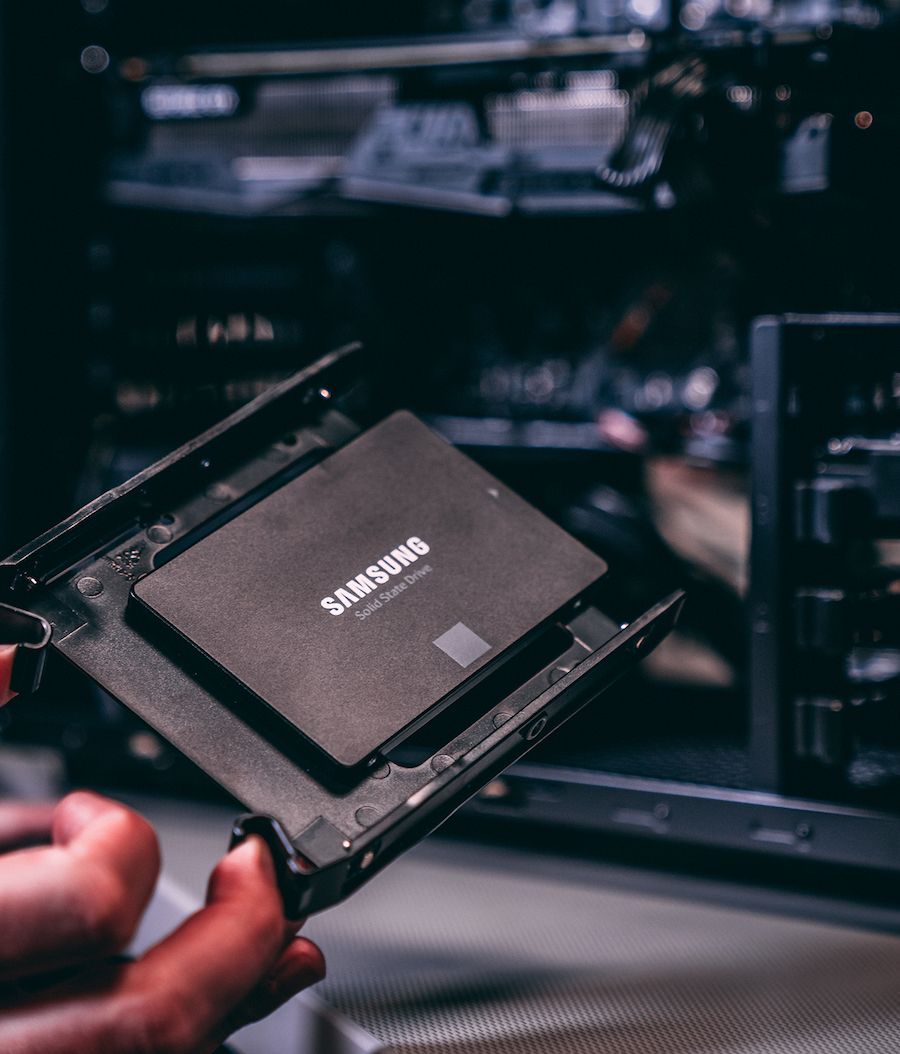 Get your free white paper on how over-provisioning of SSDs can improve memory performance. Download Now
The device is also simple to integrate with most existing systems and SSD stacks. Since all of the device's firmware and components — including Samsung's DRAM and NAND — are produced in-house, end-to-end integration is a given. Anyone with a desktop PC or a laptop that supports a standard 2.5-inch SATA form factor can simply plug the 870 QVO into a SATA slot and let the updated migration software take care of the rest. In addition, users who want to integrate a new 870 PRO into existing SSD storage offerings can use the Samsung Magician storage management application, which comes with the drive. The Magician software makes it easier to work with the 870 PRO, whether the user is maintaining the drive's health, boosting performance or updating firmware.
One of the biggest benefits, however, is affordability. The 870 QVO is up to par in performance with TLC SATA SSDs, so consumers get the capacity benefits coupled with cost savings, bringing them the best of both worlds today without compromising on performance.
Future of storage
Of course, the real test of any storage offering is its capabilities and the variety of use cases it supports. The 870 PRO helps gaming enthusiasts boot up scenes and stages more quickly, and it also makes navigating menus and moving from game to game quicker and easier
The 870 QVO's accelerated read performance, which is up to 13 percent faster than that of the Samsung 860 QVO, brings added benefits for everyday computing tasks. For example, business and home users will see a significant reduction in the time it takes to boot up Microsoft Windows 10 and to uncompress the Linux 5.0 Kernel tar.gz archive. This means users can get to work more quickly and transfer files faster, in turn boosting productivity.
Business users can get more out of the 870 QVO using the Samsung Magician storage management application, through which they can manage the drive and enhance its performance with a wide range of useful tools to keep up with the latest updates and monitor the drive's health and status. Storage and drive usage are provided via a visual interface. The software lets users check on drive details, perform diagnostic scans, set up over-provisioning, and manage data via Secure Erase, PSID Revert and an encryption feature that improves security without adding cost.
To learn more about Samsung 870 QVO, the newest offering in Samsung's SSD arsenal, check out the drive's product page here. Looking to find out which SSD will work best for your specific deployment? Take this assessment to find out.