One of the interesting things about discussing mobile computing technology is that people always want to put things in a category — this is a tablet, that's a laptop, here's a thin client. But what matters isn't just the shape of the product — it's about what you can do with the device, and the experience it provides when you transition between different tasks. Does this device enable you to do what you need to do? Is it ready for what you're going to demand of it?
The latest Galaxy Tab powerhouse devices, the S7 and S7+, break down categorical barriers to help you do more.
Taking the tablet to the next level
If you just look at the Galaxy Tab S7 or S7+, you might say "OK, those are tablets." We know what tablets are: They're sleek touchscreen devices that are great for content consumption. But that doesn't give credit to another great technology Samsung built into the Tab S7 lineup: Samsung DeX.
What's the best tablet for your business?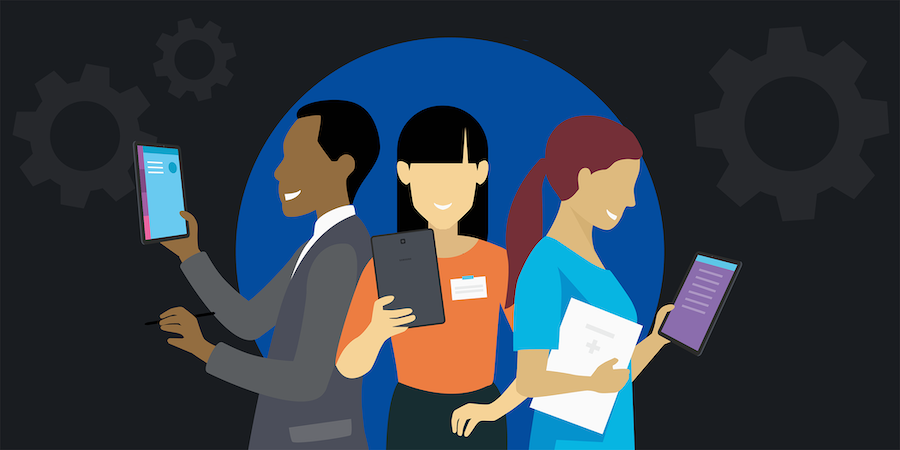 White Paper
Take this quick assessment to see which Samsung tablet would best support your business needs. Download Now
DeX is our mobile-powered computing platform that allows you to convert your Galaxy device into a complete desktop experience. Samsung DeX lets you not just use your Tab S7 as a tablet but also as a desktop PC by connecting it to a monitor, keyboard and mouse, or mirroring it wirelessly to a Miracast-enabled display.
You can also use DeX by connecting the S7 into the optional keyboard book cover and turn it into a powerful laptop-like solution. The built-in DeX button on the keyboard cover makes it even easier to jump into your work. That's three different ways to work with the same device.
And that's where a moment of clarity occurred for us when it comes to designing tablets for business use: Focus on what users really need, instead of stuffing more fun — but ultimately, not very useful — gimmicks into a tablet. In other words, make the S7 and S7+ more than just a couple of tablets — make them into awesome, robust productivity tools that can redefine what the category can do.
Of course, that doesn't mean we're downplaying the utility of either the Galaxy Tab S7 or S7+ as tablets, as that's a need many professionals rely on — especially those who are working to transform their remote work environment into a paperless one. Retail managers, financial services professionals, field operatives and many others will find that the Galaxy Tab S7 is a powerful tablet solution that meets — and exceeds — their needs. You can use the Galaxy Tab S7 or S7+ with the touch interface or the included S Pen, and they are simply great tablets as-is.
The DeX platform offers the same great mobile applications but activates a more traditional desktop-style environment when enabled. Now the Galaxy Tab S7 and S7+ begin to behave more like laptops, with functionality allowing resizable windows and multiple applications to run simultaneously. The difference is that you're still running Android apps and have all the security and flexibility of Samsung Knox, our highly-rated security and device management platform, built into the device from the chip up and running constantly.
Continue working without disruption
For mobile workers, having to put your tablet away and start using a desktop computer is incredibly disruptive to your workflow — you need to log in to Wi-Fi networks and sites again, transfer files and reopen applications. With DeX, you can just use a multiport adapter to easily connect the Galaxy Tab S7 or S7+ to a desktop monitor, keyboard and mouse, and even an Ethernet jack if you like. Sit down at your office or home desk, connect the adapter and the DeX platform springs into action.
This isn't a super-enlarged version of a tablet — it's the kind of familiar, intuitive and optimized desktop experience that you'd expect if a Windows PC were connected to that monitor. And with DeX, you can keep using the Galaxy Tab just as productively as if it were a standard desktop computer. Better, in fact, because everything you've been doing all day long is still there and ready to go. DeX ensures your Galaxy tablet can continue to be used as a second screen, or as an interface or graphics tablet for the desktop experience.
It's not just creative types who can take advantage of the tablet's display, either: You can use it to take notes while attending a video meeting on the larger screen, as a touchpad replacing the mouse or keyboard, or as a secondary screen running smaller apps like your office messaging service in the background.
With the Galaxy Tab S7 on my desk, I can quickly edit an image and drop it into a presentation in a way that I never could with my old PC — and then simply bring the tablet with me to deliver the presentation, without having to navigate various platforms and file transfers along the way.
You can file both the Galaxy Tab S7 and S7+ under whichever device category you want — as for me, I'm calling it a productivity powerhouse.
Answer six quick questions to find the perfect tablet for your business. Then discover how to get the most out of DeX on any Galaxy tablet.