Remote patient monitoring (RPM) was on the rise before the pandemic, thanks to changing Medicare reimbursement rules and growing demand for better post-acute care and chronic disease management. In 2019, 88 percent of healthcare providers were considering or investing in RPM solutions. Then COVID-19 came along and moved RPM technology from the healthcare wish list to the priority list.
The pandemic has created new remote monitoring use cases and accelerated hospital adoption. It's also given more people a chance to experience the benefits of RPM and other virtual care models. So, while providers use RPM solutions to keep high-risk patients at home during the pandemic, they're also redefining the future of value-based healthcare and learning telehealth best practices along the way.
What have they learned about remote monitoring?
1. Remote patient monitoring scales quickly
A longstanding RPM industry leader, Vivify Health has been evolving its platform and steadily growing its customer base for years. In the five years before the pandemic, the RPM vendor experienced 100 percent annual growth. In the first six months of the pandemic, it grew 700 percent.
Modernize your hospital with mobility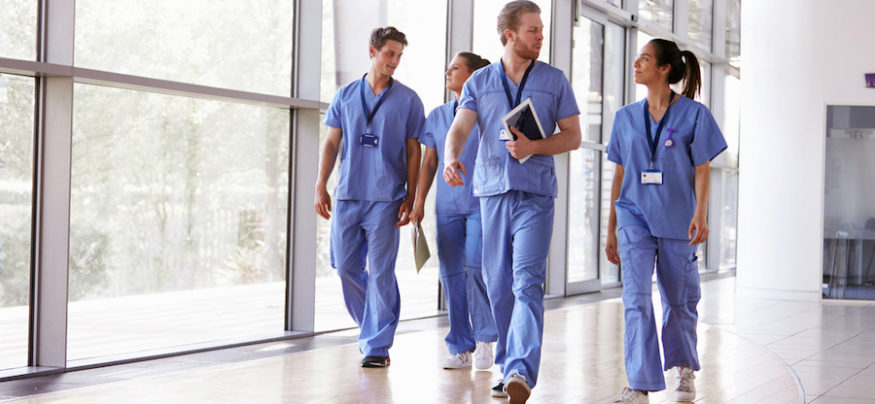 Discover the latest mobile solutions and best practices for clinical communications in this webinar. Download Now
"Our platform had grown over the years to facilitate the rapid creation of solutions through our patient-facing technology," says Vivify CEO Eric Rock. "All these capabilities helped us deliver, literally in a 24-hour period, the CDC guidelines for basic screening. What we've done with COVID over the past five months has been tremendous with solutions to help every patient we can across our broad customer footprint. … This is not just a virtual visit, as you see across the industry. This is connected care that's continual. And so the benefits that spill off of COVID as we're transforming healthcare delivery are tremendous."
2. Remote monitoring solutions adapt quickly
Providers have traditionally used RPM to monitor recently hospitalized patients and to help people with chronic diseases better manage their conditions. The pandemic increased the need for at-home post-acute care and for solutions that keep chronically ill patients away from high-risk clinical environments. It also created a couple of new use cases — screening people at high risk for coronavirus (including healthcare workers) and monitoring quarantined COVID-19 patients. Vivify Health quickly added this functionality to its platform.
"With screening, we're guiding to self-isolation, which is flattening the curve," says Rock. "With monitoring, we're helping them actually deliver care, keeping them at home safely, which is also flattening the curve. And now we're progressing into other solutions as we transition through this pandemic into back-to-the-office solutions. We have large providers, payers and communities that are serving employers with solutions to help get back to business by helping them manage their own employee base."
3. Remote patient monitoring is worth the investment
The Centers for Medicare & Medicaid Services (CMS) expanded RPM reimbursement before the pandemic because the federal government's own research showed that remote monitoring decreases hospital admission rates and cuts the cost of chronic disease management. During the pandemic, CMS and other payers have further embraced telehealth out of necessity, making it even more profitable for providers.
"Since the outbreak, I've seen more change from a regulatory standpoint in three to four months than I have in the past six years," says Rich Curry, vice president of business development for Health Recovery Solutions (HRS), another leading remote monitoring solution. "Telehealth and RPM had to come into play. People were quarantined and under stay-at-home orders. It was too dangerous to have high-risk patients only have access to healthcare by taking a trip to a hospital."
4. Patients are ready for remote monitoring
Even before the pandemic, people were warming up to the idea of connecting with their doctors remotely, but more patients are on board now that they've experienced the benefits of virtual care. Among those who've tried telehealth services, the vast majority say they would do it again, and nearly two-thirds already have.
"People long believed that seeking medical attention was best done physically in front of a doctor," says Josh Klein, CEO of home health provider Emerest LLC, which uses HRS for remote monitoring. "Sometimes in emergency situations, that's true. But COVID-19 made people understand there are other ways to seek healthcare. With COVID-19, it was healthier for people, especially the elderly, to stay home. They, their families and their caregivers finally realized they could use technology to still get the healthcare they needed."
5. Remote patient monitoring enhances in-person interactions and builds community
Telehealth doesn't replace human interactions and clinician-patient communication. It supplements and enhances those connections. Emerest, for example, uses the HRS remote monitoring solution to screen socially isolated patients for depression and grief, and then uses the tablet-based RPM solution to offer group video counseling sessions.
"We've used these technologies to create a community," says Klein. "Using the Samsung tablets and software from HRS, patients now have a go-to place to address their health from the comfort of home."
6. Remote monitoring is just the beginning
RPM has come a long way in recent years thanks to rapid advances in mobile technology and cloud computing. As digital technology continues to evolve, so will remote monitoring solutions.
"The whole market's heating up with all kinds of shiny objects and potentially beautiful products that still need to scale," says Rock. "Opportunities are moving very quickly with things like ambient, AI, machine learning, aging in place, family caregiver and simpler virtual visits for the 80-year-old population. All kinds of wonderful things that we're trying to stay ahead of the curve on innovation."
For more on remote monitoring — including how it works, how it benefits healthcare providers, and how to get started — download Samsung's latest whitepaper. Then be sure to ask these five key questions before launching a remote patient monitoring program.