Remote patient monitoring (RPM) is poised for a serious growth spurt over the next few years. There are new players and new form factors, and thanks to new reimbursement models, there is far more interest in the technology. In fact, 88 percent of healthcare organizations are adopting (or plan to adopt) remote monitoring solutions, according to Spyglass Consulting.
But RPM isn't exactly new. Vivify Health has been in the business for more than a decade. The company started out before the Affordable Care Act (ACA) incentivized value-based care and before Medicare paid for their service. Vivify has since developed the first end-to-end digital health platform using consumer electronics that can be integrated with electronic medical records (EMR). They have contracts with more than 800 hospitals nationwide. And late last year, the company was acquired by UnitedHealth subsidiary Optum — which has doubled Vivify's headcount and opened up new markets for the solution.
Vivify's story of growth and innovation is more than just a case study for remote monitoring; it's an inside look at the history of telehealth, the evolution of healthcare technology and the changing landscape that is boosting RPM's growth.
From hospital to home: Connecting physicians and patients via tablet
Vivify was founded in 2009. After working with several cellular devices for their first years, Vivify chose Samsung Galaxy 8-in. tablets for their RPM kit, Vivify Pathways Home. The kit pairs the tablet with Bluetooth biometric devices such as scales, blood pressure cuffs and pulse oximeters.
Some patients receive their kit during a hospital discharge or home visit, but in most cases, Vivify ships the solution straight to them. Upon opening the kit, the patient finds the tablet, which has a green sticker pointing to the "On" button. When turned on, the tablet immediately connects to a cellular network and plays a welcome video that explains how to get started.
How Mobile Solutions Improve Patient Experience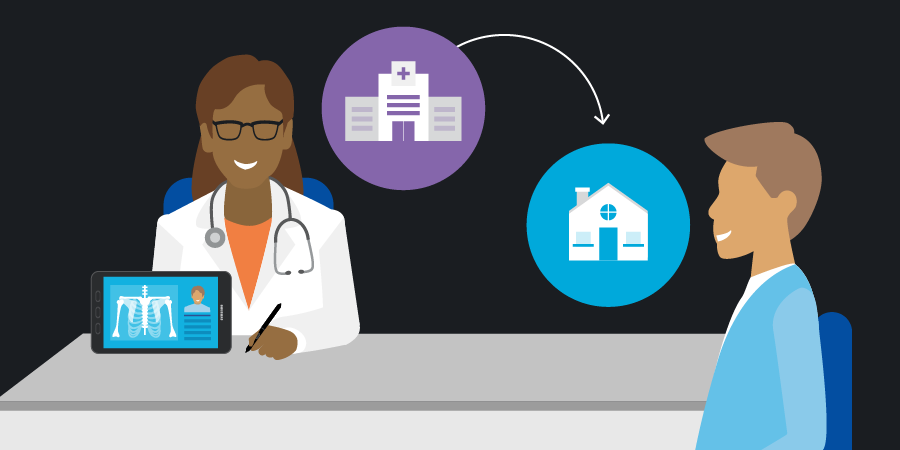 Get your free guide to enhancing the patient experience with mobile technology. Download Now
"Our average patient is 77, so we've worked really hard to make it simple and intuitive," says Bill Paschall, vice president of business development at Vivify. "When we do a follow-up tech support call for installation, most of the patients already have it running."
Every day, patients use the Bluetooth devices, which stream biometric data to the tablet. They also answer questions related to their specific condition, or "pathway." The solution currently includes more than 90 pathways, such as congestive heart failure (CHF), diabetes, cancer, smoking cessation and addiction recovery. Patients also use the tablets to view disease-specific educational content, videoconference with clinicians and receive medication reminders.
The Vivify platform analyzes patient data and responses, looks for trends and patterns and interprets all that data for physicians via an online portal with user-friendly dashboards. This way, clinicians can monitor data in real-time and intervene before minor symptoms become major health problems.
Overall patient satisfaction and compliance rates for the solution are above 90 percent. In Vivify's first clinical trial, with Christus Health, the solution reduced readmissions by 65 percent among patients with CHF. And at the University of Pittsburgh Medical Center, CHF patients using Vivify are 76 percent less likely to be readmitted.
After several successful years with Pathways Home, Vivify expanded its product line to include solutions that work on practically any mobile device.
From tablets to APIs: The evolution of RPM solutions
Mobile devices and applications have evolved rapidly over the last decade, and Vivify has leveraged those innovations to broaden RPM access.
Two years ago, after revamping their bring-your-own-device (BYOD) solution, they launched Vivify Pathways Go, a mobile and web app that works on patients' own devices. Once a healthcare provider enrolls them in the program, the patient receives a text or email with a link to opt in. They can then access the clinical pathways surveys and input biometric data.
"Vivify Pathways Home is ideal for high-risk patients and seniors, but we're only reaching about 3 to 5 percent of the population with that solution," says Paschall. "More than 60 percent of adults in the U.S. have at least one chronic condition, so Pathways Go could impact half the population."
Vivify had previously created Pathways IVR — an automated solution for patients who have landline phones and no other technology — and then rearchitected it with robust APIs to add Vivify Pathways API, including developer-friendly programming codes that let third-party telehealth apps integrate the Vivify platform into their solutions.
"Our plan has been to truly become a platform of care," says Paschall. "Everyone says they're a platform, but in healthcare, platforms need to bring in other device data, connect with other healthcare IT, be enterprise scalable, connect with EMR, provide a holistic view of the patient and be utilized for anywhere in the risk continuum. And we plan to expand on this platform in the future as we integrate with more and more solutions and devices."
From hospitals to insurers: Why everyone suddenly wants RPM
It's not just Vivify's technology that has evolved in recent years. Their customer base has evolved too, thanks in large part to changing healthcare legislation.
"Our original customers were innovative hospitals that wanted to differentiate themselves or needed to provide better care," Paschall says. "Then the ACA came out and put penalties on readmissions with the Hospital Readmission Reductions Program (HRRP), and that got more hospitals and home health agencies interested in remote patient monitoring."
When the Centers for Medicare and Medicaid Services (CMS) launched the Chronic Care Management program in 2015, physicians also became more interested. And in 2019, when CMS introduced new RPM reimbursement codes, Vivify increased its salesforce to meet physician demand.
Hospital systems still account for most of Vivify's business, but in light of Vivify's acquisition by Optum, Paschall expects health plans to account for more than half their business soon.
"Health plans have the most incentive for adopting solutions like Vivify that manage, monitor and engage patients outside the clinical environments," he says. "We allow early interventions in care that have not previously been possible, and that saves money for health plans. For every hospital readmission they avoid, they save an average of over $14,000. If they save an ER visit, they save thousands of dollars, right off the top for each visit. You could pay for a lot of RPM with those numbers."
From startup to industry leader: How Vivify stands apart
The RPM market is getting crowded, but Paschall isn't intimidated by the competition.
"A lot of these new developers don't even have healthcare experience, but we've been building this solution for 10 years," he says. "I don't think we have any peers in terms of depth of content. For the patient, that translates to simplicity of experience, and for the clinician, we provide an extremely usable dashboard and the flexibility to easily add new clinical use cases and content."
Vivify works closely with customers to ensure they get the most value from the solution. "We have a clinical team of RNs that work hand in hand with sales," Paschall explains. "They help customers build the proper workflows and escalation procedures, and curate content for their clinical use cases."
Along with the software and service, hardware is also a differentiator.
"With the Pathways Home solution, we either sell the kits or customers lease them for three years," says Paschall. "When they do that, we extend the tablet warranty for three years, so Vivify essentially warranties the Samsung tablet for years two and three. And we've had really good success with their durability and longevity, even undergoing multiple reprocessing where they're disinfected to FDA standards and guidelines, which might be as often as every 30 days in a program. And they stand up to it. Along with that, Samsung has provided a high level of support that has helped us grow and scale our solution."
Read more about how Samsung mobile technology enhances the patient experience. And find out how to reduce healthcare costs with virtual medicine in this short video.