When a workforce makes a wholesale shift from office to home, decision makers with diverse interests and concerns — from IT to finance to human resources — have to thoughtfully determine how their colleagues will be working all day.
For remote workers and at-home learners, desktop monitors are natural productivity hubs. Monitor selection needs to balance size, shape and performance against the substantial total cost of deploying hundreds or even thousands of workstations. IT and finance departments want to get the most bang for their buck, while HR wants to ensure staffers are using screens that are right-sized for home workstations and engineered with ergonomic issues (such as eye strain) in mind.
Every stakeholder, including those home office workers, wants hardware that operates reliably, that suits its environment and that comes with the full support of the manufacturer.
Bridging needs and budgets
Samsung offers desktop workstation monitors to suit a variety of business needs and budgets — from sleek, space-saving monitors that fold up against the wall to vast, super-wide curved monitors geared toward people working in industries such as gaming, advertising and entertainment. Samsung's SR35 monitor blends minimalist design and sophisticated engineering — at a friendly price point for decision makers who may be purchasing by the container-load.
Available in three sizes — 22-inch, 24-inch and 27-inch — the SR35 series fits easily in most working environments. The display's top and sides are almost frameless, so you can tile a pair of screens side by side and realize a nearly gapless digital desktop — ideal for multitasking. The Y-shaped stands also minimize the display's physical footprint, freeing up limited desk space — also useful in classrooms and computer labs.
Upgrade your monitor fleet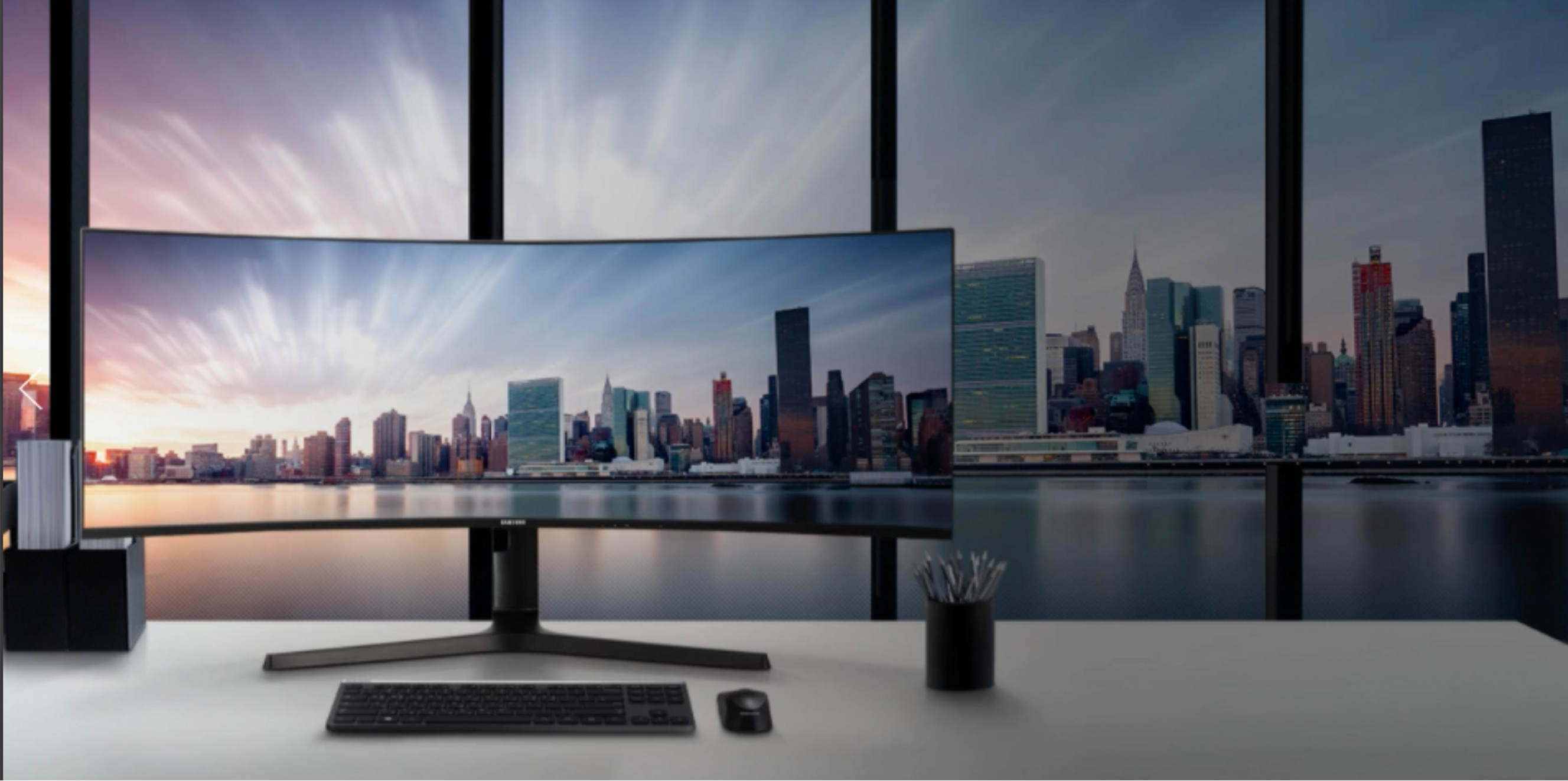 Calculate the total cost of ownership of upgrading your business's monitors with five easy questions. Download Now
For executives and other key staff members, companies can also equip employees' home offices with interactive Flip displays — a highly intuitive digital whiteboard (stood on an easel or mounted to a wall) that powers idea generation and collaboration. Like old-school paper flipcharts, the Flip offers note taking, drawing, charting, editing and annotating capabilities, and its outputs and recaps are easy to capture and share. They can even be replicated on Flip displays at your main office or in other work-from-home (WFH) setups.
Looking good
These nearly bezel-less monitors are stylish, but they're also easy on the eyes in more technical ways. The SR35 series uses flicker-free technology and offers an eye saver mode, which minimizes the display's blue light. Both features help reduce eye fatigue and strain.
The displays also use AMD Radeon FreeSync technology, which synchronizes the monitor's visual output with the refresh rate from the source computer's graphics card. This reduces image tearing and stutter — visual flaws that might otherwise be evident in videos with rapid movements. When you use FreeSync, intense action scenes are crisp and seamless.
The SR35 series also boasts a higher refresh rate — how many times a monitor updates with new images each second. Viewers may see a solid visual on their screen, but the pixels are moving imperceptibly fast. The higher the refresh rate, the smoother the display's visuals. The SR35 monitors are set at a refresh rate of 75Hz; many office-based monitors are set at the baseline of 60Hz.
SR35 LCD displays are based on in-plane switching (IPS) technology, producing superior color and viewing angles to cheaper display panel technology such as twisted nematic (TN) and vertical alignment (VA).
Off-the-clock fun
WFH office setups may have monitors that run office productivity and collaboration apps from 9 to 5, but the same monitor can become gaming central with just a few setting changes.
The SR35 series has a Game Mode that optimizes color settings and contrast, producing more vivid scenes and revealing enemies hiding in the shadows.
The monitors have two input ports: HDMI and VGA. Remote workers who don't want to use their work PCs for gaming — or can't — can use different ports for different activities, simply switching the input source to get to work or get in the game.
No compromises
IT decision makers working with tight budgets don't have to compromise when they're choosing work monitors. Buying based on price alone is risky, but Samsung's SR35 monitors do their jobs well at aggregated costs that fit within IT budgets.
By upgrading monitors for your workforce now, you can actually save money later. Find out what it costs to upgrade your fleet with in this short assessment.