Creating a productive workspace begins with the monitors you choose. Having the option of a bigger monitor with greater visual clarity and depth can offer several benefits. By selecting the right technology for their workspaces, you can keep users focused on their work, not logistical distractions, and keep everyone more productive and more comfortable.
Here are some considerations for creating a modern workspace with the right monitor for your employees.
Increased productivity and efficiency
Large-format displays allow employees to simultaneously work with multiple applications on one desktop. This type of monitor can help several types of professionals — from financial staff to graphic designers to programmers — who can use the added screen real estate to boost productivity and create more efficient workspaces. This can allow programmers to open multiple development tools side by side, while artists can move seamlessly from composition to layout.
Which Monitor Is Best for Your Office?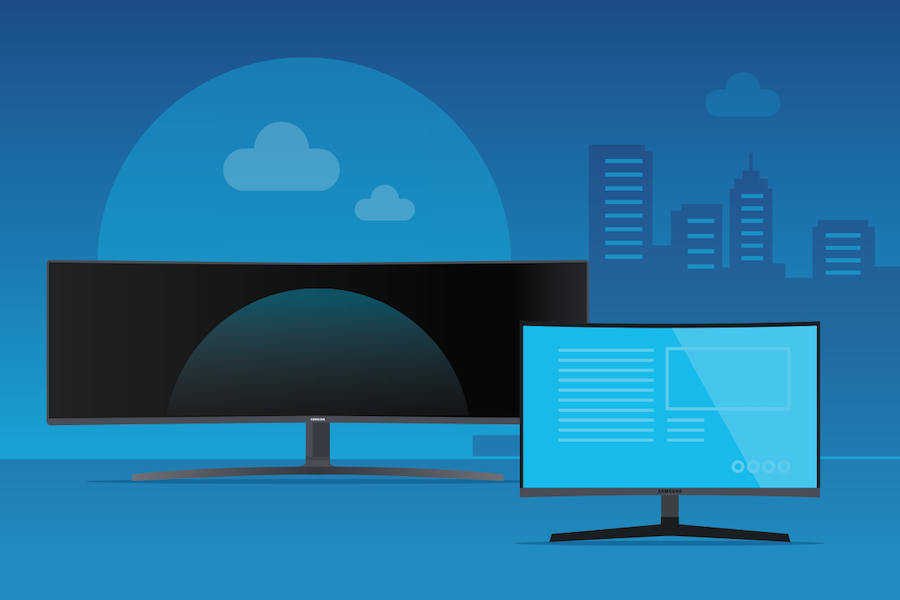 White Paper
Get personalized recommendations on the optimal monitor setup for your space. Download Now
What's more, selecting the right type of screen in terms of size and aspect ratio can help employees' morale and eye health. Because different displays offer varying aspect ratios, brightness levels and response rates, selecting a monitor isn't necessarily a one-size-fits-all operation. Knowing how to tailor these characteristics or accommodate specific jobs can help reduce eye strain and improve ergonomics.
Enhanced displays' longer life cycle is also a benefit from a cost perspective. They might demand a bit more upfront capital, but you won't be swapping out monitors as often, thus saving money in the long run.
To figure out what types of monitors will be best for different applications, it's best to investigate the characteristics of HD and LED display technologies.
An immersive experience
Curved monitors give users a broader, more natural range of view, maintaining clarity and color depth for a larger area. The human field of view naturally arcs along a curve, so this monitor format displays images with minimal distortion and maximum clarity, no matter where they are on the screen.
Size matters, too: A 49-in. curved ultra-wide monitor creates the visual real estate equivalent to a pair of 27-in. monitors running side by side — an effective increase from a 22:9 aspect ratio to 32:9. These monitors offer a more immersive experience that lends itself to several use cases, from media editing to viewing spreadsheets.
Executives in some industries are fond of these immersive monitors because they can view comprehensive data while doing their daily work. The large viewing screen not only lets users zoom in on fine details, it also increases the peripheral view, enhancing overall visibility. These capabilities make curved monitors ideal for those handling multiple complex workstreams, high-definition images and video or intensive animation and rendering projects.
Benefits of streamlined connectivity
As displays evolve to include more integrated connections — and technologies like Samsung DeX emerge on the market — employees can create an almost cable-free desk that ties into a seamless workflow. USB Type-C and Thunderbolt give users access to faster and more secure data transfer speeds.
For employees who spend time away from their desk, the DeX docking station can also expedite data transfer and centralize document access. A dock that connects a smartphone to a mouse, keyboard and monitor, DeX creates a desktop-like experience can reduce the need for extra wires or even paper, reducing clutter and enhancing the workspace.
Monitors in the contemporary workplace
When planning your hardware budget, take a step back and focus on your standard computer monitor and compare it to the current monitor market. Creating a productive workspace starts by deploying a high-performance monitor that meets your business and technology needs.
Before a single purchase is made, it's important to understand the precise needs of each team, any special accommodations necessary (for the workspace or the individual) and the capabilities and requirements of available hardware and software. Buying too small a monitor will hamper performance, while buying large-format displays without the appropriate graphical hardware may hinder performance. Armed with the right information, you can choose the right displays for you and your team and optimize efficiency and satisfaction.
Take this free assessment to learn how monitor color technology and refresh rates support your fast-paced, creative workplace. Or discover the possibilities of quantum dot technology.