If you commute on weekday mornings or early afternoons, you've likely seen school buses with flashing red lights, taking children to or from school. What you may be less aware of are stop-arm violations — when a vehicle passes a stopped school bus that has its red lights flashing.
These violations are shockingly common. In 2019, the National Association of State Directors of Pupil Transportation Services (NASDPTS), which tallies yearly stop-arm violations, surveyed school bus drivers in 39 U.S. states and found that on a single day, 131,345 bus drivers reported 95,494 vehicles that passed them illegally.
To help solve this problem, safety technology provider BusPatrol turns normal school buses into smart buses with the integration of multiple cameras and AI-powered applications. The company is the most-deployed stop-arm camera program in North America, operating in the U.S. and Canada, and it has now added rugged Samsung Galaxy tablets to its offering to further assist bus drivers.
"Once we connected all of those pieces, we then realized they all need that critical interface," explains Jean Soulière, founder and CEO of BusPatrol. "When we looked at what tool to use, Samsung's Galaxy tablet really stood out."
Making school buses smarter and safer
BusPatrol equips buses with stop-arm cameras that can monitor up to eight lanes of traffic. Other rear-view, sideload and dashboard cameras record the windshield view, the passenger loading zone and the rear of the bus. Optional interior cameras allow for passenger, driver and doorwell coverage.
BusPatrol empowers school transportation officials through its secure cloud-based software. These tools allow school transportation directors to access livestreams and on-demand video from the school bus safety cameras.
21 tests Samsung's rugged devices survived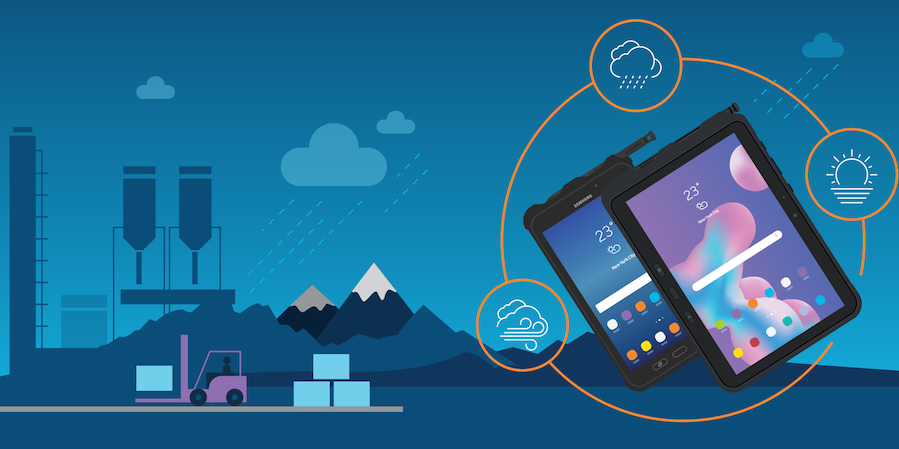 See a full rundown of the MIL-STD-810G testing Samsung's rugged tablets passed in this infographic. Download Now
School bus drivers can sign students in using the dash-mounted Galaxy Tab Active devices as they board the bus, and parents can track this in the parent app. Parents can also see the location of the bus in real-time, so they have an ETA for pickup and drop-off.
Drivers can also perform Electronic Verified Inspection Reporting (EVIR) using the Zonar app on the tablet, which streamlines inspections and ensures compliance.
And because many school systems experience high driver turnover, BusPatrol offers turn-by-turn navigation, which is especially helpful for new drivers.
Soulière says the Galaxy Tab Active was an ideal fit because it's not just rugged, but also delivers a great user experience and a lot of powerful features for drivers. The rugged tablets feature programmable physical buttons to instantly launch frequently used apps. They also come with an S Pen, which means bus drivers can still use the device for safety inspections on cold days when they're wearing gloves.
Community impact: Changing driver behavior
Beyond the core safety benefits, BusPatrol's technology also helps law enforcement detect and enforce stop-arm violations. BusPatrol collects data from videocameras, GPS and telemetry to help automate the preparation of evidence packages for law enforcement to review and approve. BusPatrol's secure cloud-based software provides an interface for police to easily access stop-arm violation incidents and approve and issue citations to violators.
Correcting the community's driving habits supports a culture of mutual responsibility. When a commuter gets a ticket from BusPatrol, they also receive detailed information about the incident, including video footage. BusPatrol's support center helps educate drivers by reviewing the video footage and school bus safety laws to prevent repeat behavior. As a result, BusPatrol says 98 percent of people who get ticketed for a stop-arm violation don't get a second ticket.
Modernizing student transportation at no cost
BusPatrol's safety programs are entirely violator-funded. The procurement and maintenance of its technology packages are offered to schools at no cost by recovering costs through the local government. In addition, traffic violations generate revenue for the jurisdiction where the schools are located, allowing them to further invest in road safety or education initiatives.
BusPatrol expands its safety offering to schools by providing accessibility to a suite of industry-leading technology through its partnerships with Samsung, Zonar, FirstNet, BusPlanner and Transfinder. Through its violator-funded model, school districts gain access to the leading route planning, route execution and route enforcement tools across their entire fleets. BusPatrol believes in a full-fleet model to outfit these safety packages across all of a districts school buses; providing safety benefits to every child riding the school bus in the community.
"After deploying thousands of Samsung Galaxy Tab Active2 devices to fleets of school bus drivers, we're looking forward to bringing customers the next generation of benefits with Tab Active3," says Soulière.
Close collaboration helps BusPatrol stay focused on their ultimate goal. "They're our children and our future, and BusPatrol is very proud to partner with Samsung to keep that future safe."
To see what makes Samsung's rugged tablets so tough, read about the 22 durability tests they passed. And discover Samsung's education solutions for students and teachers to thrive while they're learning remotely.