To understand why Samsung offers Galaxy Enterprise Edition devices, you need only look at how the role of mobile in the enterprise has changed in the past five years. Mobile devices and apps used to be looked at as an opportunity for innovation, but today they are the backbone of day-to-day operations for many of our business customers. When you're talking about thousands of frontline workers who are reliant on mobile technology to stay connected and productive, the stakes are high.
As business leaders work to harness the full potential of mobile technology, their strategy should start with choosing the right devices — but it can't end there. Equipping your employees with the tools they need to work from anywhere requires thinking holistically about how to deploy devices, provision apps, keep the OS up to date, and secure data from potential loss or theft. Managing mobile demands a long-term approach, accounting for how your organization's mobility needs are likely to evolve. And, of course, you have to show that your investment in mobile will deliver an ROI.
These are the real-world business challenges that led Samsung to develop the Galaxy Enterprise Edition, which is now available for both smartphones like the Galaxy S21 and tablets such as the Galaxy Tab Active3.

The Galaxy Enterprise Edition at a glance
The cornerstone of Galaxy Enterprise Edition is a free one-year license to Knox Suite, our comprehensive mobile management and security toolset. With a streamlined user experience, Knox Suite delivers end-to-end mobile management and gives IT granular control over Samsung devices.
Knox Suite includes Knox Mobile Enrollment (KME), which allows IT to offer quick, zero-touch deployment for thousands of mobile devices at once into your corporate mobile device management (MDM) or enterprise mobility management (EMM) solution.
Also included is our own cloud-based EMM solution, Knox Manage, which simplifies device management and monitoring, and allows IT to offer remote support when employees run into technical issues or lose their device.
Choose the right phone for your growing business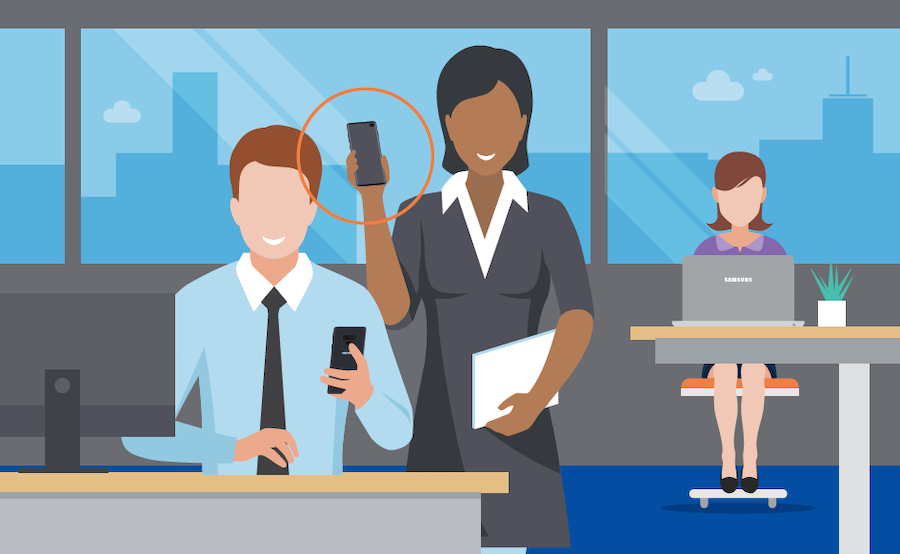 Get your free guide to matching the right smartphone with your business and employee needs. Download Now
The Knox Suite also bundles in Knox E-FOTA, which pairs with Knox Manage and helps your organization avoid OS compatibility issues by allowing IT to deploy firmware updates on your schedule, once necessary testing has been completed.
All of these are built on our foundation of security with Knox Platform For Enterprise (KPE), which provides advanced device controls and deep customization options, including capabilities that extend beyond Android Enterprise.
Enterprise Edition customers extending their Knox Suite license beyond the first year also get a 50 percent discount off the standard pricing at the time of renewal.
Extending the device life cycle
Business leaders deserve to have confidence in the longevity of their mobility investments and their ability to deal with unexpected issues. Enterprise Edition devices come with five years of security maintenance releases, starting from the date of first availability. That means devices like the Galaxy S21 and the Tab Active3 will continue to receive critical updates for half a decade, so you can get more value from your investment.
Another consistent piece of feedback we've heard is that organizations tend to add more devices over time as they expand pilot deployments to an entire workforce. With this in mind, Enterprise Edition devices include a product life cycle assurance of at least two years after launch (three years for our Tab Active3). If you want to expand your mobile fleet with more of the same devices, you know they'll still be available.
As Samsung continues to deliver powerful business-focused solutions, we'll be introducing more Enterprise Editions of select devices across our lineup. New rugged tablets and phones, like the Tab Active3, are built field-ready. And powerful new multitasking devices, like the S21, can replace traditional PCs.
All Samsung Galaxy devices, including Enterprise Editions, are built on the defense-grade Samsung Knox security platform, which provides multilayered protection against malware and other cyberattacks. As hackers continue to create more sophisticated attacks, Knox is particularly vital because it works at both the hardware and software level.
When it comes to managing mobile at scale, the Galaxy Enterprise Edition gives you the complete package. You get more customization, more control and more protection, so you can develop a mobility strategy that fully aligns with where your business is headed.
Learn more about how Samsung Galaxy S21 Enterprise Edition devices help secure and manage your mobile fleet. If you're not sure about the right smartphone for your business needs, get personalized advice with this free assessment from Samsung.