Digitally native children are coming into classrooms conditioned to communicating and learning through technology. Educators need to adapt accordingly with tools that optimize the school experience for students and teachers alike.
Next-generation education technology like interactive displays is upgrading the classroom dynamic, making learning more fun, engaging, collaborative and inclusive. In today's educational environments — many of which include in-class and at-home instruction simultaneously — having the most effective teaching technology is paramount, now more than ever.
Samsung's new 85-inch Interactive Display lets educators at all school levels adapt the way they teach and interact with their students to the subject and moment.
Here are six ways the 85-inch Samsung Interactive Display — mounted to the front wall of a classroom or lecture hall — changes the teaching game:
1. Adapt to changing times
The Samsung Interactive Display is designed to be used for diverse educational purposes, with multiple options for connecting and interacting. The screen features inputs that can take display signals using HDMI or DisplayPort. An Open Pluggable Slot (OPS) can load a compatible, small form factor PC. The OPS can be preloaded with Windows OS and used for sharing education curriculum both on the Samsung Interactive Display and shared via WiFi. Users can plug in a USB thumb drive, or they can mirror another device's screens — such as their smartphone or tablet — and display it on the much larger 85-inch display, sharing visuals in rich Ultra HD 4K resolution. The display also comes with built-in internet connectivity and a web browser, so students can use it to look up websites and even annotate them.
Fund your remote learning initiative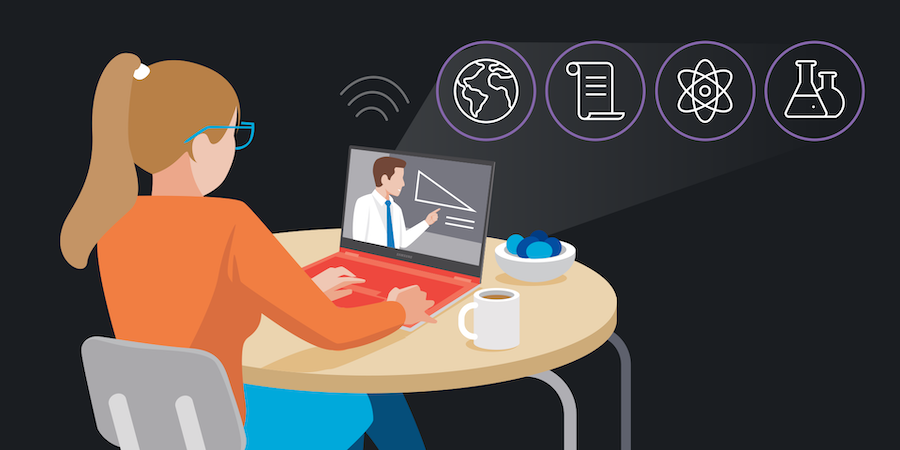 Learn how to create, present and secure grants for your remote learning technology needs. Download Now
The new 85-inch Interactive Display has a touch-out function that tethers and syncs on-screen views between an external device and the big screen. A teacher or student giving a presentation can show, edit and control content on their device and replicate their view on the wall-mounted display, allowing them to move around the room as needed. It works in reverse as well, with changes like annotations added on the display also synced to the smaller screen in real time.
2. Double-digit touch
Conventional tools like whiteboards typically limit actions to a single user, but the 85-inch Samsung Interactive Display has the dimension and supporting technology to allow entire learning groups and project teams to develop and note their ideas, update and edit visuals and create original drawings. The sensitive, accurate touchscreen can track as many as 20 concurrent users.
For students learning and working remotely, sharing smartboard information is as simple as emailing the recap files (or storing them on the school network) to be easily retrieved as needed.
3. More than just math
Chalk and markers can do the basics, but the creative tools built into the Samsung Interactive Display can do so much more. Writing with a stylus can be captured in a variety of colors, styles and widths — and feels like pen on paper. Images can be captured, cropped and edited straight from the screen. Young artists can enhance existing visuals or create original work using a brush and working in watercolor or oil painting mode. The 85-inch display is smart enough to recognize different brushes, plus each brushstroke's sensitivity, and even allows color mixing.
Work on the Samsung Interactive Display is easily captured and merged into documents — called rolls — with as many as 20 screens' worth of work available off a single roll, which is easy to brows, save and share.
4. After-class communication
Educators can easily push work from their devices — or student devices — to screenshare with the class. And it's equally easy to save and distribute the output, whether it's notes, lists, drawings or updated documents like Microsoft Office applications or PDFs.
Users can email files, print them or save them to a network storage drive or USB directly from Samsung Interactive Display. The display also supports Wi-Fi Direct, which allows devices to communicate with each other without the need for the school Wi-Fi network in the middle.
5. Safe and secure
By design, the Samsung Interactive Display is so simple to use that students and teachers can get to work instantly. But the display's underlying technology ensures it's also secure and that confidential information stays in the right hands. A reinforced, six-digit lock system allows educators to easily safeguard sensitive content, lock the display and remove critical content from view. Users can also configure the device to regularly delete files.
School IT teams can even control critical display settings remotely with Samsung's Remote Management solution, with options including powering the display on and off, changing pin codes, locking the network or USB port and adjusting proxy server settings. Head office staff can also remotely update the display's firmware over the school's wide area network, minimizing disruptions and saving the time and cost associated with on-site updates and servicing.
6. Always-on administration
Not every teachable moment will be driven by a Samsung Interactive Display, but the device will still be constantly working and communicating. With a diverse set of predesigned templates, the screen doubles as a classroom-centric digital signage display, lighting up in screensaver mode. There are even prebuilt templates for frequently used messaging like calendars, assignment reminders, birthday wishes and important health safety tips.
If you want to learn more about Samsung's education collaboration tools, check out this free white paper. And discover other ways K-12 teachers are adapting to education's new normal.