In today's digitally transformed enterprise, mobile devices have become essential business tools, capable of supporting virtually every worker in their daily tasks. But for IT leaders, this has created a new challenge of managing and optimizing smartphones and tablets to efficiently serve such a diverse set of business roles.
To maximize productivity and ensure security, administrators need greater control over how devices operate, which apps are installed and which networks they connect to. Samsung's Knox Configure gives them exactly that.
With granular device configurations, your IT team can ensure that corporate-liable devices won't leak information or expose the company to security vulnerabilities. Whether you're deploying a few dozen devices or a few thousand, Knox Configure can make the job easier.
What exactly does device configuration mean? With Knox Configure, it means being able to control and customize almost every aspect of the device.
Seamless, out-of-the-box setup
Knox Configure gives you full control over the features your employees can and can't access on their corporate-liable devices. You can set up each device according to the employee's company role or security clearance. You can also provision content and apps, disable other preloaded apps or bloatware and even rebrand your devices with a custom boot animation.
Get your ultimate guide to Knox Configure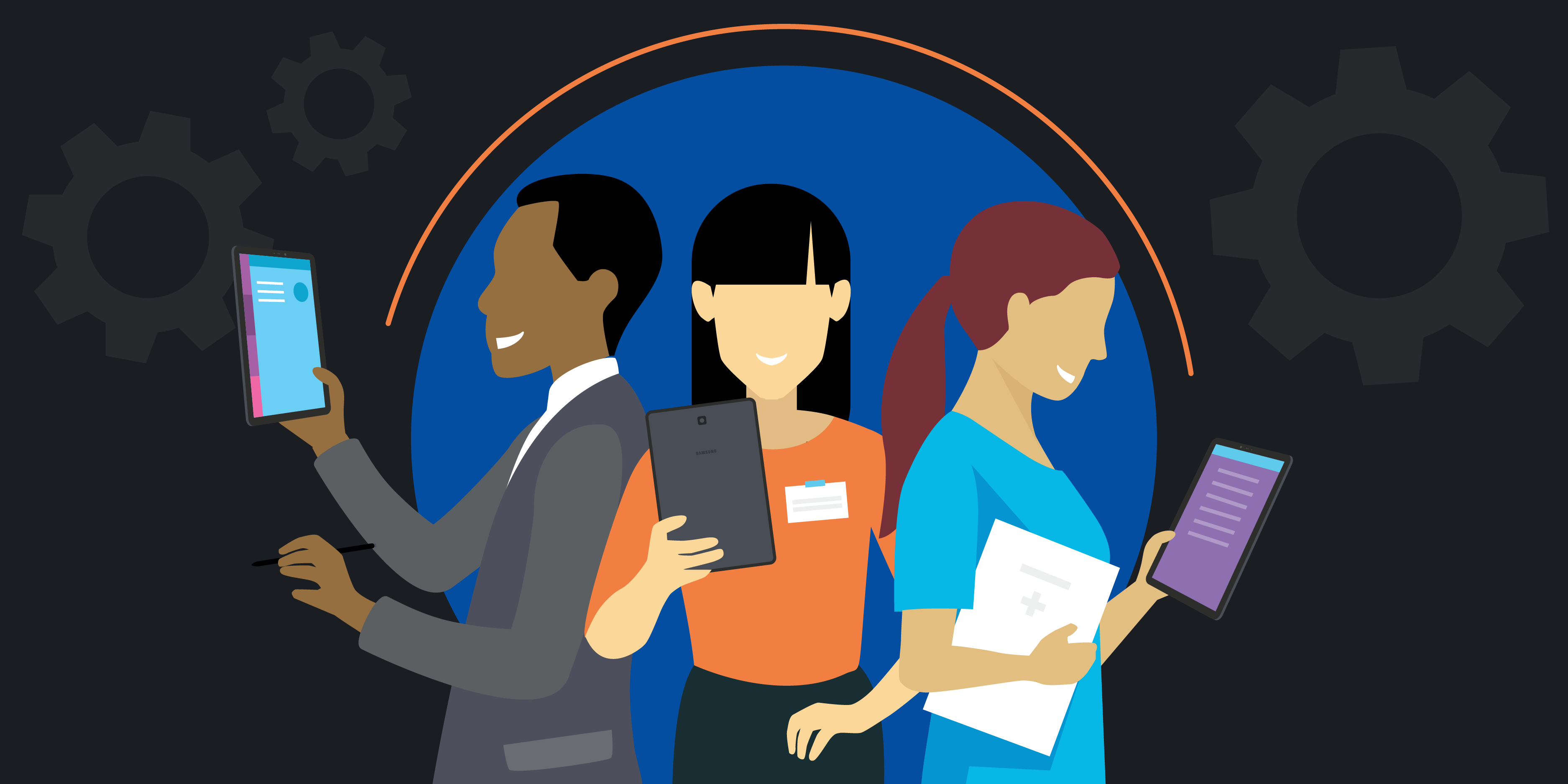 Learn how to optimize tablets for your unique business needs using Samsung Knox Configure. Download Now
Essentially, Knox Configure allows the mobility manager to create a gold master image that's automatically applied to end users' devices. In the Knox Configure portal, admins can upload a list of deployed devices and assign them predefined profiles, tailoring the devices to various business needs. Rather than going through setup wizards or other complicated steps, employees get mobile devices that are automatically provisioned and configured as soon as they're powered on and connected to a network. And IT managers don't have to sink time into manually configuring each device one at a time.
Advanced device configuration
On any mobile device, one of the most important settings is how the device connects to the world. Connectivity is necessary for improving employees' productivity, and, for standard usage, there's rarely reason to disable this access. But in circumstances where employees are accessing highly sensitive information, you may have to limit connectivity to ensure data security.
By using Knox Configure, you can control Wi-Fi and LTE connectivity, and even set up mobile network Access Point Name (APN) configurations. You can turn off GPS, Bluetooth and near-field communication (NFC) or enable Flight Mode. These are especially vital controls for specialist industry use cases or employees handling sensitive data.
However you configure your devices, Knox Configure prevents your employees from reversing these settings, even with a factory reset. You maintain stronger control over how data flows in and out of your network — and more importantly, who can access it.
Building on these capabilities, the Knox Configure Dynamic edition makes it easy for you to keep corporate-liable devices on the latest settings, so they're always up-to-date.
Create purpose-built appliances
Almost every feature on your mobile devices can be customized with Knox Configure according to your unique business needs. You can help minimize employee interference with device settings, or eliminate interference altogether for customer-facing devices like a self-serve kiosk. You can further customize the UX by modifying the standard UX and locking down the device to a single app, transforming mobile devices into tailor-made business tools.
By preventing certain features from being tampered with, you also limit potential security vulnerabilities. If a configured device is lost or stolen, you can reset the device remotely, and you can prevent data leaks by disallowing files from being copied to an SD card or USB storage.
For devices that are being used in highly sensitive areas, you can use Knox Configure to limit the devices' recording capability by disabling the microphone, camera or screen capture. You can also limit communication by locking SMS and MMS message access.
Customized to your brand
The employee experience can make all the difference in improving your business performance. You can add a personal touch to their mobile devices by using Knox Configure to create a fully company-branded experience from the moment an employee powers on their device.
You can further personalize their devices by preinstalling specific business apps over the air or adding shortcuts, like an icon that goes straight to the company's homepage. For customer-facing devices, a shortcut to customer support can help ensure a smooth transaction.
Flexibility for multiple users
When enterprise smartphones and tablets are used by multiple people, IT usually faces a number of issues around device configuration. But with Knox Shared Device, IT can let multiple users access the same device without sharing data. Individual settings, accounts, apps and policies are exclusively applied to a single user account. Data doesn't pass between accounts and is cleared when a user logs out. Each user logs into the device with a separate account (with their Active Directory credentials) and only manages their own files and apps.
Mobile devices have become ubiquitous and increasingly diverse, but they don't have to be hard to manage. Knox Configure offers you the dynamic capabilities you need to meet your unique business needs, whether you pair it with an MDM solution or not. With Knox Configure, you can enjoy the benefits of standardized, consistent and secure mobile devices — and plenty of room to innovate.
Pairing an MDM solution with Knox Configure can extend your management capabilities. Find out how to choose the right MDM solution for your business needs. One such solution, Knox Manage, allows your IT team to manage devices from an intuitive cloud-based console.