A lot of things changed in 2020, including the way many of us work, learn and play.
Screens are now an even bigger part of what we do and have been upgraded from useful accessories to central tools. Different screens can do different things, but what if one screen was designed to address and work with all aspects of our everyday lives?
Samsung's new Smart Monitor series is built around the idea of maximum usefulness — one screen that can serve multiple purposes throughout a busy day at home. It's the business desktop. The after-school learning hub. And come leisure time, it's a widescreen canvas ready for gaming or binge-watching streamed TV shows.
Smart displays
Most conventional desktop monitors are effectively "dumb" devices that receive and show a signal from a PC or other media play-out device. The new Samsung M7 and M5 Smart Monitors are different, with computing smarts embedded in the display. Think of them like Smart TVs with apps, but add on business productivity and connectivity tools tuned to the huge new wave of people working from home — either temporarily, or for good.
Upgrade your monitor fleet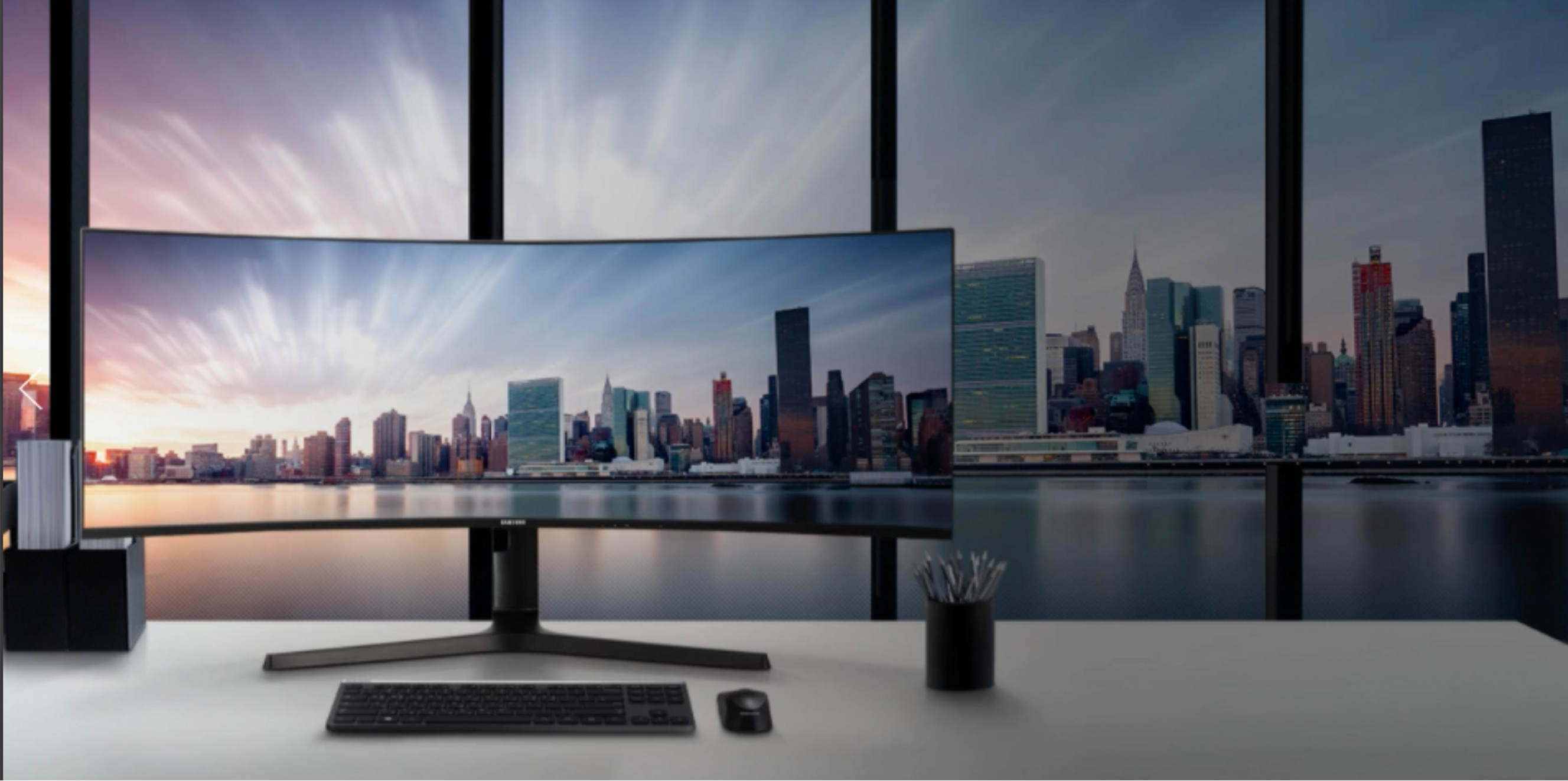 Calculate the total cost of ownership of upgrading your business's monitors with five easy questions. Download Now
The intent of the new series was to make work from home (WFH) productive, seamless and flexible.
Here's how:
There is built-in Wi-Fi on the display, along with pre-loaded applications and a web browser.
Support for Remote Access allows users to connect to remote PCs, allowing WFH even without a laptop or desktop PC at home. Users can also tap into the cloud services of Microsoft's Office 365.
WFH users can wirelessly pair their compatible Galaxy smartphone or tablet to a Smart Monitor via Samsung DeX, using documents or windows off of the portable device on the much larger screen, while still being able to make calls or send messages with the phone.
Screen mirroring to a Smart Monitor is easy, using app casting with Android, iOS or AirPlay, or by one-step connections using Tap View on Galaxy devices.
Easy on the eyes
The Smart Monitor is a 21:9 widescreen display that provides a large working canvas for multitaskers, allowing multiple applications to be viewed at once.
The 4K resolution screens are also engineered for power users, with flicker-free and eye-saver modes that reduce eye-strain. A sensor in the screens automatically adjusts the brightness and color temperature, optimizing the visuals as conditions change throughout the day.
They're also easy on the eyes in terms of design aesthetics, with a super-slim profile, minimal display stand and skinny frames (bezels).
Multifunctional displays
When work is done, Smart Monitors don't need to sit idle. An auto-source switching function makes it easy for the kids or a partner to take over and plug their own devices into a screen. The Smart Monitor series runs on Samsung's Tizen operating system, which enables online connectivity and HDR10 technology, so anything that is viewed on your favorite streaming platforms comes through as it would on a high-definition television.
Then, when it's time to relax, the display is ready for gaming fun or just lazing away the evening with a streamed show or movie. The Smart Monitor contains entertainment apps just like smart TVs and even has a TV-style remote control with voice command support.
Space is often at a premium for people in smaller homes, condos and apartments. Using a Smart Monitor, working, learning, playing games and watching TV can happen off a single display.
Each Smart Monitor is also height adjustable, with a vertical range of four inches to go with its 20 degrees of tilt for maximum flexibility. This helps users optimize the display when they're in sitting or standing positions.
WFH is the new reality for many across countless industries. Do you have the right monitor to make your WFH life productive?
Discover how display technology is evolving in this free history guide. Then find the right monitor for your job and budget.