A new kind of desktop monitor brings multifunctional devices to personal spaces. These screens are designed not only for business, but also for learning, playing and relaxing at home.
Samsung's new Smart Monitor series combines a widescreen, work-optimized desktop monitor with all the best features of smart TVs, plus sharing and connecting technologies.
This concept is particularly useful in smaller living quarters, like a city apartment, a condo or the spare room or nook that abruptly became a home office when working remotely became a requirement. When space is tight, a big screen that can serve many functions is a great asset.
The same digital display that allows a parent to work productively from home through the day can easily convert to a connected learning and gameplay center for the kids to use after school. Come evening, that same display can be repurposed for binge-watching a streamed TV series once the kids are in bed.
Do-it-all displays
Samsung's new M7 and M5 Smart Monitors have the slim, sleek look of premium TVs and desktop monitors — with the real difference hidden inside. Inspired by the popularity of smart TVs that have built-in computing capability and apps, the new Smart Monitor series also has embedded computing, an operating system and a variety of software and streaming entertainment apps.
Desktop monitors are full production hubs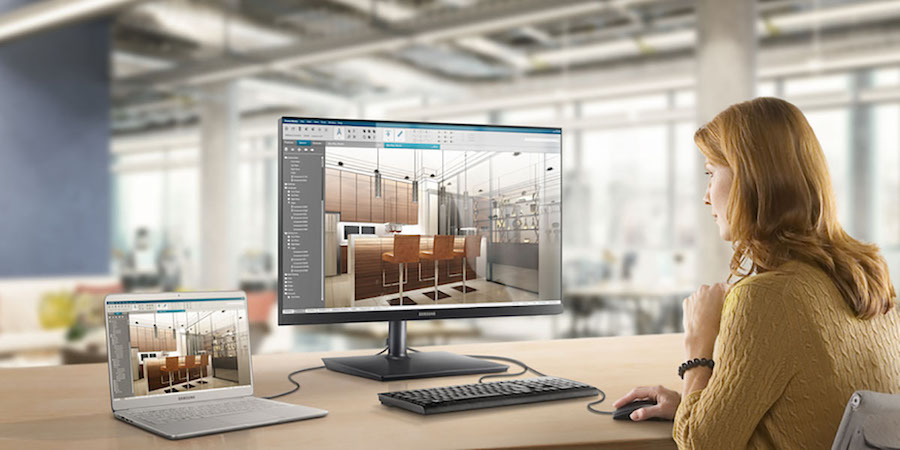 Monitors aren't just displays. Learn how USB-C, HDMI and Thunderbolt 3 enable complete workstations. Download Now
When they're set up for remote work, even without a home PC, Smart Monitors seamlessly transform into entertainment centers — with built-in audio, 4K UHD resolution on a 21:9 widescreen and vivid HDR color.
The Smart Monitor series runs on Samsung's Tizen operating system, which enables online connectivity and HDR10 technology, so anything that is viewed on your favorite streaming platforms comes through as it would on a high-definition television.
Desk jockeys and binge watchers alike require a change in how they get the blood moving and making sure fitness routines don't fall off during busy days. Access to Samsung's Health app through the Smart Monitor is as simple as downloading programs on any other device through the display's embedded app store.
Each Smart Monitor is also height adjustable, with a vertical range of 4 inches to go with its 20 degrees of tilt for maximum flexibility. This helps users optimize the display when they're in sitting or standing positions.
These monitors include a TV-style remote, with AI-driven voice control support and one-touch hot keys for your favorite streaming services. A built-in browser makes it easy to watch videos from the internet. Plus, you can easily add more apps or services at any time, directly on the monitor.
With more Americans now subscribing to streaming services than to cable TV, space-constrained living and working arrangements may favor smart monitors as the modern home display of choice.
Easy pairing
Built-in Wi-Fi means handheld devices on the same network — like your smartphone or tablet — are easy to pair, so you can cast their displays to the larger monitor. Pairing these devices can be as simple as tapping your phone to the side of the monitor, auto-launching the connection.
A display setting on Smart Monitors allows you to make easy adjustments to the aspect ratio, so you can watch videos and play games in full 21:9, instead of trimmed on the sides when the display is set to 16:9.
Minimal footprint
Using a Smart Monitor allows the usual tangle of cables and peripheral devices to disappear. The display's onboard smarts also remove the need for an external set-top box or media stick, and their connecting and power cables. Wi-Fi is built in.
New work setups, tight spaces and strained budgets all deserve new solutions. A single smart screen for work, learning and entertainment may be ideal.
Not sure if a Smart Monitor is right for you? Find the perfect Samsung monitor for your business needs. And discover the other solutions Samsung offers for remote workers.