To meet the demands of multitasking work, the most obvious solution is getting a bigger, wider desktop monitor. But for many jobs, productivity is better optimized by multiple displays linked together.
Multimonitor arrays deliver more visual real estate, as a start, but they also allow power users to fine-tune their screens' shape, size and orientation to their specific needs and work styles. Ideally, your monitor technology should allow you to daisy chain — or connect multiple monitors with a single connection — as many as four screens at a single workstation, whether that's in the company office or in a workspace carved out at home.
One or many?
For many years, desktop monitors were generic — available in off-white or black, in just a handful of sizes. These days, monitors are super-slim and available in a wide variety of shapes and sizes, including super-wide and immersive curved displays.
While a 49-inch curved widescreen can replace a desktop monitor and offer a huge work canvas, it may not fit the available space or suit job roles that require even more pixels, or screens set in different orientations.
The complete guide to USB Type-C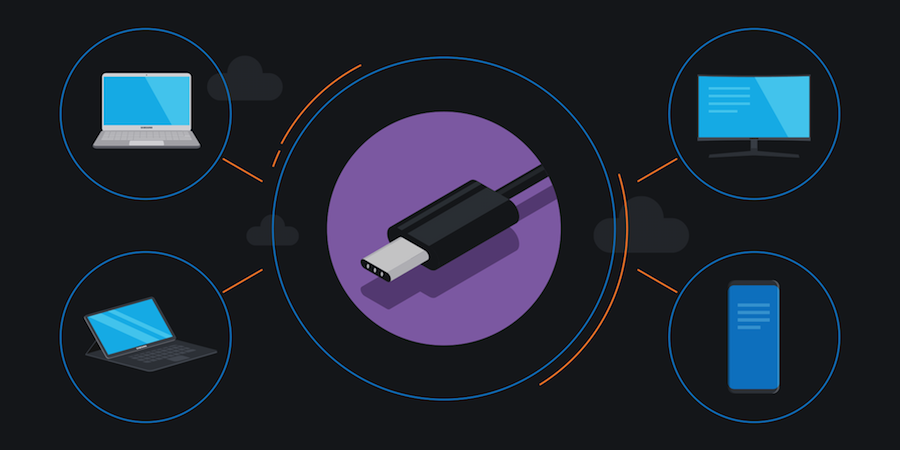 Learn how to clear desk space, streamline workflow and save time and money with USB-C connectors. Download Now
Software developers, for example, may use one screen in the conventional landscape mode for web, productivity and collaboration applications, plus a second screen in portrait mode to get a more expansive, dedicated look at their stacked lines of code.
Financial pros may need as many as four displays, tiled and stacked, for their daily charting, real-time data and reporting on market updates.
Samsung's latest series of high-resolution displays — the S Series — comes ready for daisy chaining, supporting everything from ultra-high-definition (UHD) to ultra-wide quad high-definition (Ultra WQHD), plus built-in technologies like HDR10 to deliver precise, vivid visuals. The series joins a full family of work-ready monitors that address a wide variety of needs for different sizes, shapes, capabilities and price points.
The S Series displays also come equipped with multiple ergonomic features — like adaptive picture and flicker-free — that reduce eye strain for power users.
How to daisy-chain your displays
Desktop monitors that support daisy chaining allow as many as four desktop monitors to run off a single PC, with two cables in each monitor — one to its power source and one to the other monitor. This significantly reduces the number of cables needed for a workstation setup, and it can negate the need for extra gear such as docking stations or other cable management systems. That minimizes workstation clutter and complexity, resulting in a more productive workspace.
The basics of daisy chaining involve a single output from a PC to a daisy chain-ready monitor. The monitor then effectively relays or extends the PC signal to the adjacent monitor — or up to three. The "daisy chain-ready" qualifier is important, as not all monitors support it. Your monitor should support DisplayPort Out version 1.2 or later, in order to link multiple monitors.
Setup is straightforward: Connect the PC's main DisplayPort connector to the DisplayPort In connector on the primary monitor. Then connect a compatible DisplayPort cable from the primary monitor's DisplayPort Out to the secondary monitor's DisplayPort In. For a third or even fourth monitor, just repeat these steps.
Running the primary DisplayPort signal cable from a PC to a daisy chain-ready monitor allows users to extend their desktop with multistream technology (MST) — effective for single users just need a larger visual work canvas. Single-stream technology (SST), a separate solution, is a handy tool for running presentations.
Many workstation monitors support USB-C technology — a protocol for a connector type that provides a signal for your monitor, power for your laptop (or other smart device) and connectivity for several peripherals that plug into the monitor. When your monitor can act as a work hub, there's no need for docking stations, port hubs or a tangle of audiovisual (AV) cables. USB-C support cuts out the capital cost of extra equipment, lowers maintenance and increases reliability. Less equipment and fewer connectors allows for a largely trouble-free operation.
The case for multiple monitors
Researchers have found that multimonitor workstations create direct, measurable benefits for their users — and their organizations. A multiscreen array may cost more upfront, but it brings a quick return on investment (ROI) in increased productivity.
In corporate office spaces and home workspaces alike, most contemporary, knowledge-based jobs often require staffers to run numerous software apps simultaneously, opening and minimizing them repeatedly to get tasks done. But as our multitasking needs have grown, our tools and workstations have gotten smaller. Premium laptops tend to have small screens —13 inches or even 11 inches — which is great for portability but challenging when you need to bounce between collaboration, productivity, business systems and browser-based applications.
The shift toward remote work — dramatically accelerated in 2020 — has forced more creativity in making staffers' workstations as productive as possible in their personal spaces. With multiple daisy chained monitors, people working from home are free to customize how the screens fit together to best serve their needs.
As you shop around for a new monitor — or monitors — these five easy questions can help you calculate the TCO for your upgrade. And learn more about how you can clear desk space and streamline your workflow with USB-C connectors.