As the first point of interaction with customers, frontline workers are a business's eyes and ears. Increasingly, these frontline teams, in all industries, face a common challenge: Their work processes are fundamentally inefficient.
Frontline workers are often stuck trying to complete daily tasks without the right tools for the job — while they're on the go and in a time crunch. Whether they are relying on paper-based processes or legacy tech that doesn't give them enough flexibility, it hurts your business's productivity and the level of service you provide to customers.
With rugged smartphones and tablets, combined with the right business apps, you can facilitate flexible, efficient digital workflows that are custom-designed for frontline teams.
Opportunities for workflow improvements
As you identify the primary bottlenecks in your frontline team's workflow, it may be more complex than shifting a traditional paper process to a digital alternative. It's important to step back and take a holistic view of the problem.
Mike Kelly, CIO at leading long-haul truckload carrier Mesilla Valley Transportation, examined all aspects of his drivers' day-to-day experience — tracking hours of service, accessing work orders and communicating with dispatch. He realized the current workflow contained dozens of unnecessary steps — and was able to deploy a new integrated telematics solution to save drivers' time, improve safety and reduce fuel costs.
Empower your field services team with mobility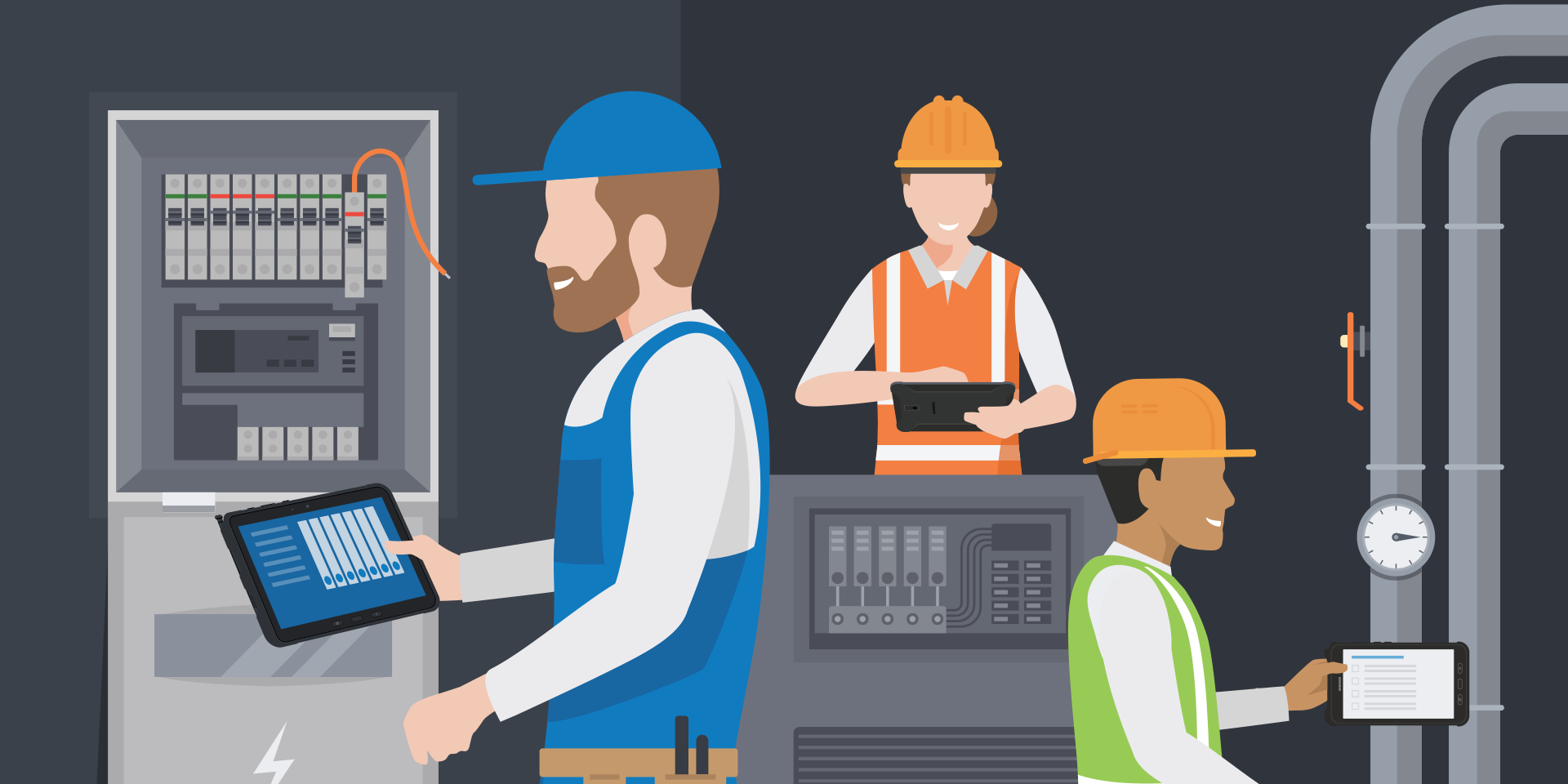 Exceed customer expectations with this free guide to improving connectivity in field services. Download Now
Consider another example in field services: A technician trying to complete a work order may have to go through customer validations, order components, place a request, manage scheduling and obtain signatures. The current process takes a significant amount of time, requiring the technician to place phone calls, fill out paper forms with the customer's details, and access multiple online systems. Every minute spent sorting through information on the back end is a minute that the customer is kept waiting — and the worker is prevented from moving on to their next task.
Before you can embrace mobile technology for its strategic workflow improvements, you may need to go out in the field to see firsthand how frontline workers spend their time. Once you've identified specific opportunities for digitization, you can deploy rugged mobile devices like the Samsung Galaxy XCover Pro and rugged tablets like the Tab Active3 and Tab Active Pro to eliminate bottlenecks.
The right form factor for rugged workflows
Digitizing an essential process can help your employees get more done — if they have the right tools in hand. Samsung's portfolio of rugged devices features sleek smartphones and tablets that can go the distance in any rugged environment. The XCover Pro, for example, is IP68-rated for dirt, dust and water resistance, and it meets MIL-STD-810G standards for durability. Wherever your frontline workers need support, the XCover Pro is up to the job.
Using mobile devices for frontline tasks saves employees an average 58 minutes a day and increases productivity by 34 percent, according to Frost and Sullivan. Key to accelerating productivity is a versatile form factor that's adaptable to a variety of tasks — and rugged enough to stand up to demanding conditions on the factory floor, outdoors or on the road.
Consolidating devices
In a recent survey conducted by Samsung and IPSOS of 450 professionals working in frontline teams and field services, 48 percent of respondents said their device battery dies too quickly while they're in the field. And 75 percent of respondents said their organization's frontline workers are using at least two different devices during the workday. Consolidating that toolkit to a single, integrated productivity platform saves significant time and helps your bottom line by reducing hardware costs, support costs and time wasted by employees switching between multiple devices.
Beyond device consolidation, rugged mobile devices enable an easier workflow with a variety of streamlined capabilities, including barcode scanning, videoconferencing and push-to-talk (PTT) voice communications. A delivery driver, for example, might use their phone to scan a barcode, capture a customer's signature for delivery confirmation and then append a picture to the delivery receipt to document the package's location.
Frontline workers rely on their devices for a wide range of use cases. Single-device solutions — especially rugged mobile devices — can accelerate work by preventing delays and empowering your workforce to get more done with less hassle. And thanks to the XCover Pro's long-lasting, replaceable battery, employees can rest assured that their most critical online tools will be available all day.
Integrated apps and AI are the secret to efficient operations
As you identify where your workflows need improvement, consider which specific mobile apps could help. There may be a suitable off-the-shelf solution, or you may need to build a new app on top of an existing platform. Once you've figured that out, focus on the user experience and reduce the process to as few steps as possible — prioritizing accuracy and excellent customer service. Shaving a few minutes off a task that employees complete dozens of time per day results in compounded cost savings, as well as boosted productivity and morale.
Integrating systems and leveraging AI technology can also help make your frontline workflows more efficient. For example, AI can be used to autopopulate a form by extracting information from a database. Or, while a team member is working on data entry, AI can automatically record the current time and location. With features like Knox Capture, your team's mobile phones and tablets can be used as scanners for data capture — and this information can be automatically ingested within your critical business apps. When you switch from paper-based processes to a rugged mobile solution, you simplify an unnecessarily convoluted task — and reap immediate benefits.
As you strategize a mobile rollout for your frontline workers, you can set yourself up to exceed customer expectations with Samsung's free guide to improving connectivity in field services. And if you're not sure which mobile device best suits your team's workflows, explore Samsung's versatile range of rugged smartphones and tablets.