After a year without live events, Friday night football games and weekend basketball tournaments are back — accompanied by the loyal fans who've missed cheering on their favorite teams from the bleachers. In high school and college sports programs, athletic directors are eager to fill seats with fans and revitalize the game day experience with upgraded facilities. But after a year with no ticket sales, they have a small pool of funds to pull from.
LED scoreboards, a major visual upgrade, used to come with a price tag upward of $160,000 — unattainable for most high schools and small colleges. But now, LED scoreboards are a fraction of the cost: around $60,000 to $70,000, with the same crisp, high-resolution displays as the scoreboards used in professional stadiums. The investment is just slightly more than a $40,000 fixed digit board, and a large step up in the quality of the technology.
Not only do LED scoreboards pay for themselves in the first few years of use, but they also create a reliable new revenue stream for athletic programs. Schools that invest in LED displays are futureproofing their sports facilities and ensuring years' worth of increased income.
LED scoreboards are well within reach
On LED displays, the resolution and fine pixel pitch — the distance between the light pixels — delivers stunning, memorable imagery that drives crowds to your venue. Here are four key ways to generate value from LED scoreboards.
1. Selling advertising space
Video boards allow schools to sell advertising space to local businesses. This revenue model is also available on static boards, but as many athletic directors know, it's time-consuming to manually update your signage whenever a new business purchases ad space. With digital signage, ads can be updated quickly and easily, and your screen can rotate through multiple brands during a single game. The increased flexibility of ad messaging is also more attractive to businesses.
How to plan and deploy LED digital signage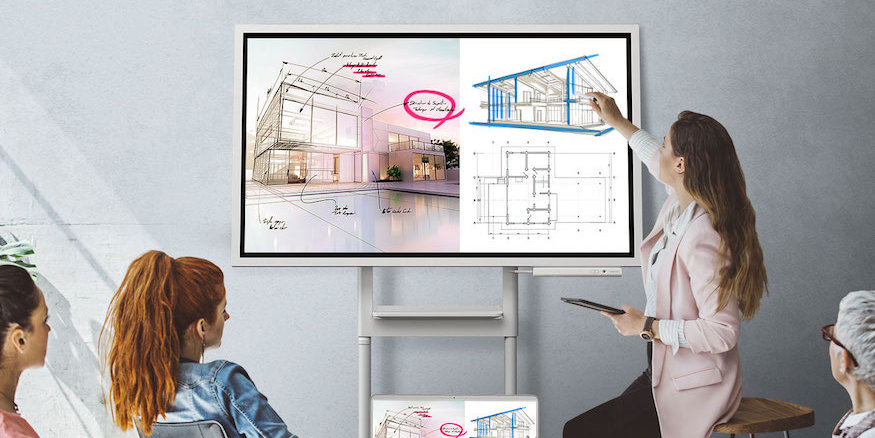 Discover the unique advantages of direct-view LED technology over traditional LCD displays. Download Now
Visually, video boards also make a stronger impact than traditional scoreboards, encouraging more businesses to buy space on your screen. After adding Samsung digital displays to their basketball court and football field, DeKalb High School in Illinois generated $85,000 in ad revenue in three months.
When your video displays aren't delivering ads, you can take the opportunity to display helpful information about how businesses can purchase ad space from you.
2. Offering sponsorships
Athletic directors can secure partial funding for their LED display with a corporate sponsor, in exchange for the brand's name or logo being attached to the display. A high school LED video board, for example, could be presented by a local bank, tech company or restaurant chain.
You may choose to solicit another corporate partner — or two more — to be the official provider(s) of instant replays or game statistics. Your partnered organizations can pay a set amount, by the season or by the year, for a predetermined amount of brand exposure. As your display drums up community excitement and school spirit, you'll also be building relationships with nearby businesses.
3. Supplementing curriculum
Once your school's athletics department rolls out an on-screen advertising program, that program will need to be managed. Students who are studying media, broadcasting and production are perfect candidates. For hands-on experience, they can operate and manage the technical operations of your displayed ads, organize marketing plans and communicate with local businesses. To hone their content creation skills, these students can take marketing-focused courses, co-developed by teachers, staff and local professionals.
4. Hosting community/school events
Even if your school's displays are set up in the football stadium or the gym, the screens can be be used for more than just sporting events. A striking LED display will enhance school assemblies, dances and graduation ceremonies, as well as other campus initiatives, like school club meetings.
Beyond school-sanctioned events, you might rent out your event space — including the video board — to be used by organizations in your community. If a summer camp, corporate training program or dance competition is looking for a place to host an event, LED displays open up a wealth of opportunities, making your school an appealing location.
Stepping up to the plate
As more high schools and colleges implement LED video boards, traditional displays look outdated. A brand-new LED video scoreboard doesn't just attract fans to the game, it attracts students to attend the school.
From high school on up, neighboring schools are competing for students. For some students, a school's athletic program is a deciding factor, so upgraded facilities matter. With a top-of-the-line video board, your school's overall appearance and reputation in the community are enhanced, too.
Get more tips for configuring and tailoring real-time messaging using an integrated CMS in this free guide. And discover Samsung's range of high-resolution interactive displays, ready to guide, inform and entertain your guests, wherever they are.