Samsung's Galaxy Z Fold3 5G and Galaxy Z Flip3 5G are here to multiply your productivity in ways that only a foldable smartphone can achieve. Introduced at the August 2021 Galaxy Unpacked event, these foldables answer the need for business-ready mobile devices that transform the way we work today. While they both leverage innovative flexible display technology to deliver a larger mobile workspace in a compact form factor, Galaxy Z Fold3 and Z Flip3 are each designed with specific business users in mind.
Galaxy Z Fold3: Your office, folded in your pocket
For entrepreneurs, executives and business owners, Galaxy Z Fold3 is the ultimate business flex. As Samsung's most powerful foldable yet, it addresses business leaders' most pressing needs, including:
Device consolidation
Carrying multiple devices and constantly switching between them can be cumbersome. Galaxy Z Fold3 lightens your work bag and simplifies your tool kit with a phone, tablet and PC all rolled into one. From sleek smartphone to super-slim tablet to mobile-powered computing on a monitor with Samsung DeX, you have the ultimate in device consolidation: a single device that does it all.
Multitasking
Multitasking on a mobile device has been limited by the constraints of screen size for too long. With Galaxy Z Fold3, you can work on your phone just like you would on a PC. Unfold the device and open three windows at once, including foldable-optimized apps — supported by drag and drop functionality and a convenient Edge Panel for easy access to your most used apps. You can also extend Galaxy Z Fold3 into a desktop experience by running Samsung DeX wirelessly on any Miracast-enabled display such as Samsung's Smart Monitor. Galaxy Z Fold3 can then turn into a trackpad, or you can continue using it as a phone for even more multitasking by pairing a Bluetooth keyboard and mouse.
Shop special offers
Find out about offers on the latest Samsung technology.
see deals
Speak to a solutions expert
Get expert advice from a solutions consultant.
Talk to an expert
Screen size
Need to review a sales report on the go or make edits to a presentation between meetings? Galaxy Z Fold3's expansive, 7.6-inch screen gives you plenty of space to really dig into work on your mobile device. The phone-to-tablet convertible form factor in a pocket-sized device sets the foldable apart as the most flexible new form factor for business. With Samsung's first nearly invisible camera hiding under the display, the entire screen is a dedicated workspace from edge to edge.
Hands-free video conferencing
Your customers, colleagues and employees now need to meet via video conference on a regular basis. In Flex Mode, Galaxy Z Fold3 can stand up on its own — literally — as a stable mobile video conferencing tool. Flex the phone, set it on any flat surface and you can start chatting hands-free. Meanwhile, you can use the bottom portion of the screen to take notes with an optional S Pen, even while viewing a presentation.
Efficiency
Galaxy Z Fold3 is the first Samsung foldable compatible with the S Pen — both the new S Pen Fold Edition and the S Pen Pro. When you add an S Pen to your foldable device, you can take advantage of more intuitive note taking, annotating, editing and many other productivity tricks on the large tablet-sized screen. No more triple swipes or second tries; the S Pen rewrites your definition of efficiency. And the Pro version comes with Bluetooth connectivity for remote control functionality.
Microsoft integration
A collaborative team is a happier and more productive team. But collaborating remotely proves challenging at times, especially from mobile devices. Samsung's newest foldables are ushering in foldable-optimized business apps. You can now use Microsoft Office tools like PowerPoint, Excel and Word to edit, review and share documents. The ribbon menus are tailored to the user interface, while Multi-Active Windows make it easy to work across different documents. Drag and drop is also helpful for moving images or blocks of text in a single motion — no copy-paste required. When you step away from your PC, all your apps are ready to go on Galaxy Z Flip3, so you won't miss a beat.
Galaxy Z Flip3: Compact without compromise
Employees want the latest smartphone for its cool factor, and a foldable device allows them to work more seamlessly. Galaxy Z Flip3 is a new kind of work phone that makes for an attractive Choose Your Own Device (CYOD) option. With Galaxy Z Flip3, employees can enjoy these versatile productivity features:
Pocket-sized productivity
The latest smartphones are offering more innovative features than ever. But as their screens have grown over the past few years, they've maxed out the size that can comfortably fit in someone's pocket. Galaxy Z Flip3 cuts the size of a smartphone in half, and then unfolds to the bigger screen that users want and need. It's equal parts flashy and functional, portable and powerful.
Information at a glance
Notifications should add to productivity, not subtract from it. Where smaller notification screens leave a "…" that requires you to unlock the device to view the full message, Galaxy Z Flip3's outer screen serves as a more informative notification center, keeping you fully up to date without distraction. It's easier to keep up with notifications while you're in meetings or working with your phone closed. The display allows you to swipe through and take a sneak peek at outstanding texts, emails and even the weather forecast.
Multi-Active Window
Like Galaxy Z Fold3, the Z Flip3 is made for multitasking. Unfolded, the Z Flip3 allows for a split-screen view, either vertically or horizontally — so you can video chat while reviewing a document, or check your emails and your calendar availability simultaneously. And with Microsoft integration also on Galaxy Z Flip3, you can even edit one document while referencing another, side by side or top-to-bottom.
It's easy to launch the apps you use most with the Edge Panel. Swipe in from the right side of the screen and your favorite apps are ready to launch.
A hybrid workspace for the hybrid workplace
Today's workplace — and the future's — isn't as simple as working in the office or at home. As Samsung Vice President and general manager of B2B mobile John Curtis explains, we're now in the "And Era": in the office and at home and everywhere in between. Galaxy Z Fold3 and Z Flip3 create new ways to work on a mobile device, so employees can flex their way from work to play.
Go mobile-only with Samsung DeX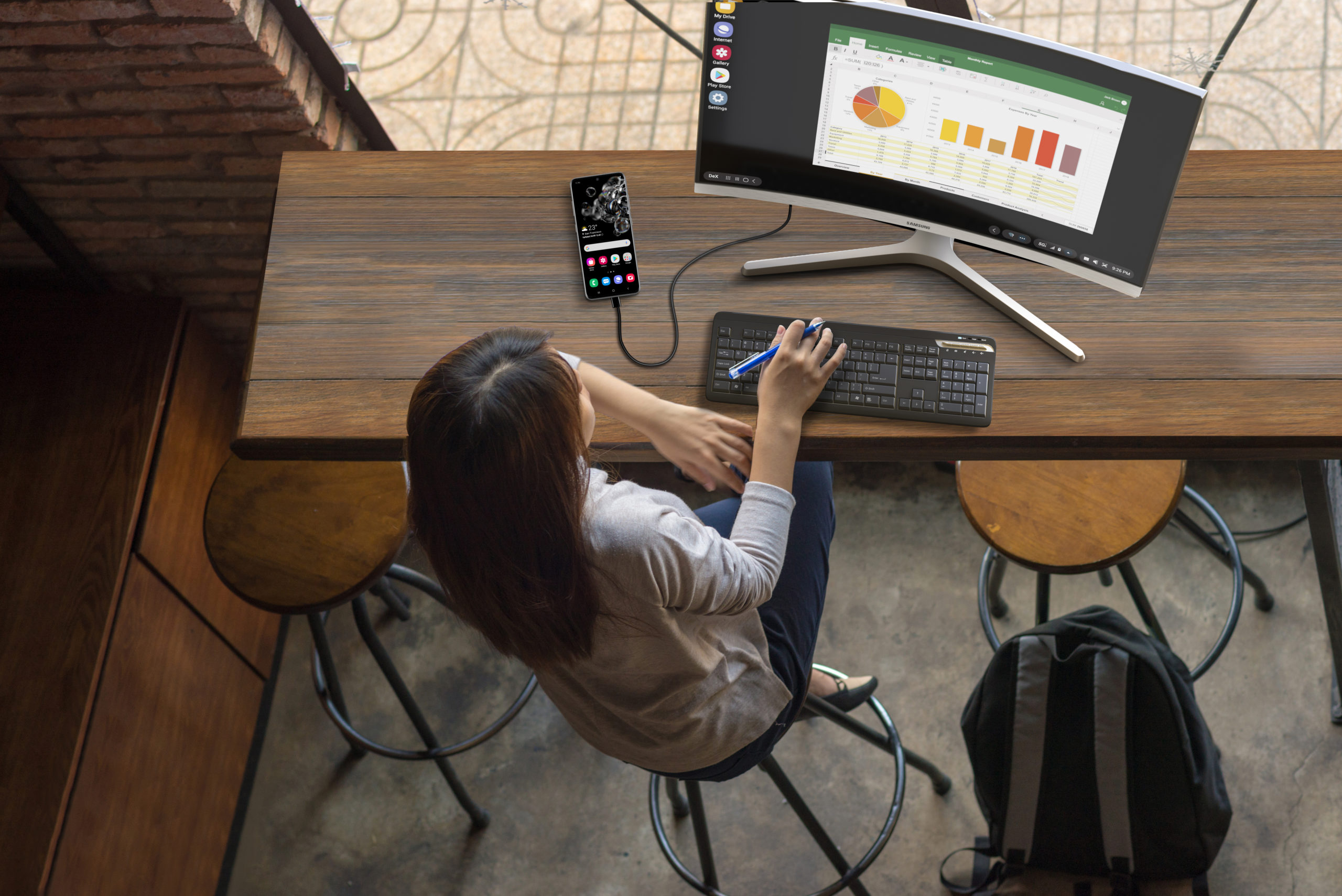 Your comprehensive guide to rolling out a mobile-only solution for your workers. Download Now
If you need a powerful smartphone with a large screen that's still compact enough to fit in your pocket, and can keep you in the loop without weighing you down, you may want to spring for Galaxy Z Flip3. On the other hand, if you're a small business owner, startup entrepreneur or power user who's always on the move, the three-in-one capabilities of Galaxy Z Fold3 might be more your speed.
Both of Samsung's Galaxy foldables were built with modern business users in mind. How these devices fit into a daily workflow is up to each worker, but there's no doubt these foldables offer the flexible work suite that employees and business leaders need. Whether you choose Galaxy Z Fold3 or Z Flip3, you can unfold your world anywhere — and get more work done than you ever thought possible on a mobile device.
Sign up for a Samsung Business Account to get exclusive offers, including volume pricing discounts, on Galaxy Z Fold3 5G and Galaxy Z Flip3 5G today. And if you decide to invest in a foldable device for yourself or your whole team, make sure you protect each new device with a best-in-class management solution, according to the best practices in this free beginner's guide.