When the pandemic shifted office work to homes and made most meetings virtual, a lot of now-remote employees realized they didn't have the right equipment or setup in place to be as productive.
Working full time from home hunched over a smaller laptop presented long-term ergonomic worries. And the gear that many people used for their video meetings — microphones and cameras that were only used sparingly prepandemic — produced strange viewing angles, tinny audio and soft focus, which left co-workers, clients and partners struggling to hear and see each other. One research study revealed a staggering 40 percent of video meetings experience technical issues with hardware or software.
Even home-based workers who use larger monitors often lack the features they need to achieve the all-day multitasking they had at the office. Market stats reflect the the need for upgrades and additions: In the first two weeks of lockdowns in 2020, monitor sales doubled. Webcams quickly became impossible to find, with online stores routinely running out of stock and on backorder.
With workplaces now gradually repopulating, the pandemic has revealed a market demand for monitors fully in sync with how workplaces have evolved. Fully remote and hybrid work environments will be much more common going forward. Remote workers' screens need to fit the often tighter confines of spare rooms and nooks, while offering productivity features and tools for easier collaboration from afar.
That means a workstation monitor that's ready for video-driven collaboration, large enough to support multitasking demands and ergonomically friendly. A new desktop monitor from Samsung, the S40VA Webcam Monitor meets these evolved needs:
Filling the market gap
The S40VA Webcam Monitor extends a laptop's standard features to a much larger 24-inch diagonal viewing canvas — complete with a high-quality 2.1MP Full HD video camera built into the top of the display, and a pair of integrated speakers.
Desktop monitors are full production hubs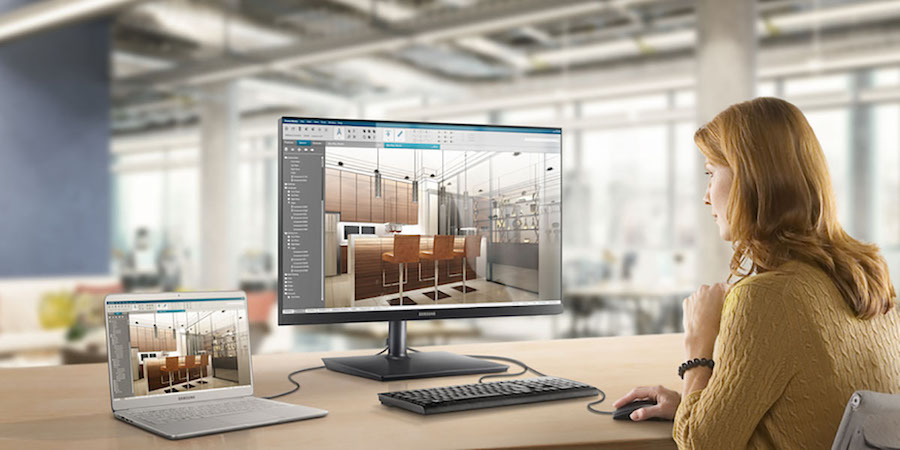 Monitors aren't just displays. Learn how USB-C, HDMI and Thunderbolt 3 enable complete workstations. Download Now
The built-in webcam eliminates the cost and complexities of an external camera, as well as its cables and software drivers. Your workstation is less cluttered as a result, and it's easier than ever to jump on a video call.
When the camera isn't in use, ensuring privacy is as simple as pushing down the top of the camera, hiding the lens behind the top of the monitor. Reactivating the built-in webcam just requires gently pushing the camera housing again to pop it out.
For users with laptops or desktop PCs that run on Windows 10, the S40VA Webcam Monitor is Windows Hello-certified. That means the camera is tied to secure facial recognition software that eliminates hacker threats and provides enterprise-level security. With biometric software, the camera scans the face in front of the monitor and authenticates the user if their face is recognized and preapproved, allowing them to get to work in as little as two seconds. There's no need to remember passwords or spend time typing them in.
A remote work essential
Several features of the S40VA Webcam Monitor help it fit into home workspaces, especially in smaller homes, where free space is particularly precious.
You can easily adjust the stand's height, swivel it or pivot it to find an ideal viewing angle. The screen also rotates from landscape to portrait mode — especially useful for tasks like coding software.
Along with crisp, vivid colors, the monitor uses in-plane switching (IPS) technology to offer a 178-degree viewing scope, so you can position a screen wherever it best fits and still see everything, regardless of whether the display is directly in front of you or off to one side. This wide visibility also enables group viewing.
Limited workstation space is preserved with a USB hub built right into the monitor, allowing you to connect peripheral devices without buying an external hub.
For home-based workers doing creative tasks, or for off-hours recreation, the monitor features built-in AMD FreeSync technology — which synchronizes the refresh rate of the monitor and graphics card to ensure smooth, stutter-free content playback.
Streamlined simplicity
For everyone who's still relatively new to remote work and sorting out what they need to be effective within their available space, the S40VA Webcam Monitor enables full productivity away from the office — with a small footprint, and plenty of add-ons to enhance your remote meetings.
Get personalized recommendations on the optimal monitor setup for your space with this quick assessment. And for more upgrade options, explore the entire range of versatile, innovative desktop monitors available from Samsung.