Chances are good that your team already communicates via Google, whether they use Gmail or Google Duo to speak with friends and family, or Google Drive to share documents and presentations with co-workers. The consumer versions of these apps make it easy enough for teams to communicate and collaborate, and they're free. So, why bother upgrading your small business to Google Workspace (previously G Suite for Business)?
The short answer is that Google Workspace gives your organization more control and more features, so you can secure documents and data, collaborate more effectively, and leverage advanced features and programs to make your teams faster, more collaborative and better informed than ever before.
Google Workspace helps you experience the benefits of true digital transformation, including the ability to work in new ways that support hybrid and remote work environments. Here's 10 reasons to sign up today:
1. Use branded email through the Gmail client
With Google Workspace, you get all the functionality, reliability and familiarity of Gmail, but branded with your organization's domain name. For employees, it's the same user experience they're already accustomed to from consumer Gmail, so they can easily switch back and forth between their personal and work accounts. For employers, it's a premium enterprise-grade email they can control and secure, without needing to maintain an email server, and they can easily add or remove users as the business scales.
Shop special offers
Find out about offers on the latest Samsung technology.
see deals
Speak to a solutions expert
Get expert advice from a solutions consultant.
Talk to an expert
In addition, each user can have up to 30 alias accounts, so the same person can receive the same email at jane.doe@examplecorp.com, sales@examplecorp.com and info@examplecorp.com.
2. Store and share unlimited files via Google Drive
Each user has a Drive account where they can store notes, drafts and other files that their teammates don't need to access. In addition, each team can have its own Team Drive, where users can share documents or resources that other team members do need to access. Of course, they can share files and folders with each other using the consumer version of Drive as well, but first they have to manually grant access and assign permissions for each user. Not only does this take more time, but if the document owner forgets to include someone who needs access, that person has to request permission and wait around until the document owner checks their email.
With Team Drive, everyone who needs access already has it, and if an employee leaves the company, the Team Drive manager can quickly revoke their access to any company data. If everyone hosts and shares files from their personal Google accounts, then everyone has to remember to revoke access from former colleagues.
Both individual and Team Drives come with unlimited cloud storage in Google Workspace for Enterprise. Storage space is limited to 30GB in the Business Starter Google Workspace — still twice what you get in the free version. There are also 2TB and 5TB options.
3. Collaborate in real time
Collaboration can be challenging, even when everyone is in the office, but with workers increasingly divided between the office and various remote workplaces, it takes on an additional level of complication. Google Workspace includes a range of collaboration apps that are unique to the Business edition or upgraded from the consumer edition.
With real-time co-editing in Google Workspace, teams can edit the same Doc, Sheet or Slide at the same time, which eliminates version control while teams are working in a remote setting or in a hybrid work environment. Changes happen instantly, so people can build on each other's ideas and reach consensus more quickly with commenting and action items. If they still need to talk things out, team members can schedule a meeting via Team Calendar, have a Google Meet video call — without time limits — or hammer out the details using Team Chat. With Google Currents, you can even create your own internal social network to streamline communication across the organization, share relevant content with your employees, start discussions and let employees weigh in as your leadership team establishes the company's "new normal."
4. Integrate Google Workspace with CRM and other third-party apps
By integrating Google Workspace with CRM and other productivity apps, your team can work seamlessly across platforms, all from inside the Google Workspace app. Employees access work apps with a single sign-on, and they don't waste time toggling back and forth, duplicating efforts (and data). Your company gets a productivity boost, and you don't have to worry about data inconsistencies and human error.
For example, with CRM integration, salespeople and customer service reps can autolog tasks, calls, meetings and emails in Salesforce without leaving Gmail. They can also view contact and account insights from Salesforce in Google Workspace and easily pull CRM data into Google Sheets.
5. Manage it all from the Admin Console
The Google Workspace Admin Console lets you manage your data, users and apps from a single portal. Intuitive dashboards let you add and remove users and groups, customize the user experience, manage devices, create roles, assign permissions and configure security settings.
For example, you can block untrusted apps, enforce security keys or require two-step verification. If they log into Google Workspace or related apps from a new computer or mobile device, Google sends a text message with a verification code they have to enter before they can access company data. Google Workspace also comes with enhanced email scanning — checking for security threats — as well as security analytics and best practice recommendations to help protect your business.
6. Get enterprise-grade security with Endpoint Management
The Admin Console lets you control Google Workspace accounts; Endpoint Management lets you control which devices can access those accounts.
With Google Workspace Endpoint Management, you can distribute apps on mobile devices quickly and at scale. You can also check usage, manage security settings and limit access on any endpoint device. If a device is lost or stolen, you can erase confidential data remotely by wiping the device or the account.
7. Preserve business data with Google Vault
Vault lets you preserve important data for as long as you need it, even from suspended accounts. You can set retention rules and holds on certain Google Workspace apps to preserve user data — even from deleted documents and suspended accounts. This helps to prevent data loss when employees leave the company and can help your legal team stay ahead of potential problems.
Choose the right phone for your growing business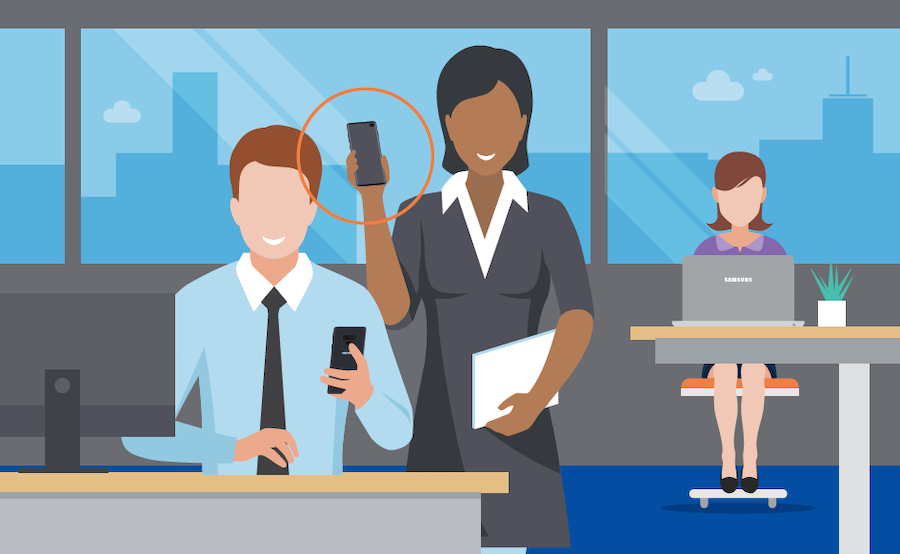 Get your free guide to matching the right smartphone with your business and employee needs. Download Now
Universal search makes it easy to find what you're looking for in your data, and content can be exported to printable formats if needed. You can also use Vault to track user activity and see their searches, content views and exports.
8. Launch websites with Google Sites
Need a website for your startup? Or perhaps you're an established company and need a new interactive way to share information with your customers or your remote teams?
With Sites, your team can work together to create engaging, high-quality websites — no programming experience necessary. They can easily pull content from Google Workspace apps and drag and drop it into grids or templates. They can also co-edit projects, add comments and manage access the same way they would in Docs.
9. Get AI-powered productivity and insights
Google Workspace leverages machine learning, natural language processing and other forms of AI to remove friction, automate simple tasks and equip your team with the data-based insights they need to make well-informed business decisions. For example, when employees book virtual meetings in Calendar, Google Assistant automatically finds a time and adds optimized rooms for each attendee. Smart Compose in Gmail can literally finish their sentences for them, while Nudge reminds them to respond to messages. Google Sheets is also integrated with BigQuery, so employees can manage, analyze and interpret large amounts of raw, real-time data with convenience.
10. Enable a consistent experience across devices
Google Workspace works on any internet browser, but Google Chrome offers the best experience. Users can set up a Google Chrome bookmark bar and synchronize Chrome across all the devices they use to access Google Workspace, so whether your employers are using a smartphone, tablet or laptop, they can maintain access to an optimized desktop.
Discover more essential apps to empower your growing business — and explore exclusive business pricing, financing and trade-in options and other deals on everything from phones and tablets to monitors and memory.