Whether by preference or necessity, many people now work from home more often than they used to — even full time. Which means they've become not only the manager of their own office space, but also their own IT department.
There's a simple, elegant and effective way to reduce the burden on this new and inexperienced IT department, while keeping your valuable home office space tidy and clutter-free — which, in turn, means more efficiency and less stress.
Enter the USB-C monitor.
What is a USB-C monitor?
USB-C is well on the way to becoming the standard connection for many different types of electronic equipment — it can provide enough power to run devices as power-hungry as computers, and can transfer data at very high speeds. From smartphones and tablets to laptops and security cameras, USB-C is rapidly becoming the default choice.
A USB-C monitor is a monitor with built-in USB-C ports. Any laptop with a USB-C port or USB-C adapter can be connected to the monitor with just one cable, for instant access to everything you need to be as productive as possible. There's no need for USB hubs, external docking stations and the associated mess of cables; one cable handles everything, including powering your laptop.
Is a USB-C monitor worth it?
For working from home (WFH), many people require multiple devices — whether that's additional monitors, backup drives or a printer. Inevitably, this used to mean a busy, cluttered workstation and perhaps even mains power extenders. With a USB-C monitor, all your equipment requirements are connected by a single cable.
USB-C connections allow the monitor to serve multiple functions that previously needed to be performed by the laptop. All of your peripheral equipment plugs into the monitor — which also offers quick charging, without the need for that bulky power brick that used to connect your laptop to the mains.
The complete guide to USB Type-C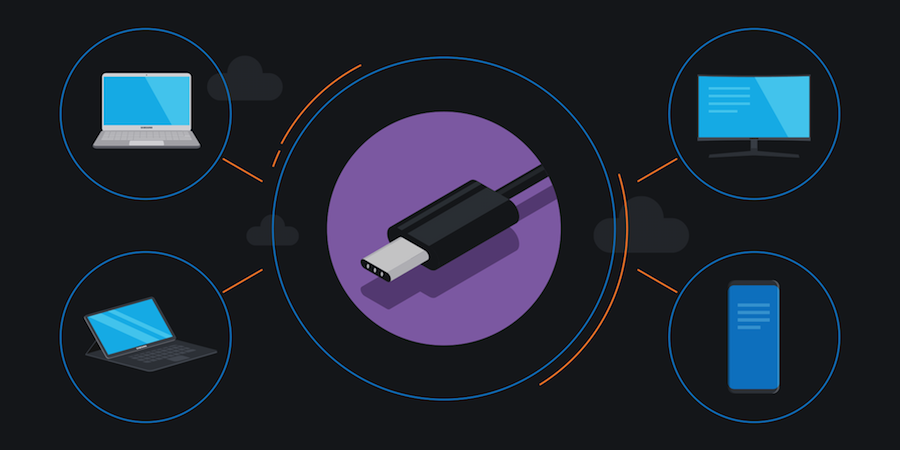 Learn how to clear desk space, streamline workflow and save time and money with USB-C connectors. Download Now
Compared to former USB standards, data transfer rates on USB-C are far higher — up to 10Gbps — a particular benefit for programmers, developers and video editors. A USB-C connection using Thunderbolt can reach up to 40Gbps, all from one cable — which is reversible, so it can never be plugged in the wrong way. Rapid data transfer means superior audio and video quality, without compromising color fidelity or super-fast refresh rates, whether you connect the monitor to a laptop, tablet or smartphone.
Improved performance, with the headroom to support quad high-definition (QHD) and even 4K resolution, unprecedented versatility, simplified usage and laptop charging are all benefits of a USB-C monitor. But perhaps the most significant benefit is how the technology allows for easy daisy chaining of multiple monitors.
Many occupations benefit from using more than one monitor for day-to-day tasks. As long as all the monitors have a DisplayPort input and output, you can deploy as many as four Full HD or two QHD monitors with a single connection between them. Simply use a USB-C cable to connect your laptop to one of the monitors, and then connect the first monitor's DisplayPort output to a second monitor's DisplayPort input — following the same process for a third and even fourth monitor. No need for docking stations, no need for a super-powerful laptop with multiple signal output ports. Just a high-quality extension of your workspace.
Selecting the right USB-C monitor
Samsung features quite a few USB-C monitors in its lineup, including the new 24-inch FHD S40UA. This affordable monitor's USB-C port features 65-watt charging, allowing it to power laptops and transmit data using just one cable. Its state-of-the-art in-plane switching (IPS) panel provides users with a visually accurate and consistently colorful screen even from an angle. The monitor is easy to pivot from landscape to portrait mode, and locks into position at your perfect viewing height. Its borderless design is perfect for a dual monitor setup, where the big picture is seamless.
The S40UA features multiple connectors of various types for compatibility with a wide variety of peripherals. It's also certified by TUV for it's flicker-free and low blue-light technology, which help reduce eye strain and prevent fatigue.
Whether you work at home occasionally or full time, you know the difference that an organized workspace can make in your efficiency and productivity. The easiest way to achieve this streamlined ideal is with a USB-C monitor.
Streamline your unique desk setup by comparing models of Samsung monitors, designed to help you work more accurately and effectively — at home or in the office. You can also walk through the market drivers, societal shifts and technologies of the reimagined hybrid office in this free guide.