For corporate IT teams and work-from-home desk jockeys alike, there's no question that anyone who needs a monitor to do their job — and doesn't have time or budget to waste — needs a monitor with USB-C connections. With ports built directly into the monitor, this technology supports staff by cleaning up workstations, reducing support requests and lowering the overall capital cost of business computing equipment.
With full USB-C support, employees can sit down with their laptop and connect a single cable to find everything they need to be productive. External USB hubs and docking stations are no longer necessary. For peripherals like an external USB-C keyboard, mouse, printer, hard drive, power adapter "brick" and a video signal cable, instead of the usual tangle of USB cables, one USB-C cable to monitor connection handles everything — including powering the laptop, which is especially useful in home office setups.
Growing usage and adoption
USB-C is gradually replacing older USB types, including USB-A, USB-B and USB Mini-B ports that have been around for more than a decade and don't offer the same capabilities or data transfer speeds.
The complete guide to USB Type-C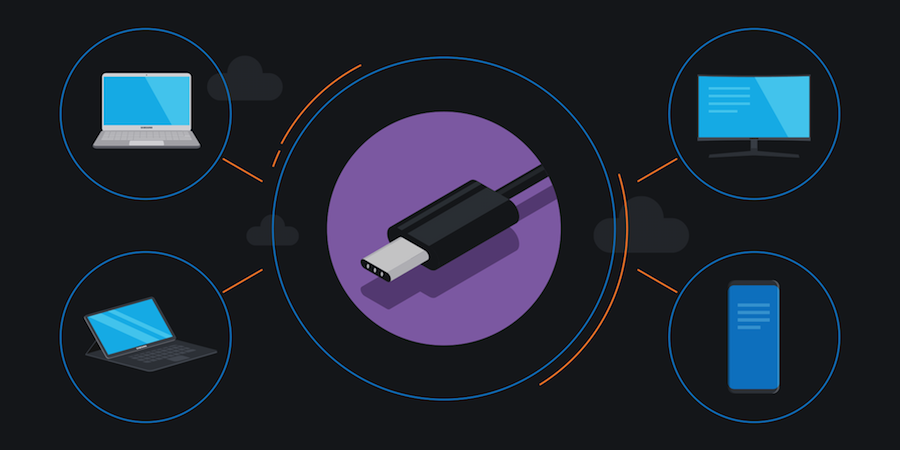 Learn how to clear desk space, streamline workflow and save time and money with USB-C connectors. Download Now
USB-C is the connector type; USB 3.1 is a broad technology standard. The Thunderbolt 3.0 standard developed by Intel also uses USB-C ports but supports much higher data transfer speeds than USB 3.1.
Increasing benefits
As a newer standard, USB-C offers the following advantages:
Simplified connections, with a standard reversible connector that can never plug into a jack the wrong way
Handles multiple duties from one monitor port, connecting peripherals like the USB-C keyboard, mouse, backup drives and printers, all plugged into the monitor instead of the laptop
Quick charging that doesn't require a bulky external power supply and cord
Universal compatibility, meaning a USB-C monitor can power and charge any laptop equipped with USB-C
Higher data transfer rates for tasks like external hard drive backups (conventional USB has a transfer rate of up to 10Gbps, while USB-C enables transfers as fast 40Gbps using Thunderbolt)
For users, that means quick and easy connections, and no more worry or hassle to keep their laptop charged. IT teams also welcome technologies that simplify usage and remove potential points of docking failure. USB-C offers unprecedented versatility, packing more desktop capabilities into a single no-nonsense connector.
Building a modern workspace
For most desktop support teams in a corporate environment, at least part of their day-to-day job involves running around helping staffers set up their workstations and meeting spaces. When someone loses a cable, needs a different docking station or doesn't have the right monitor connector, the IT team is the first to be contacted.
To minimize support time, some IT teams are investing in expensive docking stations that make it easier for people to connect a laptop to a monitor. But at many organizations, these docks need to support multiple laptops and hardware types. In meeting rooms, these docking stations need to be equipped with multiple types of signal cables and adapter dongles, to minimize IT support requests for monitor connection issues. Now consider this type of IT snafu with an employee working from home who, at best, has direct communication channels set up through a messaging app to contact their support team. There the employee sits, several cables spread out on their desk, with a laptop and monitor that won't connect to each other.
A USB-C monitor removes all the headaches for workers who just need to plug in and get to work. The monitor becomes the hub, and employees can connect their USB-C-ready laptop no matter where they are — and, with access to a keyboard and mouse, be ready to work.
Investing in monitors with built-in USB-C support, such as Samsung's new S40UA, provides an easy upgrade path as business laptops go through their refresh cycle. These monitors still offer more conventional connections, and when the shift to USB-C happens, IT support can immediately realize the benefits.
You can calculate the total cost of ownership of upgrading your business's monitors with five easy questions in this free assessment. And explore Samsung's full range of USB-C monitors, designed for streamlined productivity and an organized desktop.