Sometimes the distance between good and great seems like hardly any distance at all — such as liquid crystal displays (LCDs) versus light-emitting diode (LED) displays. Both are suitable for retail window signage, campus wayfinding or large video walls. But LCD and LED have significant differences, and their specific benefits are worth understanding so you can choose the best displays for your business needs.
Defining LCD displays
LCD is the broader category; LED is a subset. In other words, all LED displays are LCDs, but not all LCDs are LED. LCDs are made up of hundreds of thousands — even millions — of individual pixels built from liquid crystals. Each pixel is capable of displaying a color when it receives an electrical charge. Like a mosaic, the displayed image is built from tiny elements that combine to form the overall picture.
But the liquid crystals don't produce any light of their own, so in order for the image to be illuminated, the liquid crystals need to be backlit. LCDs are illuminated by cold cathode fluorescent lamps (CCFLs), evenly positioned behind the pixels so that, at least in theory, every part of the screen is evenly lit and at consistent brightness.
Refining the tech with LEDs
Up to a point, LED displays are much the same. An LED screen also uses liquid crystals to generate color — or pure black (no color), by not charging a specific pixel. So LED displays have the same need for backlighting. But rather than CCFL, tiny individual lights (light-emitting diodes) illuminate the liquid crystals.
The individual LEDs can be arranged one of two ways: full-array or edge-lit. For edge lighting, the LEDs are arranged around the edges of the back of the screen. Full-array, on the other hand, calls for many LEDs to be lined up evenly across the back of the screen, where they can be arranged into zones (usually called "dimming zones" or "local dimming").
LED vs. LCD: Which is better?
Is LED just plain better than LCD? Well, for a while, LCD screens represented the cutting edge of digital signage. But now, about the only meaningful advantage of LCD over LED is price point. As LCD is becoming outdated, it tends to be less of an upfront investment. In every other respect, though, LED displays have the advantage.
No matter the arrangement of the backlighting, LED has a greater nit value than LCD, which means it's brighter ("nit" comes from the Latin "nitere," meaning "to shine"). The average nit value for LCDs is between 500 and 700 nits, while LEDs are typically between 1,200 and 2,400 nits. With greater brightness comes greater contrast, and all-day visibility on outdoor displays.
How to plan and deploy direct view LED signage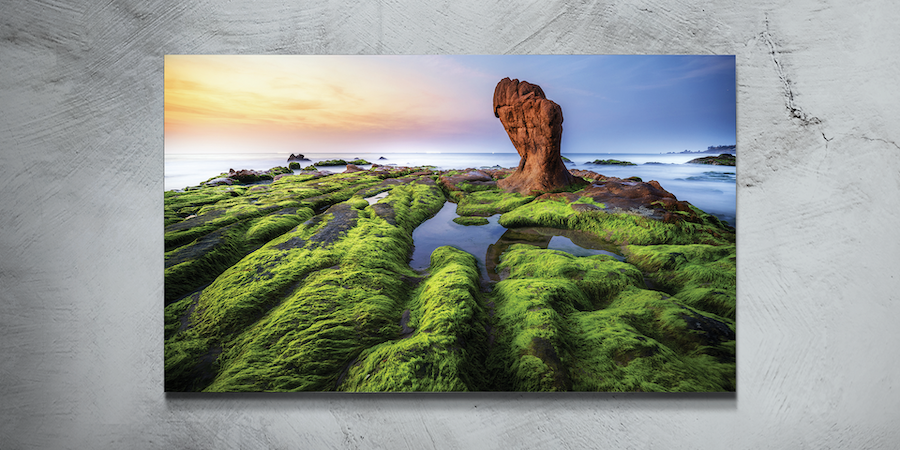 Everything you need to know about choosing your LED displays for optimal viewing indoors and out. Download Now
Despite the energy output, higher brightness doesn't necessarily mean a shorter lifespan. In fact, LED displays have an average lifespan of 10 years — double the average five-year lifespan of LCDs. Factoring longevity into the cost of your signage, LED's longer lifespan can make it cheaper than LCD in the long run.
Even with edge lighting, LED produces more vividly lifelike images than CCFL-backlit LCDs — and with sleeker hardware, thanks to their minimalist design. And while LCD bezels have drastically reduced over time, they're still greater than zero. LED has no bezels at all.
Full-array backlighting requires a little more depth to the screen, but with discrete dimming zones, LEDs can be illuminated far more precisely — which, in turn, means more accurate and engaging visuals.
Next generation: microLED
LED isn't the first technology to realize miniaturization is the way forward. Even as screens get bigger, the next big step is made of smaller parts: microLEDs.
Up to 40 times smaller than regular LEDs, microLEDs allow backlighting to be even more precisely targeted, with many times more diodes. This, in turn, delivers a more accurate picture, with greater contrast and highly focused areas of brightness. Samsung's The Wall is a spectacular example of what microLED is capable of.
Whether you need your digital signage to entertain, inform or simply impress, understanding the differences between LCD and LED will allow you to make a better-informed decision.
With best-in-class picture quality and exceptional durability, Samsung LED displays can help your business deliver content that engages, informs and entertains. Samsung's trade-in program makes it easy for businesses to upgrade their video wall with LED technology. Once you've chosen your displays, learn how you can configure and tailor their real-time messaging using an integrated CMS in this free guide.