"The future."
"Cutting-edge."
"Transformative."
"An investment."
We've all heard the buzzwords and sales phrases, usually applied to things that have a notable cost — the kind of cost that squashes impulse and calls for further consideration. After a new, shiny device gets your attention, spending the extra money might give you hesitation. If it's a device for business, you want to know the potential and anticipated return on investment (ROI), even more so if you're buying multiple devices for your team.
When business customers hear that Galaxy Z Fold3 — Samsung's most robust foldable smartphone yet — can pay for itself rather quickly, they look at the price tag and laugh. But when they realize how much they're currently spending on workplace technology and how much less they could be spending with Galaxy Z Fold3, that's when they realize it's not a sales pitch. Galaxy Z Fold3 really is an investment, one with a clear path to payoff that Samsung quantifies with a quick and helpful cost calculator tool.
It's also a device that helps you and your team stay connected and productive while working in a hybrid environment.
A bold way of thinking, a new way of working
The workplace is changing rapidly in 2022, and you're either fighting the change or leading it. You and your employees need an all-in-one device that can keep up with the new demands of the remote and hybrid movement. Galaxy Z Fold3 gives you a smartphone that you can convert into a tablet, so you don't have to carry around a second, larger device. When working from home or in the office, with Samsung DeX compatibility, the foldable can power a full desktop experience. Galaxy Z Fold3 stands alone as a hands-free videoconferencing suite in Flex Mode, and with added productivity features like Multi-Active Windows, app pairings and S Pen support, you can get work done in entirely new and highly productive ways.
Shop special offers
Find out about offers on the latest Samsung technology.
see deals
Speak to a solutions expert
Get expert advice from a solutions consultant.
Talk to an expert
The ultimate device consolidation
The laptop helped merge desktop productivity with mobile productivity, but it didn't bridge the gap entirely. Most of us still carry both a laptop and smartphone every day, and many people still prefer a full desktop experience for work.
Business users once equated more devices with greater productivity, before realizing that carrying multiple devices was clunky and counterproductive with multiple dongles, chargers, and time lost while switching between devices all costing time and productivity. Galaxy Z Fold3 changes that by consolidating a full work suite onto one device that does it all — and fits in your pocket. Samsung DeX is the key to this consolidation. It can replace your laptop and make mobility more seamless across the board.
No trade-offs
When you're on the go, you might find yourself saving emails for later so you'll have the desktop tools or larger screen to respond. And you may have considered buying a tablet to use for presentations or on-site client meetings, but struggled to justify the purchase. Your team likely experiences similar dilemmas with their work technology, like needing to update a spreadsheet or share a document but being limited by their mobile device.
Galaxy Z Fold3 is the flexible work device for anyone who wears many hats, from business owners and executives to salespeople and hybrid or fully remote workers. You no longer need to sacrifice productivity or choose between devices that offer only some of what you need.
Accelerated adoption
This is likely one reason why so many companies are considering equipping their teams with foldables. We recently partnered with Oxford Economics to conduct a survey of business executives and found that 65 percent plan to invest in foldables within the next four years.
As we move further into a hybrid world of work where team members are working from more than one location day-to-day, equipping them with devices that allow them to stay connected and productive while on-the-go becomes more important than ever before.
Unfolding the cost savings
Yes, Galaxy Z Fold3 costs more upfront, but serious cost savings soon follow. Samsung compared the cost of the three-in-one Galaxy Z Fold3 to the cost of the tech stack it can replace (a traditional laptop, phone and tablet), and the results are rewarding at scale. Buying five devices for a small team can save nearly $15,000 in technology costs over two years. And for 500 devices? More than $850,000 in savings over two years. How is this possible?
Hardware: The traditional workstation includes a computer, monitor, mouse and keyboard. Every employee also needs a mobile device. You might substitute a laptop for a desktop computer, but the laptop and mobile device will be redundant for many common work functions, like email and web browsing. Galaxy Z Fold3 can both replace the laptop and deliver a tablet, with one mobile device, while still creating a desktop experience with Samsung DeX.
Go mobile-only with Samsung DeX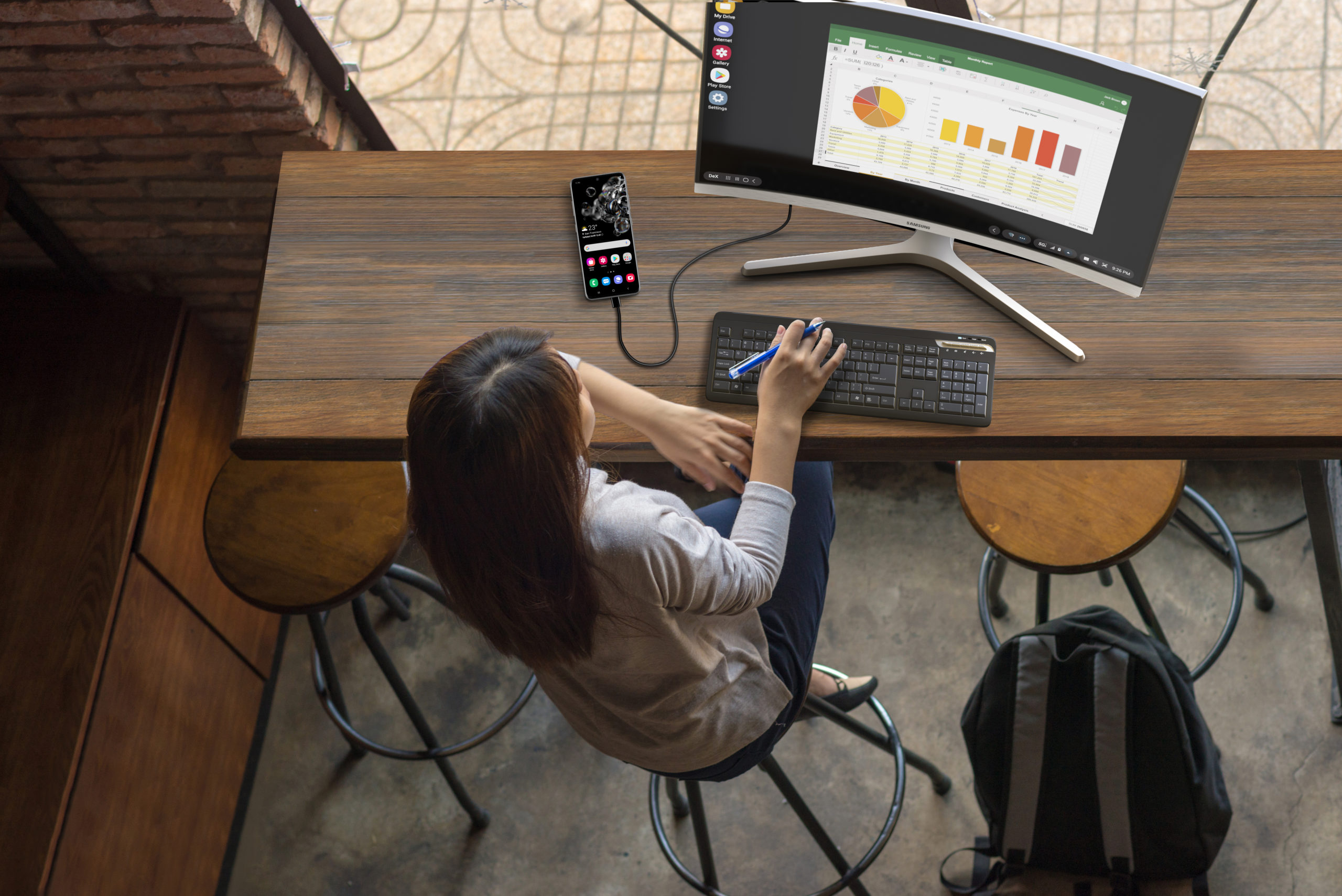 Your comprehensive guide to rolling out a mobile-only solution for your workers. Download Now
IT management: When it comes to workplace technology, the largest cost of all is always labor. Each device is another network access point that your IT team needs to manage, monitor, support and secure. But with Galaxy Z Fold3, you cut down your organization's device count by a third — or even by a half — which can yield significant savings on IT labor. By our estimates, device management for Galaxy Z Fold3 costs roughly $365 per device per year, compared to roughly $615 for a laptop-and-mobile combination. Add a tablet to your tech stack and those management costs rise further.
Maintenance and repairs: Device consolidation means fewer devices to break, repair and maintain — or, worst of all, lose. Industry averages suggest replacement and repair costs amount to roughly 3 percent of the device acquisition cost. If you're purchasing several high-end devices per employee, those costs add up quickly.
Software: It's no secret that outdated technology hinders productivity. But new laptops and desktop computers come with their own added costs for software licenses. Galaxy Z Fold3 is preloaded with today's most popular business productivity tools, like Microsoft Office. And with Samsung DeX, Galaxy Z Fold3 can connect to a full-size monitor and keyboard, creating a desktop setup at home, or in the office.
Run the numbers
While leaders of larger businesses can't always see their technology inefficiencies, those in smaller businesses often don't even have the time to stop and analyze. Samsung has drawn upon industry benchmarks and financial modeling to create a Galaxy Z Fold3 cost savings calculator. It's an easy-to-use tool that accounts for a diverse range of factors — including hardware, IT management, maintenance and software — to determine just how much your business can save by switching to a three-in-one foldable device. And that's not even counting the intangible productivity gains.
It's time to get started, and to get started saving.
Buy Galaxy Z Fold3 now for your business and take advantage of exclusive volume pricing with a Samsung Business Account. Then get your free beginner's guide to maximizing your device savings — and security — using a mobile device management solution.