The Samsung Galaxy Z Fold3 5G is made for multitasking — not the kind where you're distracted and disorganized, but the kind that lets you get work done faster and smarter. Business owners and busy executives are especially drawn to the device's Multi-Active Windows feature, which allows them to view and work in up to three apps simultaneously in tablet mode or Flex Mode.
Multi-Active Windows allows for a split screen view of your apps side by side. In smartphone mode, your Z Fold3 allows you to work in two apps at once, while in tablet mode, the expansive 7.6-inch interior workspace allows you to tap into app trios for next-level multitasking.
Within a couple days of using your new Z Fold3, you'll realize just how powerful Multi-Active Windows are and start saving your favorite app pairings. Here are eight recommended app combinations to get you started:
1. Google Duo + Samsung Notes
If you're looking for a reliable and easy-to-use video calling app, Google Duo is preloaded on your Z Fold3 and connects with your existing Google account. Of course, you can use any videoconferencing tool of your choice. But before you start your video call, consider also opening Samsung Notes from the Edge Panel.
Shop special offers
Find out about offers on the latest Samsung technology.
see deals
Speak to a solutions expert
Get expert advice from a solutions consultant.
Talk to an expert
You can position Samsung Notes in the lower half of your workspace by tapping the three dots at the center of the screen, followed by the circular arrows. Google Duo (or your preferred videoconference tool) should be at the top of the screen. Flex the phone and you're ready to video chat and take notes. This pairing works even better when you add a foldable-compatible S Pen, which allows you to take notes by hand and convert your writing to text — instantly — among many other S Pen benefits on the Z Fold3.
2. Microsoft Outlook + PowerPoint
As you compile a sales deck or report, you might find yourself pulling text and images from your inbox — and refreshing every few minutes for incoming pieces. You can use Multi-Active Windows to work between Outlook on the left side of your screen and a PowerPoint presentation on the right, both optimized for the foldable tablet form factor. Remember, your Z Fold3 also has drag and drop functionality, so you can easily move images and large blocks of text using your finger or the optional S Pen.
3. Microsoft PowerPoint + Samsung Gallery
Creating a presentation from photos you took on your phone? The Z Fold3 gives you an express lane to add these photos to your slides. Microsoft PowerPoint and Samsung Gallery work well together — split vertically or horizontally, whichever you prefer. When you're done building your deck, proofread your presentation in full screen by sliding the center bar between the two apps in the direction you want PowerPoint to fill.
4. Samsung Notes + Social Media (+ Samsung Gallery)
Content creators know the more efficient way to write and edit a post for social media is to use a note-taking app like Samsung Notes. With your drafted post in Notes on one side and a social app adjacent, you can publish seamlessly without any back-and-forth. Drag and drop is helpful here, too. And if you want to turn your Z Fold3 into a complete social media machine, add Samsung Gallery to the equation for an image-text-publish trifecta.
5. Phone + Samsung Notes + Calendar
Just because you're on a phone call doesn't mean you can't use your phone for other tasks. As you talk to colleagues or customers, Multi-Active Windows can help keep the conversation fluid. With your call on speaker or connected to your Galaxy Buds, open up the Z Fold3 to tablet mode and pull up Samsung Notes to jot down important points. Whether you're confirming deadlines or scheduling a follow-up, you'll probably want Calendar open as well.
6. Outlook + Calendar + Google Maps
Setting a time and location for an in-person meeting is easier than ever on the Z Fold3. As you're emailing a colleague to coordinate your schedules, use Google Maps to find a nearby cafe or restaurant and check the directions, travel time and transit options. When everything lines up, you can send a calendar invite with the location included.
7. Calculator + Microsoft Excel + Outlook
If you're a small business owner, you're probably involved in your business's finances in some capacity. Whether you're running the daily numbers yourself or working with an accountant, a calculator is always handy. And if you're tracking financial data on a spreadsheet, it's nice to have both side by side. As employees and managers send you information or questions that impact your financial decisions, you can respond based on what you're seeing in real time. It's all in the palm of your hand.
8. Microsoft OneDrive + Teams + Office
Microsoft's cloud storage app, OneDrive, allows organizations to access, share and manage files all in one place. In remote and hybrid workplaces, a cloud-based tool like OneDrive is essential, as are chat and video apps like Microsoft Teams. While you're on a Teams call, your Z Fold3 lets you quickly locate and open files in OneDrive simultaneously. Find that specific Word document or PowerPoint presentation you want to discuss, then open it in a third active window. At this point, you can opt to close OneDrive for more space to view your document and Teams meeting.
Go mobile-only with Samsung DeX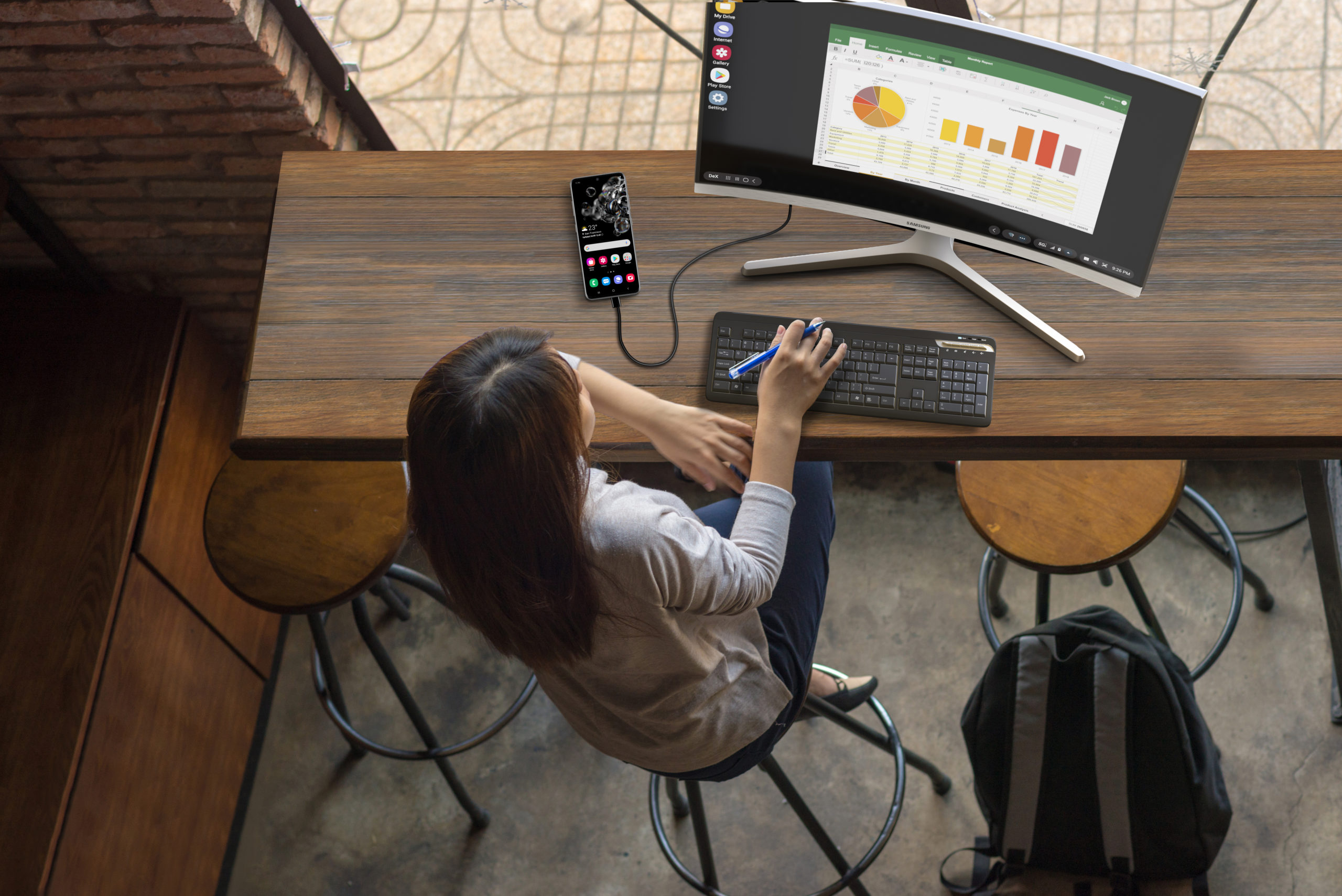 Your comprehensive guide to rolling out a mobile-only solution for your workers. Download Now
Finding the best apps for Multi-Active Windows
Many of the preloaded apps on your Z Fold3 are specially optimized for Multi-Active Windows. Others apps you download might be optimized, too, depending on the developer. If you want all your apps to be available in Multi-Active Windows regardless of optimization, go to your Settings and tap Advanced features, Labs, and turn on Multi-window for all apps.
With Samsung Labs activated, you can try out experimental features and be the first to discover new capabilities that others might not know about yet. Finding the best apps for Multi-Active Window on your Z Fold3 is all about envisioning how you can multiply your productivity — and then making it happen.
Sign up for a Samsung Business Account to get exclusive offers, including volume pricing discounts, on Galaxy Z Fold3 5G and Galaxy Z Flip3 5G today. And to maximize your mobile technology, get started with mobile device management (MDM) so your organization can spend less and do more — securely and efficiently.