These days, our smartphones are essential to our personal lives and our work lives. In the Bring Your Own Device (BYOD) era, using one phone for dual purposes can be risky for companies. But organizations with successful BYOD programs are able to protect confidential data, and separate work from play.
The question then becomes: Can you successfully use one phone for both business and personal needs? The answer is you can, and you have a few options to do so.
Tips for separating work and personal on your phone
Separating work and personal functions on your phone has never been easier. Realizing the challenges of work/life balance, mobile device makers have added smart features that help you to keep personal and professional apps and data separate. Here are some tips tailored for users of Samsung smartphones and tablets.
Shop special offers
Find out about offers on the latest Samsung technology.
See Deals
Speak to a solutions expert
Get expert advice from a solutions consultant.
Talk to an Expert
The first — and simplest — strategy is to organize your apps on different screens. By moving personal app icons onto a separate screen from your business apps, you'll know to stay on one screen for work and one for play.
Another good tactic is to use the Do Not Disturb function so that work doesn't interfere with your personal time — and vice versa. When you have Do Not Disturb on, notifications won't interrupt your workflow, whether you're on the clock, or on the couch. A more advanced version of this can be found in Samsung Bixby Routines, which allows you to set different work and personal settings. You can set your routines to kick in based on time — for instance, your work routine can automatically start at 8 a.m. and stop at 5 p.m. — or based on place (via geolocation when you get to work and when you leave).
When it comes to messaging, you can take advantage of Samsung's Dual Messenger feature, which allows you to easily switch between two separate accounts for the same app. If you have social media or messenger accounts for both work and personal use, you can use them both on the same device. When Dual Messenger is enabled, a second app icon appears on your home screen: one app, two accounts.
A security balancing act
While these measures may support separating work and personal use, they don't necessarily address security concerns. Some businesses use a mobile device management (MDM) solution with a secure workspace to protect work data from your personal apps and browsing activity.
An MDM solution allows your smartphone to store data in a separate "container" or "profile" so that personal and professional data are kept separate. With an effective MDM solution, companies can gain more reliable control of the devices they need to manage.
The mobile security top 10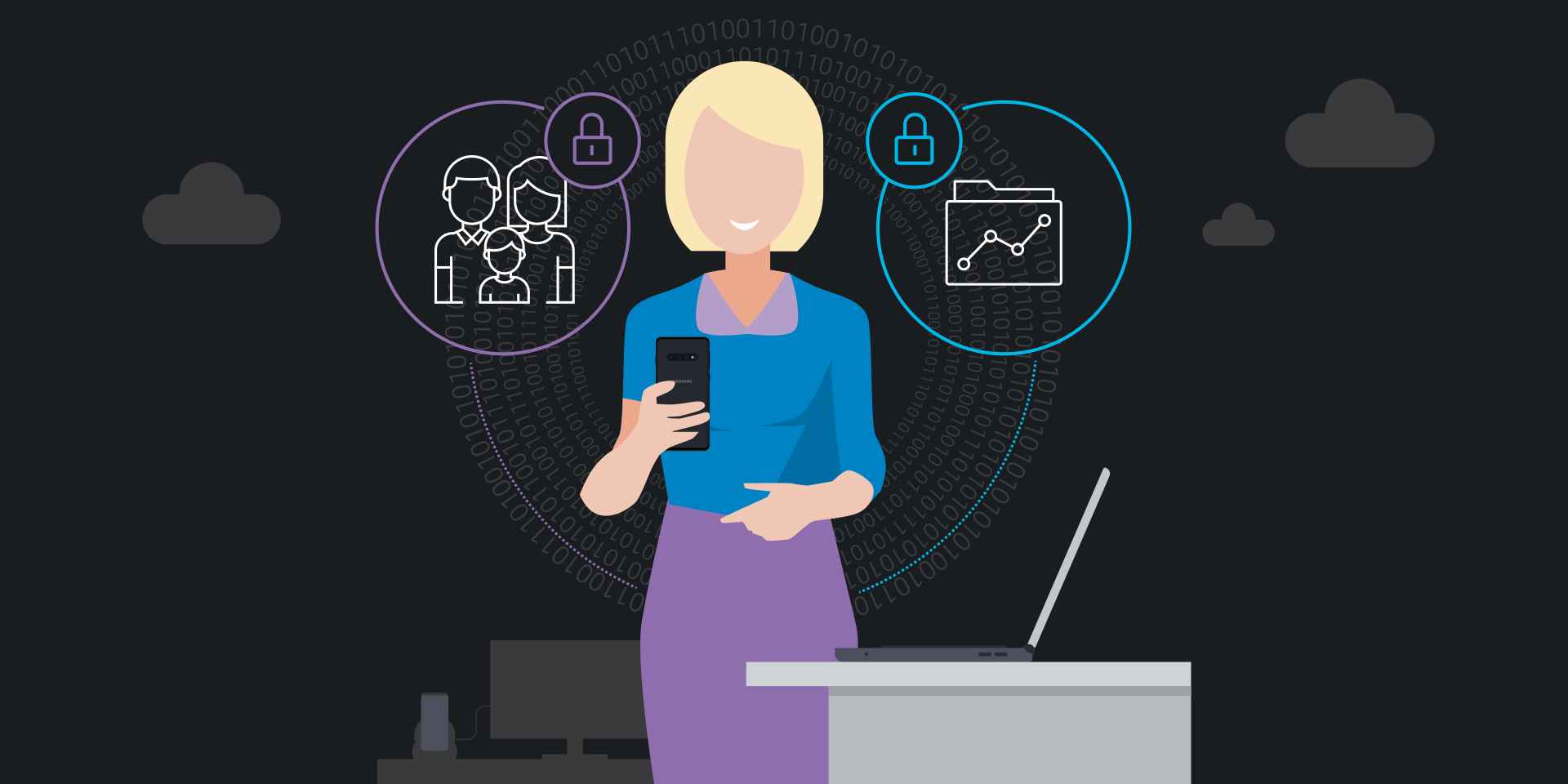 Get your free guide to better securing the personal and work data on your mobile phone. Download Now
These secure containers help you balance productivity with security — as well as your life at work and off work. Your personal phone can stay at home and not even enter the equation; your work phone is all you need.
Security, in your hands
With Samsung's Secure Folder, separating your work and personal information is easier than ever. Available on all of the latest Samsung Galaxy smartphones, including the foldable Galaxy Z Fold4 and Galaxy Z Flip4, Secure Folder is a simple — and free — containerization solution that gives you the same reliable security offered by Samsung Knox.
Secure Folder offers a safe storage space that not only builds a barrier between your work and personal data but also allows you to customize how you access that data — whether it's via a password, pattern or biometric authentication.
The folder is easy to set up and intuitive to use. You can add apps to your Secure Folder by clicking "Add Apps" and selecting from what's already installed on your phone or downloaded from the app store. You can transfer other content — like documents, photos and files — to Secure Folder by choosing "Add Files."
Apps and data installed in these secure containers get an additional layer of protection against cyberattacks and can be securely backed up to the cloud for easy restoration.
With these simple solutions, you have easy access to both work and personal files throughout the day — no matter where you are.
Are you using the best phone for your business needs? Take this short assessment to find out. Or, read more about how Samsung Knox protects your devices from the chip up.