You can't keep a true entrepreneur down. Despite a global public health crisis and economic turbulence over the past few years, more small and medium-sized businesses (SMBs) are pursuing their path to growth than ever before — and Samsung's Galaxy Book3 portfolio can be the perfect tool to help them reach their goals more quickly and easily.
According to the most recent data, more than 5 million new businesses were created in the U.S. in 2022. That's a surge that has continued since the outset of the pandemic in 2020. The opportunities for entrepreneurs aren't limited to selling products online or in physical stores, either. Areas like professional services are thriving, with an average growth rate of 32%. A recent report, however, shows hiring enough talent in professional services is challenging and suggested investing in technologies is critical to a great employee experience.
With models ranging from the Galaxy Book3 to the Galaxy Book3 Pro 360 and Galaxy Book3 Ultra, Samsung has created a range of PCs to align with a diverse set of needs across the SMB sector.
What's common across the portfolio is an emphasis on thin and light design, powerful performance, secure mobility and — most critically — seamless continuity with other Galaxy devices.
Shop special offers
Find out about offers on the latest Samsung technology.
See Deals
Speak to a solutions expert
Get expert advice from a solutions consultant.
Talk to an Expert
Think about how PCs were originally conceived: as a piece of hardware that sits on a desk surface and never moves. That definition no longer makes sense in a world where SMBs need their team to be able to work successfully from anywhere. Instead, think of the Galaxy Book3 portfolio as a new way to PC.
In fact, Samsung's design enhancements in the latest generation of Galaxy Book devices reflect the areas most SMBs struggle with, and offer the following:
1. An end to lost documents, photos, and other critical business data
Imagine this scenario: You're sitting in front of a customer who wants more details about a service package that came up unexpectedly over the course of your conversation.
"For sure, I can provide that," you (or your employee) might say. "I don't have it on my phone, but let me send it to you when I'm back at my desk."
The time it takes to retrieve and send that information gives a prospective client too much room to change their mind — or talk to a competitor.
Then there are the contracts that get left on a thumb drive, or the files you can only send to a coworker or a client using a cumbersome FTC site. Sometimes, important photos, videos, or other assets just get lost in the shuffle.
Contrast that with the connected experience on the Galaxy Book3 series. Everything on your PC is seamlessly integrated with your Galaxy smartphone, so you can search for any asset you need. Sending and receiving content is also seamless via tools like Quick Share and Link to Windows. You can even copy and paste photos and text between your phone and PC, while calendars and messages are automatically synced.
All of this means that you and your team can be focused on the work you're doing — not the device you need to do it on.
2. A smoother transition to hybrid work models
Developing a policy that stipulates when employees can do their jobs remotely versus in the office is only the first step. It gets trickier once hybrid models are in place and companies begin to see the differences or disconnects when everyone's not in the same physical space.
Take meetings, for example. Theoretically, video conferencing software should make it as easy to brainstorm or manage project milestones in a distributed fashion as in a boardroom. When you're using a PC with poor audio and video features, however, it can be hard to see and hear important details. When you're talking to clients via video, meanwhile, you have to look and sound as professional as though you were sitting in front of them.
Choose the right phone for your growing business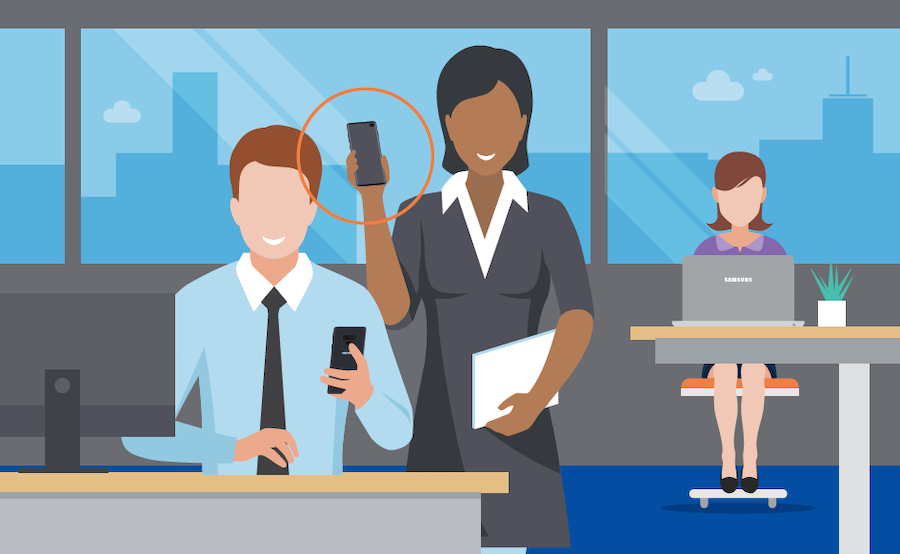 Get your free guide to matching the right smartphone with your business and employee needs. Download Now
Devices like the Galaxy Book3 Ultra, Pro, and Pro 360 make all the difference for hybrid workers. The Studio Mode of their integrated mobile/PC UI has added intelligent features such as lighting and eye contact correction, and the 1080P FTD wide-angle camera allows employees to show more information on screen.
Hybrid employees will also be better at active listening in meetings via quad-core speakers with two woofers and tweeters that deliver high octaves as well as a rich, bass sound. The studio-grade mic, meanwhile, uses AI to cancel out background noise if they're at home with kids or working in a bustling coffee shop.
The other occasional downside of hybrid work is having to lug a heavy laptop around, as well as a backpack full of dongles. That downside disappears when you're carrying a device as thin and light as the Galaxy Book3 Ultra, which comes in at 16.5mm and just 3.95 pounds. Models like the Ultra, Pro, and Pro 360 also pack in micro SD, USB, and Thunderbolt ports so adding accessories is a breeze.
3. Flexible options to support individual work styles and foster collaboration
Even in a digital-first world, not everyone likes typing notes. There are also situations where a colleague or manager needs to mark up a document, or a customer needs to sign one.
The versatility of a device like the Galaxy Book3 Pro 360 comes to the rescue here because it supports the use of the S Pen. With a feeling akin to writing or drawing on paper, employees can use their PC to handwrite or sketch ideas and convert notes into text to streamline the process of sharing action items with other members of the team.
Meanwhile, for those presenting a sales pitch to a client or a marketing plan to their coworkers, asking everyone to huddle around the PC can be annoying and difficult for everyone to see. The Galaxy Book3 360 Pro solves this with Tent Mode, which lets you fold the keyboard back and use your screen as a display.
If that's not enough room, the Galaxy Book3 also supports a Second Screen option, which allows you to harness Galaxy continuity and connect your PC to your tablet. This avoids the hassle of finding the right cable to connect your PC to an external monitor.
Grow your business with the Galaxy Book3 series
SMBs have demonstrated resiliency and fortitude over the past few years. They deserve the best chance to further their success, including the tools that help keep their businesses running. The Galaxy Book3 series' integrated mobile/PC UI is the ideal window through which to see the growth opportunities in front of them, and to act upon them.
Discover the full range of versatile Samsung Galaxy Books, all ready to give you newfound convenience and creativity, and discover the new Galaxy Book3 series available on March 17th, 2023. Explore exclusive business pricing, discounts, financing options, and other deals on Galaxy Books, smartphones, tablets, and more through Samsung Business Direct.