Ransomware, social engineering attacks, and malicious insider activity continue to threaten businesses every day. Cybercriminals are only growing more sophisticated in their techniques and ability to evade detection. As more businesses adopt hybrid work models, small and medium-sized businesses (SMBs) have a wider perimeter to protect. According to a 2022 survey of SMBs, 40% are expecting employees to work remotely at least some of the time. However, less than half have any mobile security in place.
Since everyday PCs are one of the most critical assets organizations need to protect, investing in a device with built-in data protection is paramount. That's why secure mobility is at the heart of the latest Samsung Galaxy Book3 series.
SMB protection with Galaxy Book3 series
SMBs need to be certain that the PCs their staff will be using have the capabilities to effectively fend off threats at every level. This starts with the Galaxy Book3 fingerprint scanner, which ensures employees will be the only ones who can access their PC with just a tap of their finger.
Shop special offers
Find out about offers on the latest Samsung technology.
See Deals
Speak to a solutions expert
Get expert advice from a solutions consultant.
Talk to an Expert
Under the hood, Galaxy Book3 devices combine Samsung Knox defense-grade security with Intel's Hardware Shield technology and Secured-Core PC certification from Microsoft.
Once cybercriminals have infiltrated a computer's OS, for example, SMBs may be left scrambling to minimize the damage. The PCs avoid this via a Tamper Alert function, which provides IT teams with an early warning and deletes attempts to interfere with the OS and other critical data.
The Galaxy Book3 also features a built-in dependable trust chain between the CPU, secure embedded processor, and SPI flash — otherwise known as a hardware-based root of trust. What does this mean, exactly? It has the ability to stop attempts to compromise its system by detecting them during the boot process. Should the need arise, Galaxy Book3 devices can automatically restore the basic input/output system (BIOS) to a backup copy before malicious actors have the chance to corrupt it.
Intel's Hardware Shield adds another defense against OS attacks and is part of the Intel vPro platform. Secured-Core PC protection, meanwhile, guards data at the kernel and firmware level.
Safeguarding data for a secure collaborative workforce
In today's decentralized work environments, employees are often sending important files to third-party affiliates such as suppliers, partners, investors, and customers. The Galaxy Book3 portfolio provides peace of mind with support for Private Share, which uses blockchain to send information with time-limited links that eventually expire. Private Share also allows for view-only access, as well as disables screen capture functionality while the recipient is viewing the file. Galaxy Book3 users can opt to fully revoke access to information after it has been shared.
Choose the right phone for your growing business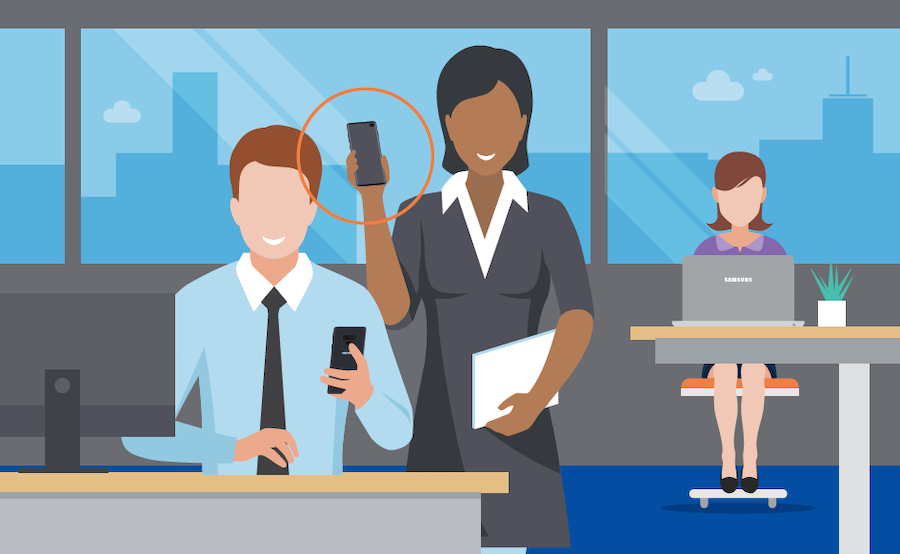 Get your free guide to matching the right smartphone with your business and employee needs. Download Now
Added security benefits with Windows 11 Pro
Considered an essential tool for a modern workplace, the Galaxy Book3 series delivers the most advanced level of security with Microsoft's Windows 11 Pro. Even better, this combination is also complemented by a discreet Trusted Platform Module (TPM) chip, which protects your PC with a cryptographic key at the boot-up stage.
Microsoft's latest OS includes other vital security features including enhanced phishing detection and protection via Microsoft Defender SmartScreen. Using improved diagnostic data and heuristics, Defender SmartScreen can block websites associated with potentially unwanted applications.
Windows 11 Pro's Smart App Control, meanwhile, is designed to help block malicious, untrusted, or potentially unwanted apps from running on your Galaxy Book3. Smart App Control also enables employees to choose their own apps while maintaining tight security. And with the presence sensing feature, it uses Windows Hello to sign in SMB employees hands-free as soon as they approach their Galaxy Book3 — and lock it once they move away from the device.
The Galaxy Book3 portfolio keeps teams seamlessly connected and productive, but it also does so much more. By combining identity protection with hardware, software and firmware security, the Galaxy Book3 series keeps co-workers, customers and employers safer than ever before.
Discover the full range of versatile Samsung Galaxy Books, all ready to give you newfound convenience and creativity, and discover the new Galaxy Book3 series available on March 17th, 2023. Explore exclusive business pricing, discounts, financing options and other deals on Galaxy Books, smartphones, tablets and more through Samsung Business Direct.