Success as a small or medium-sized business (SMB) depends upon achieving — and sustaining — momentum. It means you're able to show up no matter what customers need or where they are. It means you're able to work as a cohesive team, even when your team members are scattered across geographies and time zones.
Ultimately, you know you have the right momentum when your work moves with you, and you're able to keep your SMB moving forward. While smartphones and tablets continue to provide incredible capabilities in these areas, growing businesses also need personal computers (PCs) that can take them further than they've ever gone before. Enter Samsung's Galaxy Book3 series, which was designed with the modern workforce in mind.
Boasting Samsung's thinnest, lightest, and feature-rich PCs to date, the Galaxy Book3 portfolio includes models to suit every kind of SMB professional. These devices are not only packed with powerful productivity and collaboration capabilities that make them great for hybrid work — they also integrate seamlessly with Galaxy smartphones like the latest Galaxy S23 line, providing a continuous experience for anyone working on the go.
Stay connected, securely with the new 15″ Galaxy Book3
Knowledge workers spending time in the office, for instance, need a fast, reliable, and secure PC that offers proven technology. The Galaxy Book3 delivers with a 13th-generation Intel Core processor, Microsoft's Secured Core PC, 512GB of storage, an improved webcam, and a large 15.6-inch full-HD screen.
Shop special offers
Find out about offers on the latest Samsung technology.
See Deals
Speak to a solutions expert
Get expert advice from a solutions consultant.
Talk to an Expert
Running on Windows 11 Pro and with a discreet Trusted Platform Module (TPM) chip to provide additional security and privacy benefits, the Galaxy Book3's battery life will allow knowledge workers to stay on top of their to-do list all day. It includes a compact fast charger that can recharge up to 40% within half an hour. Beyond the charger, though, Galaxy Book3 users won't have to worry about lugging around (or possibly losing) a confusing assortment of dongles. A full set of ports for HDMI, USB, microSD, and HP/MIC allows them to plug into monitors, projectors, and other peripherals with ease.
It's just as important to simplify the process of working with multiple mobile devices over the course of the day. That's why the entire Galaxy Book3 series provides users with the Galaxy Connected Experience. This means employees can use a single keypad, mouse, or trackpad to control their PC, smartphone, and tablet. Meanwhile, if a team member is wearing Galaxy Buds, they can switch instantly from listening to content on their PC to their phone, never missing a call.
The Connected Experience is further enhanced through tools like Quick Share, which eliminates the hassle of sending files, photos, and videos from your PC to your phone or tablet. Link to Windows will even let your team copy and paste content across their devices and sync photos. If desk-based employees need more display real estate, meanwhile, they can double it by using their Galaxy Tab as a second screen.
Galaxy Book3 Pro and Galaxy Book3 Pro 360
Even if an SMB doesn't have a formal hybrid work policy, they likely support a number of employees who spend considerable time outside the office, such as field sales reps. There are also customer-facing professionals, such as consultants and wealth managers, for whom a flexible and versatile design is paramount.
Samsung's options for these professionals include the Galaxy Book3 Pro or Galaxy Book3 Pro 360, both of which come with an impressive 16-inch by 10-inch AMOLED display. This is a screen that will show more content at a glance, from emails to Word documents and search bars.
Choose the right phone for your growing business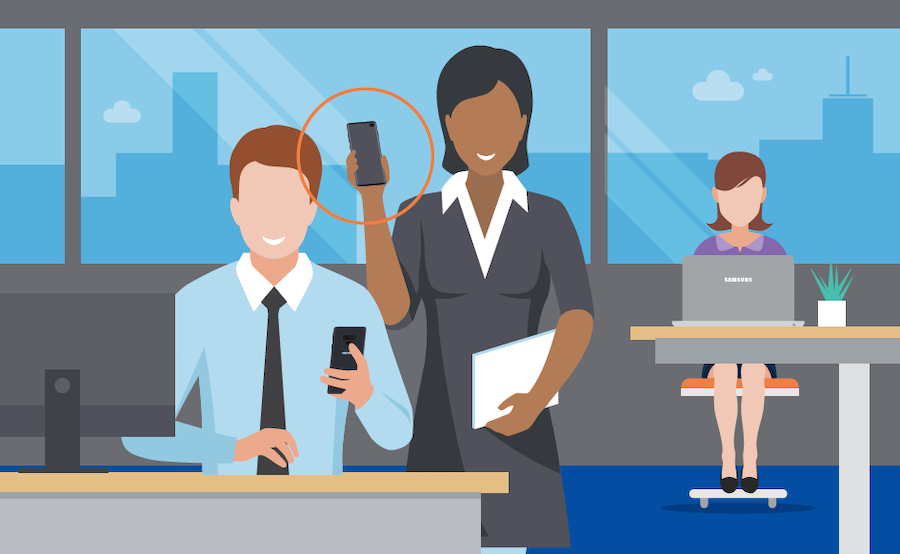 Get your free guide to matching the right smartphone with your business and employee needs. Download Now
The addition of 3K high resolution provides a crisper image, while the 120Hz display means employees will seamlessly scroll through apps as they enjoy smoother video play. The wide color gamut of 120% of DCI-P3 will make all the difference when team members need to see the true colors of products or supplies they're ordering, while also caring for their eyes and the environment.
Mobile work now often involves video calls with teammates or clients. Upgrading to the Galaxy Book3 Pro or Galaxy Book3 Pro 360 ensures you'll look and sound as professional as possible, thanks to AI features like lighting and eye contact correction, AKG quad-speakers enhanced by Dolby Atmos, and a studio-grade mic with bidirectional noise cancellation.
Introducing the Galaxy Book3 Ultra
SMBs are also filled with power users in departments like finance and content creators or developers who need a premium PC to bring their big ideas to life. In other words, they'll want everything described in the Galaxy Book3 series so far but also an ultra-thin and light design. That's where the latest addition to the portfolio comes in: the Galaxy Book3 Ultra.
Measuring just 16.5 millimeters and weighing a scant 3.95 pounds, the Galaxy Book3 Ultra offers the best experience in terms of mobility, coupled with the highest possible performance. From the wide-angle display to additional ports (like two Thunderbolt 4 ports), the Ultra is also notable for including a NVIDIA RTX 4050 and 4070 Graphics Card, which renders visuals like a dream. These machines also pack in security features such as a fingerprint reader to safeguard access.
Nothing should get in the way of an SMB succeeding like a much larger entity. With the Galaxy Book3 series from Samsung, they have a choice of premium notebooks with mobile continuity that will open a world of possibilities unlike any other.
Discover the full range of versatile Samsung Galaxy Books, all ready to give you newfound convenience and creativity, and discover the new Galaxy Book3 series available on March 17th, 2023. Explore exclusive business pricing, discounts, financing options and other deals on Galaxy Books, smartphones, tablets and more through Samsung Business Direct.