The accelerating pace of change is bringing new challenges to retail banks. Today's customers have higher expectations for service and personalization from their providers. And workers possess a digital-first mindset, expecting employers to provide premium mobile equipment that helps maximize their productivity.
For example, many banks are transitioning tellers serving clients from behind a glass wall to actively interacting with them on the branch floor. To become "universal bankers," these workers will require training and upskilling to become customer-first representatives. Meanwhile, other banks are looking to empower customers to complete tasks quickly through virtual teller kiosks to trim payroll costs and enable customers who want to conclude tasks rapidly.
Still, banks must ensure security and regulatory compliance, even as cybersecurity threats increase.
How one Samsung device can empower the employee and customer journey
Implementing and using the right mobile technology and tools can address the challenges and shifts in retail banking by mobilizing your branch associates anywhere in the branch. It can also empower them with a single multi-functional, secure, enterprise-grade device that helps them work with clients and keep up with training — and even streamline your customers' experience in the branch.
Shop special offers
Find out about offers on the latest Samsung technology.
See Deals
Speak to a solutions expert
Get expert advice from a solutions consultant.
Talk to an Expert
Take the Galaxy Tab Active4 Pro, for example. This is a device that can replace three others at a fraction of the cost and help bankers serve clients anywhere in the branch. There's no longer a need to provide your staff with a separate ID and check scanner, thin client PC, and POS/pin pad. Paired with the Samsung DeX app and protected by the Samsung Knox security platform, your associates can accomplish all their day-to-day tasks without working behind a computer.
The employee journey
Let's look at how Samsung mobile devices can help a bank associate carry out their tasks during a typical workday:
The bank associate walks into their branch in the morning and clocks in for work on their smartphone.
After clocking in, the associate manages their tasks and schedule for the day on their smartphone.
Then, they arrive at their desk and connect their Galaxy device to Samsung DeX to read data and trends for the day. Bankers can easily connect their Galaxy phones — such as Galaxy Z Fold4 and the most recent Galaxy S23 series — to their monitor to bring it to life on the big screen. DeX provides a PC-like productivity experience, which includes working across multiple apps simultaneously with resizable windows. They can also leverage tablets for a customer-only view.
Samsung DeX enables bankers to connect Samsung Galaxy phones — such as Galaxy Z Fold4 and the most recent Galaxy S23 series — and tablets to a screen for a desktop-like experience. They can also leverage tablets for a customer-only view.
When a customer walks into the branch and checks in via a self-service kiosk, the bank associate is notified by their Galaxy Watch5.
The associate then picks up their Galaxy tablet and walks over to the customer to assist them, greeting them by name. They sit in the bank's cafe area and discuss the customer's request. The banker scans the customer's ID on the tablet (no separate ID scanner device is needed) to verify and pull up their account details.
Later in the day, the bank associate dials into a private office through pin access on the tablet device at the door.
The associate pulls up and completes required bank training on their HHP to refresh and update their skills required in today's retail bank.
At closing time, the associate puts high-value deposits into the vault and uses Knox Capture to scan the bag deposit codes on their HHP.
What's next for the future of finance?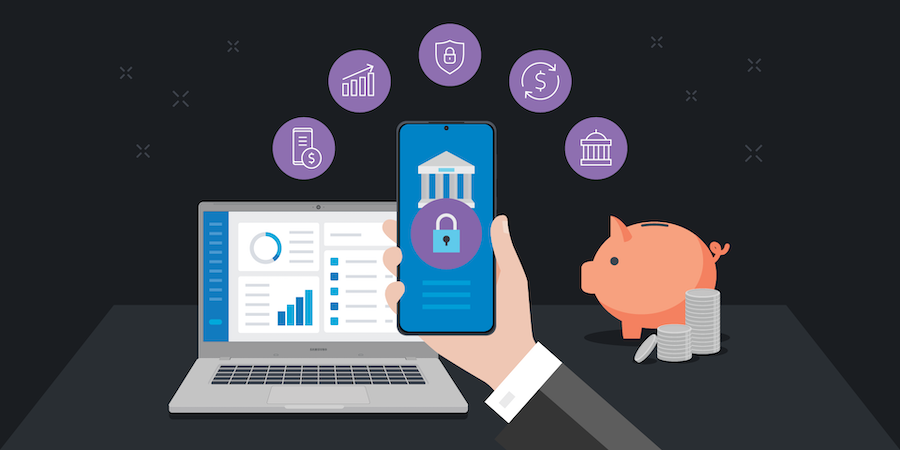 Samsung surveyed 1,000 finance professionals about the future of mobile tech. Here's what they said. Download Now
The customer experience
Your customer's journey also demonstrates how Samsung devices can improve both your employee's productivity and customer experience:
A customer enters a branch and goes to a self-service kiosk (tablet) to check in.
The customer is directed to the virtual teller for assistance and can complete their task quickly and be on their way.
Another customer with a more complex need is approached by a bank associate holding a Galaxy tablet. The customer is looking to open a new account, so the associate sits at their desk and connects to DeX to scan the customer's passport using the tablet. The customer simultaneously enters their account pin on the tablet touchscreen to access their existing account.
The customer can seamlessly provide a signature for the account opening on the Galaxy tablet using the S Pen.
Before leaving the bank associate's desk, the customer is asked to complete a survey to track net promoter score (NPS) and gather additional information for personalized products, all on the Galaxy tablet.
Finally, when leaving the bank, the customer schedules a follow-up appointment to meet with the private banking team on an app optimized for their Android device.
The employee journey directly impacts the customer experience, and technology is a powerful tool that can improve both areas. Meet customers' higher expectations and help boost employee productivity and training with the right devices, all while ensuring security and regulatory compliance.
For a full overview of all Samsung technology solutions for the Finance industry, please visit this page. And sign up for a Samsung Business Account to get exclusive offers, including volume pricing discounts, on our Rugged devices, as well as our newest devices like Galaxy S23 series, Galaxy Z Fold4 and Galaxy Z Flip4.