Like many industries, financial firms are adapting to workers using their mobile phones for workflows in their day-to-day. Oftentimes, work occurs in a mix of locations, including a home office, client site, and corporate office. But wherever work takes place, financial firms still face stringent compliance and regulatory requirements because of the sensitive information they handle on behalf of clients. More so, their employees and clients expect a mobile, "always on" approach to the technology provided by their jobs and financial services providers.
Samsung's ecosystem of mobile devices and applications effectively supports financial firms in various ways. Here are five ways they can help your firm in today's hybrid work environment.
1. DeX
Samsung DeX is a PC-like experience powered entirely by a Samsung Galaxy mobile phone, such as the latest foldable devices — Galaxy Z Fold5 and Z Flip5 — and the Galaxy S23 series. With Samsung DeX, workers can connect their phone or tablet, such as Samsung Tab S9, to a bigger screen, keyboard, and mouse, allowing them to interact with multiple apps simultaneously. DeX helps minimize the need for staff to tote a laptop around to client and vendor meetings, in the branch or even in the office along with a phone or tablet. DeX can also help cut costs for a financial firm, for example, by eliminating the need to purchase separate monitors, keyboards, and a thin client PC for each person working in a retail bank branch.
Here are just two examples of DeX in action:
A wealth manager can visit a client bringing just their Galaxy phone or tablet, then connect to on-site equipment to make a presentation in a conference room.
An in-branch bank associate can quickly connect their Galaxy mobile device to a monitor to pull up the account information of a client visiting the branch.
Shop special offers
Find out about offers on the latest Samsung technology.
See Deals
Speak to a solutions expert
Get expert advice from a solutions consultant.
Talk to an Expert
2. S Pen
The Samsung S Pen lets your workers write, annotate, and highlight on-screen documents on their Galaxy phones and tablets. The S Pen is designed to feel like a real pen, with a subtle pencil-on-paper sound as you write. With an S Pen, your staff can collect a signature while on the go, such as an insurance claims adjuster or wealth advisor visiting a client at their home or a bank branch associate collecting a client signature to complete a process or open a new account. Your workers can also annotate PDFs, take notes without unlocking a device with the screen-off note-taking feature, and mark up images, charts, or documents with the Screen Write feature.
3. Samsung Notes
Samsung Notes is an innovative, intuitive platform for capturing ideas and information, preloaded on all Galaxy devices. Though the app can benefit a variety of financial workers, it can be beneficial for insurance claims adjusters, who are always in the field, conducting interviews, taking pictures, and analyzing information. For instance, insurance adjusters often work out of their car and may not want to type out notes at the end of the day. Samsung Notes lets you add a live voice recording to notes or instantly convert handwriting to text. Need to mark up a document? Switch between different kinds of pens, highlighters, and erasers by tapping the icons in the app's toolbar.
What's next for the future of finance?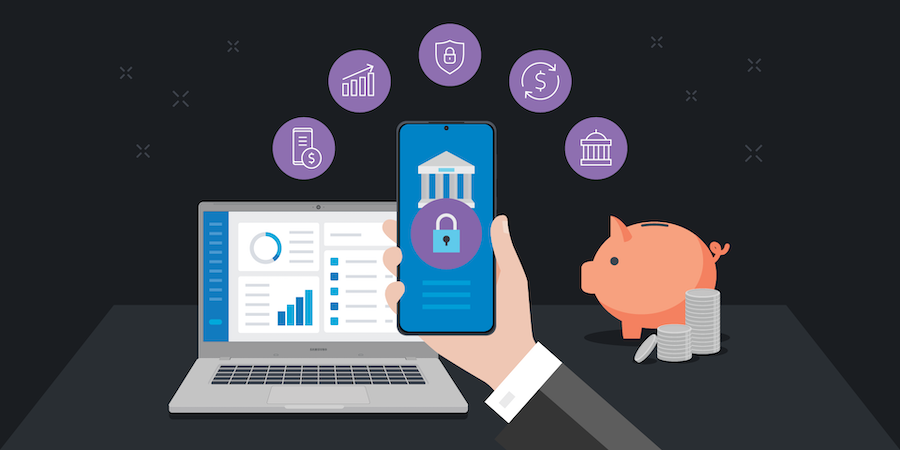 Samsung surveyed 1,000 finance professionals about the future of mobile tech. Here's what they said. Download Now
4. Samsung Knox
Samsung Knox, built into all Samsung Galaxy smartphones, tablets, and wearables, protects business data for financial services and other regulated industries with government-grade protection. In addition, Samsung Knox offers mobile security, unified endpoint management, and fraud and theft protection to businesses. Financial firms trust the platform for robust, government-grade security, with its defense starting at the hardware level and continuing to protect against the most advanced security threats.
Samsung Knox protects the financial services workforce, whether they're in the office, remote, or on the go. Knox enables financial services companies to secure devices throughout the enterprise mobility management (EMM) journey, streamline deployment to set up thousands of devices with ease, and simplify device management with Samsung Knox and Android Enterprise.
5. Galaxy connected ecosystem
Thanks to the Galaxy connected ecosystem, staff can enjoy continuity across devices. Take a client call on a Galaxy S23 mobile phone on the way to the office, listening through Galaxy Buds2 Pro, then seamlessly transition to speaking on a Galaxy Book, for example. Have bank workers know which client just walked through their branch door with a notification on their Galaxy Watch6. Or connect a Galaxy Z Fold5 to a monitor, mouse, and keyboard to enjoy a desktop computer experience. Overall, the Galaxy connected ecosystem helps to increase productivity including individual and team productivity in the financial services workforce.
For a full overview of all Samsung technology solutions for the finance industry, please visit this page. And sign up for a Samsung Business Account to get exclusive offers, including volume pricing discounts, on our newest devices like Galaxy S23 series, Galaxy Z Fold5 and Galaxy Z Flip5.